printer friendly version
Rugged, fanless computers in 19-inch rack housings
30 March 2022
Computer/Embedded Technology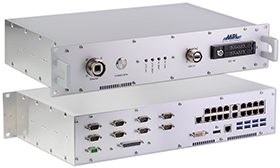 MPL's PIP40 family of fanless embedded computers are based on the 9th generation of Intel processors and come in 19-inch rack housings with 1U or 2U heights. In the 2U solution, two CPU boards can be accommodated, or a managed switch, XMC or MXM expansion module added. The units are EN50155 and IEC60945 tested and approved.
The solution is ideal for railway, maritime, defence, medical or other applications that need to be supported for ten years or more. The computers come with an Intel Celeron, i3, i7 or Xeon CPU, and are guaranteed to be available until 2034.
The PIP40 family is equipped with features like:
• Up to 64 GB registered DDR4 memory, with ECCDDR4 also available.
• M.2 Key-A, Key-B and M.2 Key-M sockets.
• Two mPCIe/mSATA Mini Card sockets with SATA 3.0 and USB 2.0.
• Two SATA 3.0 SSD, or one NVMe or SATA SSD.
• Up to seven LAN ports.
• Four RS-232 or RS-422/485 ports.
• Expansion capabilities for GPGPU on MXM, PCIe (e.g. RAID, high-end graphics or XMC modules).
Other than the announced 19-inch rack housing, the PIP40 family is also available in the MPL standard housing with DIN-rail or flange mounting. Further enclosures with IP67 are available in the standard MPL offering. An open-frame version (with a CPU board on a cooling plate) is also available, which is best suited for installation in existing cabinets and tight areas.
MPL's component stock guarantees repairs for up to 20 years. Extended temperature ranges can be fulfilled and are tested in MPL's own climatic chambers on request. The PIP40 family carries approvals for EN 55022, EN 55024, EN 61000, MIL-STD-461E, EN 60068, EN 50155, MIL-STD-810G, EN 60601, EN 60950, CE, IEC 60945, IACS and E10.
Credit(s)
Further reading:
Galleon releases a rugged 100GbE recorder
Rugged Interconnect Technologies Computer/Embedded Technology
The XSR 100GbE recorder is the latest addition to Galleon Embedded Computing's line-up of innovative military embedded solutions and is perfect for applications in unmanned systems, surveillance and reconnaissance.
Read more...
---
Samsung launches GDDR6 RAM module
EBV Electrolink Computer/Embedded Technology
The DRAM is capable of 24 Gbps processing speeds and will significantly advance the graphics performance of AI-based applications and high-performance computing.
Read more...
---
Qualcomm AI stack: a unified AI software solution
Future Electronics Computer/Embedded Technology
Qualcomm has bundled all its AI software offerings into a single package called the Qualcomm AI Stack which will assist developers in deploying AI applications.
Read more...
---
ADLINK launches NVIDIA Jetson-based vision system
Rugged Interconnect Technologies Computer/Embedded Technology
The EOS-JNX-I is a next-generation AI vision system that uses the new NVIDIA module as an optimised development platform that simplifies AI to the edge.
Read more...
---
Quectel announces high-performance 5G smart module
iCorp Technologies Computer/Embedded Technology
The SG560D, an Android smart module that combines 5G and artificial intelligence, is suitable for complex applications such as in-vehicle infotainment and industrial handheld devices.
Read more...
---
Half-duplex transceiver for RS-485
Vepac Electronics Computer/Embedded Technology
The new enhanced transceiver is designed for RS-485 data bus networks and is fully compliant with the TIA/EIA-485A standard.
Read more...
---
16-port USB 3.0 SuperSpeed controller
Rugged Interconnect Technologies Interconnection
The SBX-DUB is a peripheral slot board for CompactPCI and is equipped with four individual USB 3.0 ports on the front panel and another 12 USB 3.0 ports via a connector on the backplane.
Read more...
---
ST releases first automotive IMU with embedded ML
Altron Arrow Computer/Embedded Technology
Smart driving moves another step closer to high levels of automation with STMicroelectronics' new machine learning core.
Read more...
---
Rugged plug-in card ideal for sensor-based systems
Rugged Interconnect Technologies Computer/Embedded Technology
Concurrent Technologies' new processor board provides high performance for I/O sensor device needs.
Read more...
---
Standalone H.264 video streaming board
Rugged Interconnect Technologies Computer/Embedded Technology
The XStream-SD4 is an intelligent, standalone, ultra-low latency H.264 streaming solution that accepts 4x NTSC/PAL/RS-170 composite video sources and records and streams them over 100/1000 Mbps Ethernet. 
...
Read more...
---