printer friendly version
Precision current loop calibrators
30 March 2022
Test & Measurement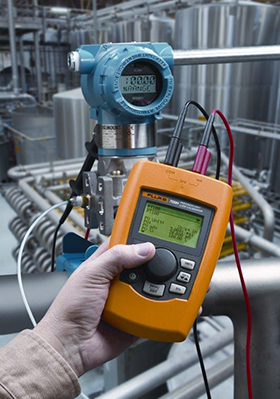 The Fluke 709 and 709H mA loop calibrators, specifically designed to save time and produce high-quality results, are built around a user-friendly interface with a quick-set rotary encoder knob. This tool reduces the time it takes to measure or source current, and power up a loop. The protective holster easily fits into a technician's hand and the large backlit display is easy to read, even in dark, cramped worked areas.
The 709H adds HART communications and supports a select set of the HART universal and common-practice commands. This makes it both an affordable, compact loop calibrator and powerful HART communication troubleshooting tool. In the communicator mode, the user will be able to read basic device information, perform diagnostic tests and trim the mA output on most HART-enabled transmitters. In the past, this could only be done with a dedicated communicator, a high-end multifunction calibrator, or a laptop computer with HART modem.
In addition, the 709H offers logging of HART data in the field. Once recorded, the associated software can upload the HART configuration of up to 20 HART devices in a plant and output data in either csv or txt format. Data-logged mA loop measurements and HART data can be recorded from a particular transmitter for troubleshooting and loop tuning. The data log feature offers selectable capture with recording intervals of 1 to 60 seconds and a logging capacity of 9800 records or 99 individual sessions. Each data sample contains the 709H mA measurement, all four process variables and the standard status conditions.
Credit(s)
Further reading:
Anritsu announce a test solution for PCIe 5.0
Coral-i Solutions Test & Measurement
Granite River Labs and Anritsu Corporation have announced that their jointly developed PCI Express (PCIe) 5.0 automated test solution has been approved by PCI-SIG for "gold suite" product compliance testing.
Read more...
---
Connectors for the evolving world of test and measurement
Spectrum Concepts Test & Measurement
Instrumentation employed to test new products needs to become more advanced to keep up with rapidly advancing technology.
Read more...
---
Tektronix reimagines performance and portability in oscilloscopes
RS Components (SA) Test & Measurement
The new 2 series of oscilloscope can move from the bench to the field and back, enabling workflows previously not possible.
Read more...
---
All-in-one documenting process calibrators
Comtest Test & Measurement
The multifunction calibrators perform sourcing, simulation and measurement of pressure, temperature and electrical signals.
Read more...
---
Avoiding safety hazards during solar PV installations
Comtest Test & Measurement
Safety levels during solar panel commissioning and installation have been strengthened by Fluke's CAT III 1500 V true-RMS clamp meter.
Read more...
---
World's fastest 16-bit arbitrary waveform generator
Vepac Electronics Test & Measurement
The ARB Rider AWG-5000 has a 6,16 GS/s real-time update rate with a 16-bit vertical resolution and is available in two, four or eight channel models.
Read more...
---
Modbus probes gain support for parity options
RF Design Test & Measurement
The marquee feature of firmware version 1.06 facilitates the use of odd, even, mark or space parity modes when communicating with bus probes.
Read more...
---
Embrace the full power of J-Link debug probes
CST Electronics Test & Measurement
J-Link is supported by all major IDEs, from free Eclipse-based ones up to commercial-grade ones like Segger Embedded Studio.
Read more...
---
40 GHz RF power sensor
Conical Technologies Test & Measurement
Mini-Circuits' PWR-40PW-RC is a USB/Ethernet-controlled power sensor capable of making many different measurements.
Read more...
---
Power device analyser
Concilium Technologies Test & Measurement Power Electronics / Power Management
Keysight's new PD1550A is an advanced double-pulse tester that enables customers to test entire power modules quickly and easily.
Read more...
---