printer friendly version
Optoelectronic transceiver for rough conditions
26 April 2022
Interconnection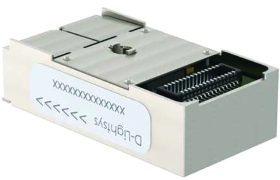 Radiall has added the Essential model to its range of optoelectronic transceivers. Designed for demanding environments, this transceiver combines a small form factor package with an ARINC 801 optical contact disconnect.
The Essential package is designed to withstand Mil/Aero environments and fully complies with related ARINC and MIL standards. Fitted with both optical and electrical disconnects, this new package simplifies handling on the host board. The transceiver is electrically pluggable and screw-mounted, whereas the optical patch cord is tool-less with a disconnect locking system.
With one Tx and one Rx channel, this transceiver's pluggable LuxCis (ARINC 801) interface offers a straight, full connection to many optical connectors, such as ARINC and MIL-DTL-38999 types. Key optoelectronic functions for transceiver monitoring are available through electrical connectors and I2C links.
With a footprint of less than 350 mm2 and a low profile below 8 mm, the product offers a balanced trade-off between form factor and cost per channel while maintaining a high level of performance.
For more information contact Hiconnex, +27 12 661 6779, [email protected], www.hiconnex.co.za
Credit(s)
Further reading:
Phase-stable cable assemblies operate up to 50 GHz
RF Design Interconnection
The Lab-Flex T series from Smiths Interconnect are low-loss high-frequency cables that have minimal phase change with changing temperature and flexure.
Read more...
---
Samtec has reorganised its AcceleRate products online
Spectrum Concepts Interconnection
Samtec recently reorganised its family of AcceleRate products into one webpage to enable easier browsing and comparison of products when trying to find the best high-performance solution for the given application.
Read more...
---
Samtec high-speed interconnects in next-gen UAS
Spectrum Concepts Interconnection
The unmanned aircraft system framework 2.0 autopilot platform utilises several of Samtec's high-speed board-to-board interconnects for the transfer of data between various add-on boards.
Read more...
---
Precision interconnects for DC to 90 GHz
Spectrum Concepts Interconnection
Samtec has released its 1,35 mm family of products including board and cable connectors suitable for millimetre wave applications to 90 GHz.
Read more...
---
16-port USB 3.0 SuperSpeed controller
Rugged Interconnect Technologies Interconnection
The SBX-DUB is a peripheral slot board for CompactPCI and is equipped with four individual USB 3.0 ports on the front panel and another 12 USB 3.0 ports via a connector on the backplane.
Read more...
---
Double-row connectors for quick-connect applications
Spectrum Concepts Interconnection
Mill-Max announced a new range of double-row, gold-plated connectors in either spring-loaded or target versions.
Read more...
---
Samtec site's search function gets a UX upgrade
Spectrum Concepts Interconnection
Samtec announced a major upgrade to its on-site user search experience, including improvements in both performance and mobile compatibility.
Read more...
---
Spring-loaded connectors with rolling ball interface
Spectrum Concepts Interconnection
Omniball spring-loaded connectors feature a unique rolling ball interface, enabling contact to be made in both axial and non-axial alignments.
Read more...
---
Mouser stocks wide selection of the latest Phoenix Contact products
TRX Electronics Interconnection
The offering covers a vast selection of sensors, controllers, terminal blocks, connectors and wireless Ethernet products.
Read more...
---
New SMT pins utilise a grooved pattern design
Spectrum Concepts Interconnection
Mill-Max expands its range of SMT pins with the introduction of three new series that feature the Sure-Hold grooved pattern design.
Read more...
---