printer friendly version
Standalone H.264 video streaming board
30 May 2022
Computer/Embedded Technology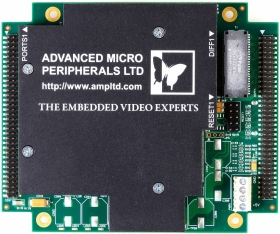 The XStream-SD4 is an intelligent, standalone, ultra-low latency H.264 streaming solution that accepts 4x NTSC/PAL/RS-170 composite video sources and records and streams them over 100/1000 Mbps Ethernet. Made by Advanced Micro Peripherals, this SWaP (size, weight and power)-optimised solution is ideal for rapid deployment in demanding applications in military, communications, transportation, mining and energy industries.
The board features a dedicated hardware compression engine capable of encoding all four video channels at full size and full frame rate with latency below 40 ms. The flexible streaming engine can stream each channel directly from the on-board Ethernet port as well as save directly to locally attached storage for later retrieval. The board also supports four channels of audio that can be captured and streamed with the video data.
As an intelligent standalone device with its own on-board CPU, the XStream-SD4 does not require a host CPU or any driver or operating system software. For mechanical convenience the module can be mounted on a PC/104 stack without consuming host CPU resources.
Credit(s)
Further reading:
Galleon releases a rugged 100GbE recorder
Rugged Interconnect Technologies Computer/Embedded Technology
The XSR 100GbE recorder is the latest addition to Galleon Embedded Computing's line-up of innovative military embedded solutions and is perfect for applications in unmanned systems, surveillance and reconnaissance.
Read more...
---
Samsung launches GDDR6 RAM module
EBV Electrolink Computer/Embedded Technology
The DRAM is capable of 24 Gbps processing speeds and will significantly advance the graphics performance of AI-based applications and high-performance computing.
Read more...
---
Qualcomm AI stack: a unified AI software solution
Future Electronics Computer/Embedded Technology
Qualcomm has bundled all its AI software offerings into a single package called the Qualcomm AI Stack which will assist developers in deploying AI applications.
Read more...
---
ADLINK launches NVIDIA Jetson-based vision system
Rugged Interconnect Technologies Computer/Embedded Technology
The EOS-JNX-I is a next-generation AI vision system that uses the new NVIDIA module as an optimised development platform that simplifies AI to the edge.
Read more...
---
Quectel announces high-performance 5G smart module
iCorp Technologies Computer/Embedded Technology
The SG560D, an Android smart module that combines 5G and artificial intelligence, is suitable for complex applications such as in-vehicle infotainment and industrial handheld devices.
Read more...
---
Half-duplex transceiver for RS-485
Vepac Electronics Computer/Embedded Technology
The new enhanced transceiver is designed for RS-485 data bus networks and is fully compliant with the TIA/EIA-485A standard.
Read more...
---
16-port USB 3.0 SuperSpeed controller
Rugged Interconnect Technologies Interconnection
The SBX-DUB is a peripheral slot board for CompactPCI and is equipped with four individual USB 3.0 ports on the front panel and another 12 USB 3.0 ports via a connector on the backplane.
Read more...
---
ST releases first automotive IMU with embedded ML
Altron Arrow Computer/Embedded Technology
Smart driving moves another step closer to high levels of automation with STMicroelectronics' new machine learning core.
Read more...
---
Rugged plug-in card ideal for sensor-based systems
Rugged Interconnect Technologies Computer/Embedded Technology
Concurrent Technologies' new processor board provides high performance for I/O sensor device needs.
Read more...
---
EBV signs up AI chipmaker Hailo
EBV Electrolink Computer/Embedded Technology
Hailo offers a wide range of AI accelerators, including the innovative Hailo-8 AI processor and high-performance AI acceleration modules in M.2 and Mini PCIe formats.
Read more...
---