printer friendly version
Hi-Rel flexible harnesses
26 April 2022
Interconnection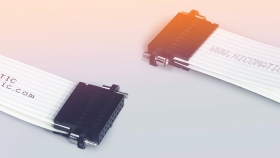 Nicomatic has created a lighter, high-performance alternative to round cables and an ideal complement to its compact, lightweight CMM 220 connectors. Microflex cable accessories offer customers a robust and reliable alternative to heavier, bulkier round cables when using CMM 220-series connectors.
The Microflex Crimpflex cable assemblies are comprised of two-row flat-flex cables with a 2,0 mm pitch. The cables are crimped with gold-plated female contacts (female-female version) on both ends, or carry solder pins (female-male solder pin version) on one end. They are then connected to a Nicomatic CMM 220 connector on both ends or on just one end, using hardware selected from a large variety of fixings, with the other soldered to a PCB.
When paired with the compact CMM 220 connector, designers achieve reductions in size and weight of up to 60%, improved flexibility and vibration resistance according to the MIL-DTL-55302F standard and life expectancy of up to 10 million flex cycles with polyester or polyimide cable. This performance level reduces or entirely eliminates maintenance, repair and replacement costs.
An optional 'Octopus' multi-branch module allows two to 10 cables of different lengths to be mated to a single CMM connector. For example, from a 60-pin configuration on one end, up to 10 four-conductor flex assemblies can be accommodated on the other end. This alleviates design challenges and creates new design possibilities previously limited by the size, rigidity and weight of round cables.
Microflex is ideal for applications where not only size and weight are an issue – such as in aviation and medical imaging and sensor industries – but also where precision performance is a must, such as UAV (unmanned aerial vehicle) telemetry, instrumentation and robotics. Other applications include in-flight entertainment systems, weapons systems, electric vehicle batteries and generator controls.
For more information contact Hiconnex, +27 12 661 6779, [email protected], www.hiconnex.co.za
Credit(s)
Further reading:
Phase-stable cable assemblies operate up to 50 GHz
RF Design Interconnection
The Lab-Flex T series from Smiths Interconnect are low-loss high-frequency cables that have minimal phase change with changing temperature and flexure.
Read more...
---
Samtec has reorganised its AcceleRate products online
Spectrum Concepts Interconnection
Samtec recently reorganised its family of AcceleRate products into one webpage to enable easier browsing and comparison of products when trying to find the best high-performance solution for the given application.
Read more...
---
Samtec high-speed interconnects in next-gen UAS
Spectrum Concepts Interconnection
The unmanned aircraft system framework 2.0 autopilot platform utilises several of Samtec's high-speed board-to-board interconnects for the transfer of data between various add-on boards.
Read more...
---
Precision interconnects for DC to 90 GHz
Spectrum Concepts Interconnection
Samtec has released its 1,35 mm family of products including board and cable connectors suitable for millimetre wave applications to 90 GHz.
Read more...
---
16-port USB 3.0 SuperSpeed controller
Rugged Interconnect Technologies Interconnection
The SBX-DUB is a peripheral slot board for CompactPCI and is equipped with four individual USB 3.0 ports on the front panel and another 12 USB 3.0 ports via a connector on the backplane.
Read more...
---
Double-row connectors for quick-connect applications
Spectrum Concepts Interconnection
Mill-Max announced a new range of double-row, gold-plated connectors in either spring-loaded or target versions.
Read more...
---
Samtec site's search function gets a UX upgrade
Spectrum Concepts Interconnection
Samtec announced a major upgrade to its on-site user search experience, including improvements in both performance and mobile compatibility.
Read more...
---
Spring-loaded connectors with rolling ball interface
Spectrum Concepts Interconnection
Omniball spring-loaded connectors feature a unique rolling ball interface, enabling contact to be made in both axial and non-axial alignments.
Read more...
---
Mouser stocks wide selection of the latest Phoenix Contact products
TRX Electronics Interconnection
The offering covers a vast selection of sensors, controllers, terminal blocks, connectors and wireless Ethernet products.
Read more...
---
New SMT pins utilise a grooved pattern design
Spectrum Concepts Interconnection
Mill-Max expands its range of SMT pins with the introduction of three new series that feature the Sure-Hold grooved pattern design.
Read more...
---