printer friendly version
Surface-mount PCB pins
30 March 2022
Interconnection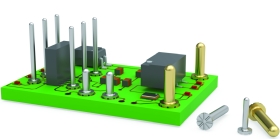 Mill-Max is expanding its range of SMT pins with the introduction of three new series featuring the Sure-Hold grooved base design. Each pin has four channels machined into the SMT base, providing excellent solder flow and ensuring a secure soldered connection.
These new surface-mount pins are nail-head in style, having two different diameters for the base and the post. What makes them unique are the grooves, or channels, machined into the base of the pins. These channels fill with solder paste when the pin is placed on the PCB pad, acting as a tread to hold it in place. During the reflow soldering process, the grooves promote efficient capillary action for optimal solder flow, which in turn secures the pin to the pad in position and discourages the pin-float often found with flat-bottom pins. This results in more consistent pin positioning and perpendicularity, which is critical for discrete pins.
There are three post diameters to choose from – 1,02 mm, 1,52 mm and 2,03 mm, with part numbers 1440-X, 1460-X and 1480-X, respectively. Each has a base diameter (1,52 mm) larger than the post diameter, providing stable support during placement and soldering operations. 16 pins are available in total, with the 1440-X offered in lengths from 3,18 mm to 17,15 mm, the 1460-X from 5,08 mm to 20,32 mm and the 1480-X from 6,35 mm to 17,27 mm. Standard plating options are pure tin or gold, each with nickel under-plating.
The terminals are suitable for many uses in which surface-mount connections are the only option, such as I/O and power connections, where their relatively large size and durability are advantageous. They are also ideal for board-to-board interconnects, whether the requirement is low-profile or a tall stack to clear other components and there are a variety of Mill-Max receptacles they can readily connect to.
These pins are provided in bulk packaging. For high-volume applications, there are pin feeder options that may suit your needs and work in conjunction with existing pick-and-place equipment.
Credit(s)
Further reading:
Phase-stable cable assemblies operate up to 50 GHz
RF Design Interconnection
The Lab-Flex T series from Smiths Interconnect are low-loss high-frequency cables that have minimal phase change with changing temperature and flexure.
Read more...
---
Samtec has reorganised its AcceleRate products online
Spectrum Concepts Interconnection
Samtec recently reorganised its family of AcceleRate products into one webpage to enable easier browsing and comparison of products when trying to find the best high-performance solution for the given application.
Read more...
---
Connectors for the evolving world of test and measurement
Spectrum Concepts Test & Measurement
Instrumentation employed to test new products needs to become more advanced to keep up with rapidly advancing technology.
Read more...
---
Samtec high-speed interconnects in next-gen UAS
Spectrum Concepts Interconnection
The unmanned aircraft system framework 2.0 autopilot platform utilises several of Samtec's high-speed board-to-board interconnects for the transfer of data between various add-on boards.
Read more...
---
Precision interconnects for DC to 90 GHz
Spectrum Concepts Interconnection
Samtec has released its 1,35 mm family of products including board and cable connectors suitable for millimetre wave applications to 90 GHz.
Read more...
---
16-port USB 3.0 SuperSpeed controller
Rugged Interconnect Technologies Interconnection
The SBX-DUB is a peripheral slot board for CompactPCI and is equipped with four individual USB 3.0 ports on the front panel and another 12 USB 3.0 ports via a connector on the backplane.
Read more...
---
Double-row connectors for quick-connect applications
Spectrum Concepts Interconnection
Mill-Max announced a new range of double-row, gold-plated connectors in either spring-loaded or target versions.
Read more...
---
Samtec site's search function gets a UX upgrade
Spectrum Concepts Interconnection
Samtec announced a major upgrade to its on-site user search experience, including improvements in both performance and mobile compatibility.
Read more...
---
Spring-loaded connectors with rolling ball interface
Spectrum Concepts Interconnection
Omniball spring-loaded connectors feature a unique rolling ball interface, enabling contact to be made in both axial and non-axial alignments.
Read more...
---
Mouser stocks wide selection of the latest Phoenix Contact products
TRX Electronics Interconnection
The offering covers a vast selection of sensors, controllers, terminal blocks, connectors and wireless Ethernet products.
Read more...
---