printer friendly version
Double-row, fine-pitch ERNI connectors
30 March 2022
Interconnection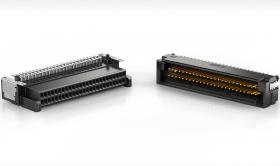 As a distributor of ERNI, manufacturer of compact and robust SMD connectors, Actum Group announced the addition of the MicroCon series. These are miniaturised, double-row, fine-pitch connectors with a grid dimension of 0,8 mm and are available with pole counts from 12 to 100.
These specialised connectors are designed for demanding industrial applications, medical, lighting and automotive and are designed for robustness and reliability. Their blind-mate pre-centring with increased catch range ensures secure plugging, while the reinforced outer walls of the multipole connector allow a high degree of robustness.
Credit(s)
Further reading:
Actum Group leads in the interconnect industry
Actum Electronics News
Actum Group is a specialist importer and distributor of industrial and electronic products in Southern Africa and a leader in the interconnect industry.
Read more...
---
Phase-stable cable assemblies operate up to 50 GHz
RF Design Interconnection
The Lab-Flex T series from Smiths Interconnect are low-loss high-frequency cables that have minimal phase change with changing temperature and flexure.
Read more...
---
Samtec has reorganised its AcceleRate products online
Spectrum Concepts Interconnection
Samtec recently reorganised its family of AcceleRate products into one webpage to enable easier browsing and comparison of products when trying to find the best high-performance solution for the given application.
Read more...
---
Samtec high-speed interconnects in next-gen UAS
Spectrum Concepts Interconnection
The unmanned aircraft system framework 2.0 autopilot platform utilises several of Samtec's high-speed board-to-board interconnects for the transfer of data between various add-on boards.
Read more...
---
Precision interconnects for DC to 90 GHz
Spectrum Concepts Interconnection
Samtec has released its 1,35 mm family of products including board and cable connectors suitable for millimetre wave applications to 90 GHz.
Read more...
---
Conduction-cooled electronics cases
Actum Electronics Enclosures, Racks, Cabinets & Panel Products
As electronics and processing systems become smaller and smaller, the need for versatile, compact form-factor cases that allow efficient heat dissipation increases. nVent Schroff offers customisable conduction-cooled 
...
Read more...
---
16-port USB 3.0 SuperSpeed controller
Rugged Interconnect Technologies Interconnection
The SBX-DUB is a peripheral slot board for CompactPCI and is equipped with four individual USB 3.0 ports on the front panel and another 12 USB 3.0 ports via a connector on the backplane.
Read more...
---
Double-row connectors for quick-connect applications
Spectrum Concepts Interconnection
Mill-Max announced a new range of double-row, gold-plated connectors in either spring-loaded or target versions.
Read more...
---
Samtec site's search function gets a UX upgrade
Spectrum Concepts Interconnection
Samtec announced a major upgrade to its on-site user search experience, including improvements in both performance and mobile compatibility.
Read more...
---
Spring-loaded connectors with rolling ball interface
Spectrum Concepts Interconnection
Omniball spring-loaded connectors feature a unique rolling ball interface, enabling contact to be made in both axial and non-axial alignments.
Read more...
---