printer friendly version
Rugged optical transceivers for Mil/Aero and industrial systems
26 April 2022
Interconnection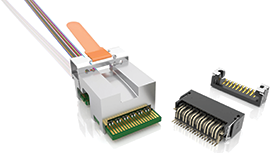 A key focal point for Samtec at this year's OFC (Optical Fiber Communication Conference) was the company's rugged optical transceivers, from the popular FireFly optical cable system to new VCSEL-based multimode cables.
OFC reflects the fact that data centres and HPC (high-performance computing) drive most of the volume for optical modules. Of course, these are controlled environments for environmentally-friendly applications with low humidity, controlled temperatures and no exposure to contaminants or corrosive chemicals. Samtec's popular FireFly optical engines are widely used in these types of applications because of their high density, small size and low power consumption. However, it also offers rugged, high-temperature designs that are used in military, aerospace and industrial applications where the operating conditions are more severe.
Samtec's ETMO is a FireFly-based optical engine that is available in different configurations optimised for different applications – from high shock and vibration, to full immersion, to salt/fog – and is capable of passing MIL-STD-810 Method 509.7, which is one of the most severe specifications for salt fog environments.
The company also offers an ultra-rugged optical engine, with the same optical connectivity, for military and space applications. These VCSEL-based multimode cables have the same high-performance optical and electrical specifications in a similarly small package. They are capable of surviving harsh environments but are also optimised for space applications, with components capable of error-free operation even when exposed to high levels of radiation.
Credit(s)
Further reading:
Phase-stable cable assemblies operate up to 50 GHz
RF Design Interconnection
The Lab-Flex T series from Smiths Interconnect are low-loss high-frequency cables that have minimal phase change with changing temperature and flexure.
Read more...
---
Samtec has reorganised its AcceleRate products online
Spectrum Concepts Interconnection
Samtec recently reorganised its family of AcceleRate products into one webpage to enable easier browsing and comparison of products when trying to find the best high-performance solution for the given application.
Read more...
---
Connectors for the evolving world of test and measurement
Spectrum Concepts Test & Measurement
Instrumentation employed to test new products needs to become more advanced to keep up with rapidly advancing technology.
Read more...
---
Samtec high-speed interconnects in next-gen UAS
Spectrum Concepts Interconnection
The unmanned aircraft system framework 2.0 autopilot platform utilises several of Samtec's high-speed board-to-board interconnects for the transfer of data between various add-on boards.
Read more...
---
Precision interconnects for DC to 90 GHz
Spectrum Concepts Interconnection
Samtec has released its 1,35 mm family of products including board and cable connectors suitable for millimetre wave applications to 90 GHz.
Read more...
---
16-port USB 3.0 SuperSpeed controller
Rugged Interconnect Technologies Interconnection
The SBX-DUB is a peripheral slot board for CompactPCI and is equipped with four individual USB 3.0 ports on the front panel and another 12 USB 3.0 ports via a connector on the backplane.
Read more...
---
Double-row connectors for quick-connect applications
Spectrum Concepts Interconnection
Mill-Max announced a new range of double-row, gold-plated connectors in either spring-loaded or target versions.
Read more...
---
Samtec site's search function gets a UX upgrade
Spectrum Concepts Interconnection
Samtec announced a major upgrade to its on-site user search experience, including improvements in both performance and mobile compatibility.
Read more...
---
Spring-loaded connectors with rolling ball interface
Spectrum Concepts Interconnection
Omniball spring-loaded connectors feature a unique rolling ball interface, enabling contact to be made in both axial and non-axial alignments.
Read more...
---
Mouser stocks wide selection of the latest Phoenix Contact products
TRX Electronics Interconnection
The offering covers a vast selection of sensors, controllers, terminal blocks, connectors and wireless Ethernet products.
Read more...
---