printer friendly version
The importance of overmoulding in interconnect design
26 April 2022
Interconnection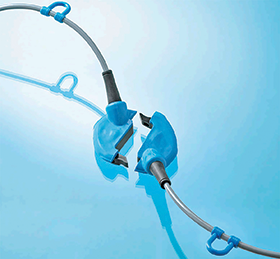 A reliable and robust electrical connection requires more than cables and connectors. Depending on the application and the environment, a better solution may be to develop special connections with inserted or overmoulded pins.
Electrical contacts can be completely protected by a plastic overmoulding made from a material selected to meet mechanical or environmental protection and space constraints. The protective function of this overmoulding feature is essential to ensure the reliability of the connection. Overmoulding can also be an asset to adapt and facilitate the integration of the connection into the customer's system.
For connections on printed circuit board assemblies (PCBA), the use of standardised connectors is typical but, depending on the size and the specific customer's requirements, customised interconnect solutions may be necessary. The press-fit contact solution on a circuit board is one of these solutions. A stamped contact with the press-fit function (eye-of-the-needle) is inserted into the plated hole of a PCB without the need for additional soldering operations. This insertion can be automated through the integration of dedicated machines into the assembly lines.
The design study phase allows the designer to define the size of the contact according to the current required for the application. Qualified press-fits of different thicknesses and platings are used to meet customer specifications and the PCBA with its press-fit contacts is then assembled into a plastic housing. This solution reduces the cost of the connector function and provides an optimally integrated unit.
Overmoulded connections to fit the customer's needs can also be considered. The co-engineering phase plays an essential role in the definition of the product, i.e., optimisation of the geometry of the parts with the help of rheology software and a choice of materials (PA, PBT, PPS, PPA and others) in relation to the various constraints. The overmoulding joins together a set of parts while guaranteeing mechanical integrity and providing resistance to a variety of conditions such as shock, abrasion, chemical products, radiation, temperature and moisture ingress.
The use of connectors is not always required, even for complex links – interesting alternative solutions can be implemented. Special housings with contacts crimped or soldered to an extruded cable (which is itself overmoulded), in-line in continuous or semi-automatic mode, are among the custom-designed solutions that connector and cable manufacturers who have integrated this expertise are able to offer.
Axon Cable's capabilities with various technologies such as cable extrusion, injection of classical or technical thermoplastics, moulding of mono- or bi-component resins and transformation of elastomers can prove to be a valuable asset for meeting customers' requirements. Examples include resistance to temperatures ranging from -80°C to +250°C, or when limiting flame propagation may be required.
The applications are diverse and encompass the automotive, defence, space, oil research and implantable medical fields.
For more information contact Hiconnex, +27 12 661 6779, [email protected], www.hiconnex.co.za
Credit(s)
Further reading:
Phase-stable cable assemblies operate up to 50 GHz
RF Design Interconnection
The Lab-Flex T series from Smiths Interconnect are low-loss high-frequency cables that have minimal phase change with changing temperature and flexure.
Read more...
---
Samtec has reorganised its AcceleRate products online
Spectrum Concepts Interconnection
Samtec recently reorganised its family of AcceleRate products into one webpage to enable easier browsing and comparison of products when trying to find the best high-performance solution for the given application.
Read more...
---
Samtec high-speed interconnects in next-gen UAS
Spectrum Concepts Interconnection
The unmanned aircraft system framework 2.0 autopilot platform utilises several of Samtec's high-speed board-to-board interconnects for the transfer of data between various add-on boards.
Read more...
---
Precision interconnects for DC to 90 GHz
Spectrum Concepts Interconnection
Samtec has released its 1,35 mm family of products including board and cable connectors suitable for millimetre wave applications to 90 GHz.
Read more...
---
16-port USB 3.0 SuperSpeed controller
Rugged Interconnect Technologies Interconnection
The SBX-DUB is a peripheral slot board for CompactPCI and is equipped with four individual USB 3.0 ports on the front panel and another 12 USB 3.0 ports via a connector on the backplane.
Read more...
---
Double-row connectors for quick-connect applications
Spectrum Concepts Interconnection
Mill-Max announced a new range of double-row, gold-plated connectors in either spring-loaded or target versions.
Read more...
---
Samtec site's search function gets a UX upgrade
Spectrum Concepts Interconnection
Samtec announced a major upgrade to its on-site user search experience, including improvements in both performance and mobile compatibility.
Read more...
---
Spring-loaded connectors with rolling ball interface
Spectrum Concepts Interconnection
Omniball spring-loaded connectors feature a unique rolling ball interface, enabling contact to be made in both axial and non-axial alignments.
Read more...
---
Mouser stocks wide selection of the latest Phoenix Contact products
TRX Electronics Interconnection
The offering covers a vast selection of sensors, controllers, terminal blocks, connectors and wireless Ethernet products.
Read more...
---
New SMT pins utilise a grooved pattern design
Spectrum Concepts Interconnection
Mill-Max expands its range of SMT pins with the introduction of three new series that feature the Sure-Hold grooved pattern design.
Read more...
---