printer friendly version
Dedicated logger for energy surveys and load studies
26 April 2022
Test & Measurement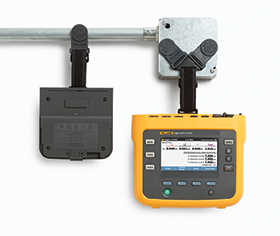 Designed for energy-conscious consumers of electricity, the Fluke 1730 three-phase electrical energy logger simplifies the task of discovering sources of wasted energy. Its ability to profile energy usage across facilities allows users to identify opportunities for energy savings and provides easy-to-understand data required to determine the appropriate course of action.
The 1730 shows when and where energy is being consumed in a facility, from the service entrance to the individual circuits. It compares multiple data points over time and builds a comprehensive picture of energy usage with the Energy Analyze software package. This facilitates the rapid understanding of specific points of energy loss, which can in turn reduce electricity bills.
In conjunction with Fluke's infrared cameras, the energy logger can enhance energy surveys by quickly identifying opportunities for energy savings, both electrically and thermally. In this way, users are able to discover potential problems that could be wasting energy and then quantify them electrically with the 1730. This combination makes for an ideal toolset to uncover hidden operational wastage such as lighting, air conditioning and other large loads that could be switched off when not in use.
More than 20 separate logging sessions can be stored on the instrument. All measured values are automatically logged and can be reviewed during logging and before downloading for on-the-go analysis. Complete in-the-field setup through the front panel means there is no need to return to the workshop for download and setup, or to take a computer to the electrical panel. The Fluke 1730 has a four-hour operating time per charge using lithium-ion batteries and is 600 V CAT IV/1000 V CAT III rated for use at the service entrance and downstream.
Credit(s)
Further reading:
Tektronix reimagines performance and portability in oscilloscopes
RS Components (SA) Test & Measurement
The new 2 series of oscilloscope can move from the bench to the field and back, enabling workflows previously not possible.
Read more...
---
Modbus probes gain support for parity options
RF Design Test & Measurement
The marquee feature of firmware version 1.06 facilitates the use of odd, even, mark or space parity modes when communicating with bus probes.
Read more...
---
Embrace the full power of J-Link debug probes
CST Electronics Test & Measurement
J-Link is supported by all major IDEs, from free Eclipse-based ones up to commercial-grade ones like Segger Embedded Studio.
Read more...
---
40 GHz RF power sensor
Conical Technologies Test & Measurement
Mini-Circuits' PWR-40PW-RC is a USB/Ethernet-controlled power sensor capable of making many different measurements.
Read more...
---
Power device analyser
Concilium Technologies Test & Measurement Power Electronics / Power Management
Keysight's new PD1550A is an advanced double-pulse tester that enables customers to test entire power modules quickly and easily.
Read more...
---
Evaluation board for MEMS devices
Altron Arrow Test & Measurement
The STEVAL-MKI220V1 is an adaptor board designed to facilitate the evaluation of MEMS devices in the LPS27HHTW product family.
Read more...
---
USB-attachable vector network analyser
Conical Technologies Test & Measurement
Mini-Circuits announced the release of its new eVNA-63, a high-quality and affordable test instrument with a bandwidth from 300 kHz to 6 GHz. The unit has a typical dynamic range of 132 dB, a trace noise 
...
Read more...
---
Compact test fixtures for small PCB volumes
Electronic Industry Supplies Test & Measurement
In order to offer the market a space-saving option, Ingun's manual test fixtures MA 350/F, MA 360/F, MA 260/F and MA 160/F were designed for testing small volumes of printed circuit boards (PCB). These 
...
Read more...
---
Precision current loop calibrators
Comtest Test & Measurement
The Fluke 709 and 709H mA loop calibrators are built around a user-friendly interface with a quick-set rotary encoder knob.
Read more...
---
IO Ninja cuts through Modbus analysis complexity
RF Design Test & Measurement
There is no need to translate every bit of the packet manually – the user just adds the layer to the pipeline and everything is automatically parsed for them.
Read more...
---