printer friendly version
Tiny CO2 sensor employs photoacoustic spectroscopy
30 May 2022
Analogue, Mixed Signal, LSI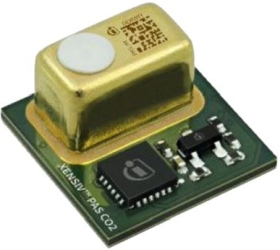 Based on the science of photoacoustic spectroscopy (PAS), Infineon Technologies' XENSIV PAS carbon dioxide (CO2) sensor uses a high-sensitivity MEMS microphone to detect the pressure change generated by CO2 molecules within the sensor cavity. The result is a significantly miniaturised sensor that offers space savings of more than 75% in end-products compared to competing products.
Available from Mouser Electronics, the device integrates a photoacoustic transducer – including detector, infrared source and optical filter – plus a microcontroller for signal processing and algorithms and a MOSFET to drive the infrared source. The integrated microcontroller converts the MEMS microphone output into a ppm reading, which is available either via the serial I²C, UART or PWM interface. The sensor measures a range from 0 ppm to 10 000 ppm with an accuracy of ±30 ppm or ±3% of the reading.
The sensor's direct ppm readings, surface-mounting capability and simple design allow for fast integration into low- and high-volume applications such as smart home and building automation designs, demand-controlled ventilation, air purifiers, thermostats, weather stations and personal assistants.
Credit(s)
Further reading:
Mouser stocks wide product selection from Renesas companies
TRX Electronics News
The products on offer include embedded solutions, semiconductors, optoelectronics, sensors and passive components.
Read more...
---
Evaluation board for MEMS accelerometers
Altron Arrow Analogue, Mixed Signal, LSI
The board is designed to facilitate fast system prototyping and device evaluation of MEMS devices in ST's ASM330LHHX product family.
Read more...
---
Mouser stocks wide selection of the latest Phoenix Contact products
TRX Electronics Interconnection
The offering covers a vast selection of sensors, controllers, terminal blocks, connectors and wireless Ethernet products.
Read more...
---
Efficient cold chain management with high-accuracy temperature sensors
Analogue, Mixed Signal, LSI
Choosing the correct system of temperature sensing in cold chain management is vital to ensure quality and product safety for the consumer.
Read more...
---
Modules support Wi-Fi 4 and Bluetooth 5.2
TRX Electronics Telecoms, Datacoms, Wireless, IoT
The new modules are mechanically and pin-compatible with the Sterling-LWB module, offering a simplified upgrade path for existing designs.
Read more...
---
Mouser's resource pages make it easier to find what you need
TRX Electronics Design Automation
Mouser Electronics offers a wealth of customer-focused online tools to simplify and optimise the selection and purchasing process. Helping customers to easily browse, select and purchase products, the 
...
Read more...
---
Self-learning AI sensor for fitness tracking
TRX Electronics Analogue, Mixed Signal, LSI
The Bosch BHI260AP is ideal for always-on sensor applications like wrist wearables, hearables, smartphones, AR/VR headsets and controller device.
Read more...
---
Sensor nodes for reliable air quality data
TRX Electronics Analogue, Mixed Signal, LSI
The advanced sensors offer easy integration, fully calibrated outputs with a digital interface, and optimal measurement of vital air quality parameters.
Read more...
---
High-resolution magnetic position sensor
TRX Electronics Analogue, Mixed Signal, LSI
Featuring a 14-bit sensor array and analog front-end, the sensor uses a differential measurement method to compensate for external stray magnetic fields.
Read more...
---
Absolute pressure sensor
Altron Arrow Analogue, Mixed Signal, LSI
The sensing element, which detects absolute pressure, consists of a suspended membrane manufactured using a special process developed by STMicroelectronics.
Read more...
---