printer friendly version
Mouser and Wevolver team up to expose university innovation
26 April 2022
News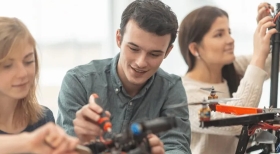 Mouser Electronics recently launched the 2022 University Technology Exposure Programme in partnership with Wevolver. The programme aims to recognise and reward innovation from engineering students and researchers across the globe.
The purpose of the programme is to elevate the work of engineering students and researchers by allowing them to share their projects and ideas. It will enable the development of new partnerships and collaborations, increase career prospects and inform the wider community of engineers about the incredible innovation of students and researchers.
The University Technology Exposure Program 2022 invites engineering students from all engineering disciplines to submit innovative projects covering a wide range of fields, including 3D printing, robotics, autonomous vehicles, batteries, drones, nanotechnology and more.
"Wevolver's University Technology Exposure Programme aligns closely with Mouser's ethos – to empower innovation," said Mark Patrick, Mouser's technical marketing manager, EMEA. "The students of today are the engineers of tomorrow and we encourage them at this early stage of their engineering careers to begin sharing innovative ideas. Mouser is delighted to partner with Wevolver again to launch this worthwhile student programme."
Wevolver aims to empower people to create and innovate by providing access to engineering knowledge through a variety of media, including blogs and podcasts. Entries are open until 31 July 2022.
For more information about Wevolver's University Technology Exposure Programme 2022 and to learn how to submit an entry, visit www.wevolver.com/student-program/
Further reading:
RS to showcase IoT and Food Safe products at NAMPO Harvest Day
RS Components (SA) News
Following a two-year hiatus, this year's event will take place over five days as opposed to four, to accommodate Covid-19 restrictions.
Read more...
---
Arrow Electronics unveils new CEO
Altron Arrow News
Sean Kerins has been picked to succeed Michael Long as president and chief executive officer effective 1 June 2022.
Read more...
---
Joburg Business School launches PHD in digital transformation
News
The Fourth Industrial Revolution is no longer an abstract concept – it is happening. Leaders will do well to incorporate its emerging technologies into their organisations.
Read more...
---
Record number of national standards published in 2021
News
The SABS sees the information contained in SANS as fundamental to optimising the country's economic and industrial potential.
Read more...
---
Online dashboard for global semiconductor sales data
News
The Semiconductor Industry Association (SIA) launched a new Semiconductor Unit Sales Dashboard to provide regularly updated, publicly available sales data for a range of semiconductor products. Amid the 
...
Read more...
---
Samsung bolstering investment in SA's tech sector
News
Both globally and locally, there is clear consensus that investment in a country's technological advancement is intrinsically linked to economic growth. In recognition of this philosophy, Samsung South 
...
Read more...
---
Record-seeking sailboat uses Fischer Connectors for sensor data transmission
News Interconnection
The boat is setting out to reach a speed of 80 knots powered only by the wind, and thereby break the long-standing world sailing speed record of 65,45 knots.
Read more...
---
Mouser again sponsors FIRST Robotics Competition
News
Mouser Electronics announced its continued sponsorship of the FIRST Robotics Competition, which inspires innovation and fosters well-rounded life capabilities in tens of thousands of young people every 
...
Read more...
---
New resource site for Mouser's popular podcast series
News
A new resource site has come online, dedicated to Mouser Electronics' engaging podcast episodes. The site features all episodes from the Empowering Innovation Together podcast series, The Tech Between 
...
Read more...
---
Latest EIT episode explores immersive technologies
News
Mouser Electronics has unveiled the next instalment of its 2022 Empowering Innovation Together (EIT) programme. It delves into the vast potential of immersive technologies and extended reality (XR), which 
...
Read more...
---