printer friendly version
Wire-to-board connectors with 0,8 mm pitch
26 April 2022
Interconnection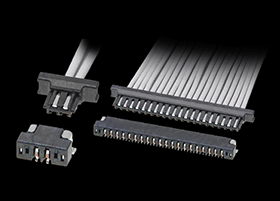 Most industries are moving in the direction of downsizing PCBs and components to save space. To this end, Molex' Zero-Hachi connector footprint is 40% smaller than other Molex 1,00 mm pitch wire-to-board products and has a reduced profile height of  mm.
Customers need to be assured of a high level of electrical reliability to enjoy disruption-free performance when using their electronic devices. The connector's dual-point contact design provides the needed contact wipe and reliability during mating. To afford efficiency in assembly and manufacturing processes, the easy-to-grip design adds to the ease of handling of the mated system by assembly operators.
An extensive array of circuit sizes (2 to 20 circuits) enables the extension of device functionality and features to meet advanced product development needs. By increasing circuit sizes and configuring signal pins to meet new product specifications and application requirements, makers of consumer, mobile, connected home and industrial devices can scale their development investments to meet market trends and needs.
Credit(s)
Further reading:
New series of power ribbon wire-wound resistors
Electrocomp Power Electronics / Power Management
This QL/QRZG series of high-power resistors have a high-power load up to 2500 W and are suitable for applications such as industrial braking, EV battery packs and charging stations.
Read more...
---
Phase-stable cable assemblies operate up to 50 GHz
RF Design Interconnection
The Lab-Flex T series from Smiths Interconnect are low-loss high-frequency cables that have minimal phase change with changing temperature and flexure.
Read more...
---
Samtec has reorganised its AcceleRate products online
Spectrum Concepts Interconnection
Samtec recently reorganised its family of AcceleRate products into one webpage to enable easier browsing and comparison of products when trying to find the best high-performance solution for the given application.
Read more...
---
Surface-mount resettable fuses
Electrocomp Passive Components
The new series of fuses, suitable for overcurrent and thermal protection, expand the hold current up to 6 A and the maximum voltage to 33 V DC.
Read more...
---
Samtec high-speed interconnects in next-gen UAS
Spectrum Concepts Interconnection
The unmanned aircraft system framework 2.0 autopilot platform utilises several of Samtec's high-speed board-to-board interconnects for the transfer of data between various add-on boards.
Read more...
---
Precision interconnects for DC to 90 GHz
Spectrum Concepts Interconnection
Samtec has released its 1,35 mm family of products including board and cable connectors suitable for millimetre wave applications to 90 GHz.
Read more...
---
Electrocomp stocks PhaseCap Energy Plus capacitor
Electrocomp Passive Components
TDK Electronics' new PhaseCap Energy Plus series capacitor is the latest generation of capacitor for power factor correction.
Read more...
---
16-port USB 3.0 SuperSpeed controller
Rugged Interconnect Technologies Interconnection
The SBX-DUB is a peripheral slot board for CompactPCI and is equipped with four individual USB 3.0 ports on the front panel and another 12 USB 3.0 ports via a connector on the backplane.
Read more...
---
Thinner pattern coils set to revolutionise wireless charging
Electrocomp Power Electronics / Power Management
TDK developed the 0,76 mm thick charging coils using a unique pattern coil technology without employing conventional lithographic exposure and etching techniques.
Read more...
---
Double-row connectors for quick-connect applications
Spectrum Concepts Interconnection
Mill-Max announced a new range of double-row, gold-plated connectors in either spring-loaded or target versions.
Read more...
---