printer friendly version
High-resolution magnetic position sensor
26 April 2022
Analogue, Mixed Signal, LSI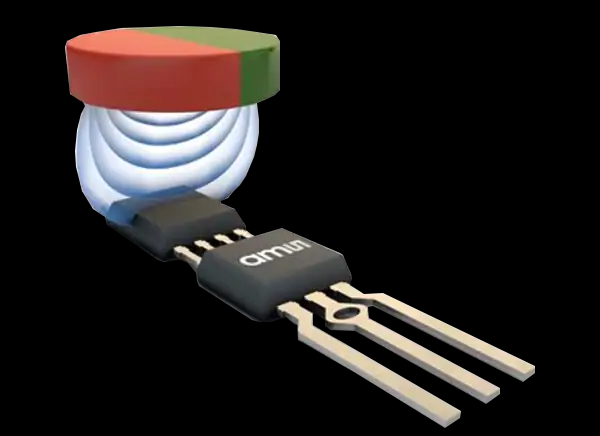 ams Osram's AS5172E is a high-resolution magnetic position sensor with AEC-Q100 Grade 1-qualified construction, offering durable performance for automotive applications including brake and gas pedals, fuel-level measurement systems, steering angle sensors and contactless potentiometers.
The sensor provides a highly accurate angular position measurement by determining the orthogonal component of the magnetic flux density over a full-turn rotation. Featuring a 14-bit sensor array and analog front-end, the sensor uses a differential measurement method to compensate for external stray magnetic fields, ensuring accurate results through a 12-bit PSI5 output (V1.3 and V2.1) at 90° minimum arc.
The highly durable AS5172E supports an extended operating temperature range of -40°C to 125°C and a supply voltage of up to 16,5 V, with overvoltage protection to 20 V and reverse polarity protection to ‑18 V.
For more information contact TRX Electronics, +27 12 997 0504, [email protected], www.trxe.com
Credit(s)
Further reading:
u-blox' smallest ever GNSS module
RF Design Analogue, Mixed Signal, LSI
Designing an anomaly detection library with AI learning capability is possible with minimal data and with no specific data-science skills needed.
Read more...
---
Mouser stocks wide product selection from Renesas companies
TRX Electronics News
The products on offer include embedded solutions, semiconductors, optoelectronics, sensors and passive components.
Read more...
---
Evaluation board for MEMS accelerometers
Altron Arrow Analogue, Mixed Signal, LSI
The board is designed to facilitate fast system prototyping and device evaluation of MEMS devices in ST's ASM330LHHX product family.
Read more...
---
Mouser stocks wide selection of the latest Phoenix Contact products
TRX Electronics Interconnection
The offering covers a vast selection of sensors, controllers, terminal blocks, connectors and wireless Ethernet products.
Read more...
---
Efficient cold chain management with high-accuracy temperature sensors
Analogue, Mixed Signal, LSI
Choosing the correct system of temperature sensing in cold chain management is vital to ensure quality and product safety for the consumer.
Read more...
---
Modules support Wi-Fi 4 and Bluetooth 5.2
TRX Electronics Telecoms, Datacoms, Wireless, IoT
The new modules are mechanically and pin-compatible with the Sterling-LWB module, offering a simplified upgrade path for existing designs.
Read more...
---
Tiny CO2 sensor employs photoacoustic spectroscopy
TRX Electronics Analogue, Mixed Signal, LSI
The device uses a high-sensitivity MEMS microphone to detect the pressure change generated by CO
2
molecules within the sensor cavity.
Read more...
---
Mouser's resource pages make it easier to find what you need
TRX Electronics Design Automation
Mouser Electronics offers a wealth of customer-focused online tools to simplify and optimise the selection and purchasing process. Helping customers to easily browse, select and purchase products, the 
...
Read more...
---
Self-learning AI sensor for fitness tracking
TRX Electronics Analogue, Mixed Signal, LSI
The Bosch BHI260AP is ideal for always-on sensor applications like wrist wearables, hearables, smartphones, AR/VR headsets and controller device.
Read more...
---
Sensor nodes for reliable air quality data
TRX Electronics Analogue, Mixed Signal, LSI
The advanced sensors offer easy integration, fully calibrated outputs with a digital interface, and optimal measurement of vital air quality parameters.
Read more...
---