printer friendly version
Industrial MCU with gigabit time-sensitive networking
30 May 2022
DSP, Micros & Memory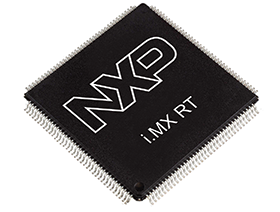 The newly announced i.MX RT1180 from NXP includes a gigabit time-sensitive networking (TSN) switch to enable real-time networking capable of handling both time-sensitive and industrial real-time communication via protocols such as Profinet, Ethernet/IP, EtherCAT, CC-Link IE Field and HSR. This helps it to bridge the gap between existing industrial networks and Industry 4.0 platforms.
This module is also the first crossover MCU to include an Edgelock secure enclave, a pre-configured and self-managed, on-die security subsystem that eases the complexity of implementing robust security intelligence for IIoT and smart manufacturing.
The main processor is an 800 MHz ARM Cortex-M7 with the security processing handled by a 240 MHz Cortex-M33 using ARM's TrustZone, a system that provides a cost-effective methodology to isolate security-critical components in a system by physically separating the larger, more feature-rich operating system from a much smaller, secure operating system. This security system is backed by NXP's Edgelock root-of-trust that manages secure boot, runtime attestation, trust provisioning, key management and tamper monitoring.
The i.MX RT1180 also provides up to five gigabit ports, including four ports on a Layer 2 TSN switch and one port on an end-point TSN controller. This allows the MCU to serve as a companion chip in industrial designs, offering seamless 1 Gbps direct communication between a host device and the companion without requiring an on-board PHY.
Designed for power efficiency, the MCU's integrated power management IC helps enable the energy efficiency that is critical for many industrial applications while helping to reduce the board complexity. The i.MX RT1180 MCU operates in an extended temperature range of -40°C to 125°C, providing higher reliability for factory equipment running 24/7.
Credit(s)
Further reading:
Qualcomm AI stack: a unified AI software solution
Future Electronics Computer/Embedded Technology
Qualcomm has bundled all its AI software offerings into a single package called the Qualcomm AI Stack which will assist developers in deploying AI applications.
Read more...
---
Automotive motion sensor with embedded ML core
Altron Arrow DSP, Micros & Memory
The ASM330LHHX, a six-axis inertial module with embedded machine learning core and dual operating modes, ensures the lowest power consumption and in-sensor event detection.
Read more...
---
SolidRun releases a SoM solution based on a Renesas SoC
EBV Electrolink DSP, Micros & Memory
In partnership with Renesas, SolidRun has released a SoM solution based on the powerful RZ/G2 family of SoCs, which are engineered for AI-enhanced HMI applications.
Read more...
---
ST develops new serial EEPROM class
Altron Arrow DSP, Micros & Memory
This new class of serial EEPROM is a 32-Mbit page-erasable memory that is less expensive than FRAM while offering a lower power consumption.
Read more...
---
New Espressif MCU embeds Wi-Fi 6
iCorp Technologies DSP, Micros & Memory
Espressif Systems has introduced the ESP32-C5, their first dual-band 2,4 and 5 GHz Wi-Fi 6 and Bluetooth 5 low-energy microcontroller unit.
Read more...
---
New chip from ST ideal for use in a 3-phase motor controller
Altron Arrow DSP, Micros & Memory
STMicroelectronics' new STSPIN32G4 is an integrated and flexible motor controller for driving three-phase brushless motors, helping designers choose the most suitable driving mode and at the same time 
...
Read more...
---
An entire chain of trust for system platforms
RS Components (SA) DSP, Micros & Memory
Microchip's CEC1736 Trust Shield family spans silicon, software, tools, a development board and provisioning capabilities that drive the end-to-end platform firmware protection that customers need.
Read more...
---
EFM32PG23 Microcontroller for IoT applications
RS Components (SA) DSP, Micros & Memory
Silicon Labs' EFM32PG23 microcontroller is the ideal combination of excellent low-power performance, precision analog capabilities and security in a small package.
Read more...
---
MG24 Wireless Development Kit
RS Components (SA) DSP, Micros & Memory
Silicon Labs' MG24 development kit is a high-performing wireless SoC with an AI/ML accelerator for battery-powered IoT end devices.
Read more...
---
Mastering the MicroBlaze processor
EBV Electrolink DSP, Micros & Memory
AMD-Xilinx and Adiuvo will present a hands-on workshop on using the MicroBlaze processor on the Spartan-7 evaluation kit to create, develop and deploy an FPGA solution.
Read more...
---