printer friendly version
Rugged plug-in card ideal for sensor-based systems
30 May 2022
Computer/Embedded Technology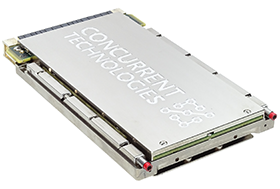 Military computer systems need to deliver high-performance edge computing in an array of harsh environments. These defence systems are required to operate in all conditions, withstanding significant altitudes and temperature ranges, as well as exposure to liquid, shock and operational vibration. In addition to this, these systems must be lightweight and compact to accommodate extreme space constraints.
These edge computing systems need to analyse large volumes of data and rely on low-latency connectivity as access to an ever-widening array of data streams is vital. Military and security personnel depend on being able to capture, analyse and gain insight from these massive amounts of data as quickly as possible. With improvements in connectivity, more data can be captured and analysed in the field, provided that the hardware is capable of processing these huge volumes of data.
Small form-factor design requirements
Designing for a small form factor is one of the challenges as designs become increasingly complex. Form-factor sizes are getting smaller, while functionality requirements are increasing. Lower power consumption and less thermal output are also requirements. Additionally, ruggedness requirements present another headache for a small form-factor design.
Size, weight and power (SWaP) is critical in defence applications, while at the same time, the demand for high-performance embedded computing has never been greater. Military engagements rely on having access to near real-time complex data, with the ability to share that data with all personnel. As the demand for devices with better SWaP specifications grows, solution providers must respond with small form-factor, high-performance, rugged, embedded computing designs. Furthermore, these designs need to be based on open standards.
Besides the SWaP considerations, sensor systems need to process and transfer huge amounts of data between computing elements within a system. Low latency and large bandwidth are essential to enable the signals and data packets to be transmitted and received by the system as quickly as possible.
A solution to these challenges
A solution to the problems highlighted above is the TR L9x/6sd-RCx processor board by Concurrent Technologies. This processor board is a rugged plug-in card that can be used as the system controller in high-performance, sensor-based solutions in the defence arena. It is ideal for use in situational awareness, software-defined radio (SDR) and radar processing applications.
This new card was designed in alignment with the Sensor Open Systems Architecture (SOSA) standard for I/O intensive processor boards. This standard is focused on addressing problems with vendor interoperability and limited paths for upgrades to new technologies. Sensor technologies developed to the SOSA standard use commercial off-the-shelf (COTS) components in the design that can be more easily integrated, repaired or replaced in an existing system.
The TR L9x/6sd-RCx is built with Intel Xeon W processor technology which offers up to 8 cores for high-performance compute algorithms that are typically used in sensor-based systems for radar, SDR, electronic warfare and C4ISR (command, control, communications, computers, intelligence, surveillance and reconnaissance) applications. Two processor options are available: an 8-core Intel Xeon W-11865MRE processor, and a 4-core Intel Xeon W-11155MRE processor. Both options use the integrated Intel UHD graphics which can be used either for display or hardware acceleration purposes.
The Intel Xeon W processors include AI acceleration technologies, virtualisation technologies, and built-in hardware-based security in parallel with other core functions. The AI and deep learning technologies include Intel Gaussian and Neural Accelerator 2.0, as well as Intel Deep Learning Boost which is a new set of technologies designed to accelerate AI deep learning.
The TR L9x/6sd-RCx is the first processor board from Concurrent Technologies to support up to 100GBASE-KR4 Ethernet capability, which makes it suitable for applications needing high-throughput communications. An E810 Intel Ethernet controller is incorporated to provide up to 100 Gbps throughput to allow for transfer of information between the various subsystems.
Credit(s)
Further reading:
Galleon releases a rugged 100GbE recorder
Rugged Interconnect Technologies Computer/Embedded Technology
The XSR 100GbE recorder is the latest addition to Galleon Embedded Computing's line-up of innovative military embedded solutions and is perfect for applications in unmanned systems, surveillance and reconnaissance.
Read more...
---
Samsung launches GDDR6 RAM module
EBV Electrolink Computer/Embedded Technology
The DRAM is capable of 24 Gbps processing speeds and will significantly advance the graphics performance of AI-based applications and high-performance computing.
Read more...
---
Qualcomm AI stack: a unified AI software solution
Future Electronics Computer/Embedded Technology
Qualcomm has bundled all its AI software offerings into a single package called the Qualcomm AI Stack which will assist developers in deploying AI applications.
Read more...
---
ADLINK launches NVIDIA Jetson-based vision system
Rugged Interconnect Technologies Computer/Embedded Technology
The EOS-JNX-I is a next-generation AI vision system that uses the new NVIDIA module as an optimised development platform that simplifies AI to the edge.
Read more...
---
Quectel announces high-performance 5G smart module
iCorp Technologies Computer/Embedded Technology
The SG560D, an Android smart module that combines 5G and artificial intelligence, is suitable for complex applications such as in-vehicle infotainment and industrial handheld devices.
Read more...
---
Half-duplex transceiver for RS-485
Vepac Electronics Computer/Embedded Technology
The new enhanced transceiver is designed for RS-485 data bus networks and is fully compliant with the TIA/EIA-485A standard.
Read more...
---
16-port USB 3.0 SuperSpeed controller
Rugged Interconnect Technologies Interconnection
The SBX-DUB is a peripheral slot board for CompactPCI and is equipped with four individual USB 3.0 ports on the front panel and another 12 USB 3.0 ports via a connector on the backplane.
Read more...
---
ST releases first automotive IMU with embedded ML
Altron Arrow Computer/Embedded Technology
Smart driving moves another step closer to high levels of automation with STMicroelectronics' new machine learning core.
Read more...
---
Standalone H.264 video streaming board
Rugged Interconnect Technologies Computer/Embedded Technology
The XStream-SD4 is an intelligent, standalone, ultra-low latency H.264 streaming solution that accepts 4x NTSC/PAL/RS-170 composite video sources and records and streams them over 100/1000 Mbps Ethernet. 
...
Read more...
---
EBV signs up AI chipmaker Hailo
EBV Electrolink Computer/Embedded Technology
Hailo offers a wide range of AI accelerators, including the innovative Hailo-8 AI processor and high-performance AI acceleration modules in M.2 and Mini PCIe formats.
Read more...
---