printer friendly version
Tibbo powers cloud-enabled traceability systems
26 April 2022
Telecoms, Datacoms, Wireless, IoT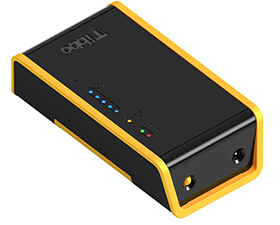 Today, traceability is critical in all stages of the manufacturing process. It allows manufacturers to follow the progress of their products throughout the entire production process, helping to identify problems. This is particularly important in the quality control (QC) phase, as it is the last chance to ensure that products are safe, reliable and meet specifications.
Traceability generally requires the ability to identify each unit in production, typically with barcodes. These barcodes are scanned at each production step. Tibbo's cloud-enabled traceability solution consists of three components:
• WS1102 programmable serial controller with a barcode scanner.
• TPS2L(G2) modular automation platform with an LCD screen.
• A database and app in the Microsoft Azure cloud.
The wireless nature of the WS1102 allows units (and attached barcode scanners) to be moved freely between workstations. A Tibbo BASIC app on the WS1102 receives and processes data from the barcode scanner and serves this data to the Tibbo app in the Azure cloud.
At the heart of each workstation is a TPS controller. The modularity of the Tibbo Project System (TPS) means that each unit can be tailored to the needs of its station. One neat feature the company has implemented is the configuration of WS1102 controllers via QR codes displayed on the TPS' LCD screens. This allows the WS1102s and barcode scanners to be moved between stations. The user can simply scan the code on the screen, and the WS1102 knows where it is.
Tibbo's Microsoft Azure app analyses collected telemetry and keeps track of each step that a production unit has passed through. The system also records all additional test data generated at every step. The cloud-based system is crucial for identifying missed or improperly executed production steps.
For more information contact Andrew Hutton, RF Design, +27 21 555 8400, [email protected], www.rfdesign.co.za
Credit(s)
Further reading:
RF laminates specifically designed for industrial radar applications
RF Design Telecoms, Datacoms, Wireless, IoT
The RO4835IND Lo Pro from Rogers Corporation are thermoset RF laminates that are specifically designed for radar applications in the 60 to 81 GHz range.
Read more...
---
Phase-stable cable assemblies operate up to 50 GHz
RF Design Interconnection
The Lab-Flex T series from Smiths Interconnect are low-loss high-frequency cables that have minimal phase change with changing temperature and flexure.
Read more...
---
Take advantage of Wi-Fi 6, 6E
Altron Arrow Telecoms, Datacoms, Wireless, IoT
Infineon has provided a host of online resources to learn more about the technology and benefits involved with Wi-Fi 6.
Read more...
---
Qorvo announces new satcom MMIC power amp
RF Design Telecoms, Datacoms, Wireless, IoT
The QPA1724 SiC 20 W power amplifier operates in the Ku-K band and is aimed at defence and commercial satellite applications.
Read more...
---
40 GHz RF switch from Marki Microwave
RF Design Telecoms, Datacoms, Wireless, IoT
The MSW2-1001ELGA is a reflective SPDT switch that operates in the frequency range from 100 MHz to 40 GHz.
Read more...
---
Power amplifier operates from 17,3 to 21,2 GHz
RF Design Telecoms, Datacoms, Wireless, IoT
The new QPA1724 power amplifier from Qorvo delivers a saturated output power of 20 W over the full frequency range.
Read more...
---
Helium mining – Popular hype or real business opportunity? – Part 2
Otto Wireless Solutions Editor's Choice Telecoms, Datacoms, Wireless, IoT
"I would say it is really easy to get into, but you need to be aware of the exchange rates and you need to have a solid and stable Internet network."
Read more...
---
u-blox' smallest ever GNSS module
RF Design Analogue, Mixed Signal, LSI
Designing an anomaly detection library with AI learning capability is possible with minimal data and with no specific data-science skills needed.
Read more...
---
Inertial module enables on-chip AI training
Altron Arrow Telecoms, Datacoms, Wireless, IoT
MIA-M10 concurrently receives four GNSS constellations (GPS, Galileo, BeiDou, and GLONASS) for maximum satellite signal availability.
Read more...
---
Positioning module with quick TTFF
iCorp Technologies Telecoms, Datacoms, Wireless, IoT
The LC76G GNSS positioning module features fast and accurate position location performance as well as ultra-low power consumption.
Read more...
---