printer friendly version
Mouser stocks wide selection of the latest Phoenix Contact products
30 May 2022
Interconnection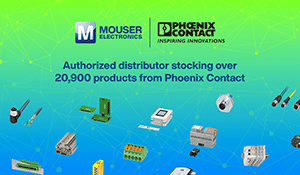 Mouser Electronics has over 20 900 Phoenix Contact products in stock and offers an ever-widening selection of the company's newest sensors, controllers, modular terminal blocks, splash-proof machinery connectors, wireless Ethernet products and more, with new products being added constantly.
The following are a few of the popular Phoenix Contact products available:
Single pair Ethernet (SPE) connectors offer an alternative to classic serial bus systems for efficient, consistent data transmission in factory and process automation.. The SPE connectors meet IEC 63171-2 and -5 standards and are suitable for applications such as building and industrial automation, robotics, railway and lighting.
The Axioline P station combines a bus interface, proxy and I/O, and features hot-swappable components that offer time savings and convenience. It combines the need for modular connectivity to various networks and protocolswith the ability to add additional I/O to the station. The proxy is modular and allows the user to connect up to eight PROFIBUS PA segments to the bus interface. The I/O modules are available for either standard or intrinsically safe applications, with the ability to handle analog or digital signals. Engineers can connect Axioline P directly to a DCS in the form of a remote I/O system.
Phoenix Contact displays and keypads feature high-contrast displays with an optional capacitive touch or membrane keypad to create an interface. These high-resolution, graphics-capable colour displays are offered in a size of 2,4 inches and are suitable for a broad range of industrial applications as well as informational displays in offices.
For more information contact TRX Electronics, +27 12 997 0504, [email protected], www.trxe.com
Credit(s)
Further reading:
Mouser stocks wide product selection from Renesas companies
TRX Electronics News
The products on offer include embedded solutions, semiconductors, optoelectronics, sensors and passive components.
Read more...
---
Connectors for the evolving world of test and measurement
Spectrum Concepts Interconnection
Instrumentation employed to test new products needs to become more advanced to keep up with rapidly advancing technology.
Read more...
---
Double-row connectors for quick-connect applications
Spectrum Concepts Interconnection
Mill-Max announced a new range of double-row, gold-plated connectors in either spring-loaded or target versions.
Read more...
---
Samtec site's search function gets a UX upgrade
Spectrum Concepts Interconnection
Samtec announced a major upgrade to its on-site user search experience, including improvements in both performance and mobile compatibility.
Read more...
---
Spring-loaded connectors with rolling ball interface
Spectrum Concepts Interconnection
Omniball spring-loaded connectors feature a unique rolling ball interface, enabling contact to be made in both axial and non-axial alignments.
Read more...
---
New SMT pins utilise a grooved pattern design
Spectrum Concepts Interconnection
Mill-Max expands its range of SMT pins with the introduction of three new series that feature the Sure-Hold grooved pattern design.
Read more...
---
Modules support Wi-Fi 4 and Bluetooth 5.2
TRX Electronics Telecoms, Datacoms, Wireless, IoT
The new modules are mechanically and pin-compatible with the Sterling-LWB module, offering a simplified upgrade path for existing designs.
Read more...
---
Tiny CO2 sensor employs photoacoustic spectroscopy
TRX Electronics Analogue, Mixed Signal, LSI
The device uses a high-sensitivity MEMS microphone to detect the pressure change generated by CO
2
molecules within the sensor cavity.
Read more...
---
Mouser's resource pages make it easier to find what you need
TRX Electronics Design Automation
Mouser Electronics offers a wealth of customer-focused online tools to simplify and optimise the selection and purchasing process. Helping customers to easily browse, select and purchase products, the 
...
Read more...
---
Self-learning AI sensor for fitness tracking
TRX Electronics Analogue, Mixed Signal, LSI
The Bosch BHI260AP is ideal for always-on sensor applications like wrist wearables, hearables, smartphones, AR/VR headsets and controller device.
Read more...
---