printer friendly version
Ford's Silverton plant completes first phase of solar installation
30 May 2022
News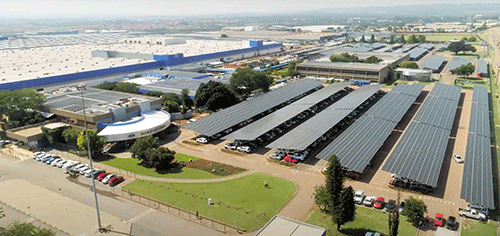 Ford's Silverton assembly plant in Pretoria, which produces the Ranger pickup for domestic sales and export to global markets, has completed the first phase of its transition to solar energy and is now sourcing 35% of its electricity needs completely emission-free. The project is the result of a power purchase agreement with SolarAfrica and sees the installation of solar photovoltaic (PV) carports for 3610 vehicles at its Silverton plant.
The large-scale solar array uses a total of 30 226 solar panels to generate 13,5 MW of power, making it one of the largest solar carports in the world and a ground-breaking renewable energy project for the domestic automotive industry. The project also supports Ford's global target of using 100% carbon-free electricity across all its manufacturing operations by 2035, and achieving carbon neutrality by 2050.
"We are delighted to officially flip the switch and begin receiving 35 percent of our electricity from the solar carports with the completion of the first phase of our Project Blue Oval renewable energy programme," says Ockert Berry, vice president of operations, Ford South Africa. "This project proudly puts the Silverton assembly plant on the map as part of Ford's commitment to sustainability as we migrate our energy supply from fossil fuels to environmentally-friendly, renewable resources."
Despite delays due to the Covid-19 lockdowns and the subsequent global shortage of certain components, the installation took 599 days to complete and supported 121 jobs amongst contractors involved in the construction and installation. Approximately 59 tons of steel and 315 tons of aluminium were used for the locally manufactured carports. More than 5000 metres of medium- and low-voltage cabling was used to connect the solar PV panels to 120 three-phase 100 kW inverters and 8 transformers, before being fed into the manufacturing plant.
The system is capable of producing 13,5 MW of power, which is equivalent to powering 12 171 average households for an entire year. More significantly from an environmental perspective, however, is that the PV array will eliminate the equivalent of 20 072 tons of CO2 generated per annum, which is a major step towards achieving Ford's global carbon-free emissions target by 2035.
"With the solar project now complete and fully operational, we are evaluating the next steps for Project Blue Oval as we strive to ultimately have the Silverton plant completely energy self-sufficient and 100% carbon neutral," Berry adds.
Further reading:
Mouser stocks wide product selection from Renesas companies
TRX Electronics News
The products on offer include embedded solutions, semiconductors, optoelectronics, sensors and passive components.
Read more...
---
TUKS campus taken over by robots!
News
Students are required to build autonomous robotic vehicles with a sensor system to detect specific colours on a multi-coloured track.
Read more...
---
Altron Arrow FAE earns STMicroelectronics award
News
Renaldo Fibiger was one of only two people from the whole of the EMEA region who scored 30 out of 31 in the certification course.
Read more...
---
Infineon to exhibit at Embedded World 2022
News
This Infineon will be showcasing various focus areas dealing with embedded systems and the internet of things.
Read more...
---
Avnet Abacus congratulates Bourns on 75 years of innovation
Avnet Abacus News
This year also marks a milestone with the 21st anniversary of the distribution alliance between these two companies.
Read more...
---
New product marketing manager for Yamaha's SMT section
News
Yamaha appoints Kamil Stasiak, a 10-year veteran of the industry, as product marketing manager for its surface-mount technology section.
Read more...
---
Partnership between mLab and MICT SETA announced
News
The MOU between the two parties will seek to upskill South Africans, allowing them to keep up with a rapidly changing employment market.
Read more...
---
Infineon's easy-to-use replacement for legacy barrel jacks
Altron Arrow News
It is estimated that over 10 billion power tools are still using the old barrel jacks for their power needs, which will need to change.
Read more...
---
Worldwide silicon wafer shipments edge higher to new record
News
SMG reports that worldwide silicon wafer shipments in the first quarter of 2022 surpassed the previous record high set in the third quarter of 2021.
Read more...
---
Arrow Electronics announces alliance with Senseye
Altron Arrow News
The agreement will see Arrow Electronics together with Senseye bringing to market AI-based predictive maintenance solutions for industrial sectors.
Read more...
---