printer friendly version
Tri-radio module for a multitude of applications
30 May 2022
Telecoms, Datacoms, Wireless, IoT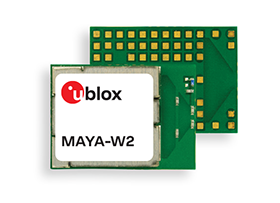 Supporting Wi-Fi 6, Bluetooth low energy (LE)&nbsp5.2; and IEEE 802.15.4 (Thread and Zigbee) on a compact form factor, u-blox' MAYA-W2 brings Wi-Fi 6 technology to industrial and consumer mass-market applications in industrial automation, smart building and energy management, healthcare, smart home and many other applications.
MAYA-W2 futureproofs applications with an advanced set of connectivity features. Wi-Fi 6, also referred to as 802.11ax, offers better network efficiency (especially in congested areas), lower latency and improved range over previous-generation Wi-Fi standards. Thread paves the way for low-power, IP-based mesh networks commonly used in home automation.
Additionally, the dual-mode Bluetooth module supports both Bluetooth classic and Bluetooth LE, including Bluetooth LE audio. New audio functionalities allow devices to concurrently transmit several distinct audio streams, simultaneously receive multiple audio streams, and broadcast audio streams to multiple users.
The module is designed to give developers a fast track to the market. All required Linux, Android and FreeRTOS software drivers are available as open-source. The FreeRTOS software drivers are pre-integrated into the MCUXpresso software development kit (SDK), while the Android and Linux software drivers are pre-integrated into the board support packages (BSPs) for NXP's&nbspi.MX; application processors. This reduces design efforts, simplifying software integration and testing.
Footprint compatibility with the MAYA-W1 Wi-Fi&nbsp4; module facilitates the development of multiple product lines catering to use case-specific performance requirements. At the same time, it offers a seamless migration path to upgrade Wi-Fi 4 devices to Wi-Fi 6 technology.
MAYA-W2 is available as a professional-grade module that is qualified for operation from -40°C to 85°C. Available in four variants with three antenna options – antenna pins, U.FL connectors or a PCB antenna – the tri-radio module can be designed into any type of IoT device.
Product developers can evaluate the hardware using dedicated evaluation kits (EVKs) as well as M.2 cards that connect seamlessly to host platforms including the latest range of NXP's i.MX development boards.
For more information contact Andrew Hutton, RF Design, +27 21 555 8400, [email protected], www.rfdesign.co.za
Credit(s)
Further reading:
Flexible 4G/LTE PCB antenna
RF Design Telecoms, Datacoms, Wireless, IoT
The new 4G/LTE antenna from Taoglas is a flexible antenna operating over the frequency range from 698 MHz to 3 GHz, and which provides a peak gain of 5 dBi.
Read more...
---
Qorvo announces fully integrated UWB module
RF Design Telecoms, Datacoms, Wireless, IoT
Qorvo has announced the DWM3001C, a fully integrated ultra-wideband (UWB) module that enables robust UWB implementation in factory, warehouse, automation and safety systems.
Read more...
---
Earn helium when devices connect to your hotspot
Otto Wireless Solutions Telecoms, Datacoms, Wireless, IoT
Otto Wireless Solutions has announced the A150000 RAK Hotspot Helium Miner v2 which earns helium when devices connect as well as for validating wireless coverage delivered by peers on the network.
Read more...
---
Connectivity for the future with new SIMCom modules
Otto Wireless Solutions Telecoms, Datacoms, Wireless, IoT
With the global phasing out of 2G, SIMCom's new low-cost 4G modules are looking to future-proof your designs by replacing the older 2G modules.
Read more...
---
Cellular module with embedded SIM
RF Design Telecoms, Datacoms, Wireless, IoT
The SARA-R500E LTE-M module from u-blox has an embedded SIM and offers product developers an integrated, robust, and secure solution to connect IoT applications to the cellular network.
Read more...
---
5G-CARMEN project creates 600 km corridor
Telecoms, Datacoms, Wireless, IoT
The project has demonstrated the capability of autonomous vehicles to leverage the 5G cellular network to provide a multi-tenant platform with the goal of enabling self-driving cars.
Read more...
---
Low-PIM cable assembly application considerations
RF Design Interconnection
Given the diverse range of applications for coaxial cable assemblies, these cables are not one-size-fits-all. This article discusses three main types, low-PIM, low-loss, and phase-stable coaxial cable assemblies.
Read more...
---
GNSS receiver module to extend runtime by 500%
iCorp Technologies Telecoms, Datacoms, Wireless, IoT
Antenova has announced the GNSSNOVA M20071 GNSS receiver module with power consumption reduced five-fold to enable smaller tracker designs, and trackers that could run five times longer.
Read more...
---
Wideband amplifiers operating from 35 to 95 GHz
Conical Technologies Telecoms, Datacoms, Wireless, IoT
Mini-Circuits announced the expansion of lineup of connectorised high-frequency amplifiers to provide support even deeper into the e-band range.
Read more...
---
u-blox antenna offers low-power solution
RF Design Telecoms, Datacoms, Wireless, IoT
The u-blox SAM-M10Q antenna module is tailored to the needs of applications such as industrial tracking and telematics, automation and monitoring and small UAVs.
Read more...
---