printer friendly version
Tri-radio module for a multitude of applications
30 May 2022
Telecoms, Datacoms, Wireless, IoT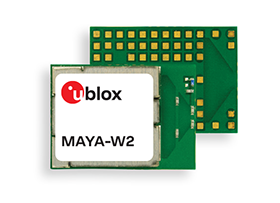 Supporting Wi-Fi 6, Bluetooth low energy (LE)&nbsp5.2; and IEEE 802.15.4 (Thread and Zigbee) on a compact form factor, u-blox' MAYA-W2 brings Wi-Fi 6 technology to industrial and consumer mass-market applications in industrial automation, smart building and energy management, healthcare, smart home and many other applications.
MAYA-W2 futureproofs applications with an advanced set of connectivity features. Wi-Fi 6, also referred to as 802.11ax, offers better network efficiency (especially in congested areas), lower latency and improved range over previous-generation Wi-Fi standards. Thread paves the way for low-power, IP-based mesh networks commonly used in home automation.
Additionally, the dual-mode Bluetooth module supports both Bluetooth classic and Bluetooth LE, including Bluetooth LE audio. New audio functionalities allow devices to concurrently transmit several distinct audio streams, simultaneously receive multiple audio streams, and broadcast audio streams to multiple users.
The module is designed to give developers a fast track to the market. All required Linux, Android and FreeRTOS software drivers are available as open-source. The FreeRTOS software drivers are pre-integrated into the MCUXpresso software development kit (SDK), while the Android and Linux software drivers are pre-integrated into the board support packages (BSPs) for NXP's&nbspi.MX; application processors. This reduces design efforts, simplifying software integration and testing.
Footprint compatibility with the MAYA-W1 Wi-Fi&nbsp4; module facilitates the development of multiple product lines catering to use case-specific performance requirements. At the same time, it offers a seamless migration path to upgrade Wi-Fi 4 devices to Wi-Fi 6 technology.
MAYA-W2 is available as a professional-grade module that is qualified for operation from -40°C to 85°C. Available in four variants with three antenna options – antenna pins, U.FL connectors or a PCB antenna – the tri-radio module can be designed into any type of IoT device.
Product developers can evaluate the hardware using dedicated evaluation kits (EVKs) as well as M.2 cards that connect seamlessly to host platforms including the latest range of NXP's i.MX development boards.
For more information contact Andrew Hutton, RF Design, +27 21 555 8400, [email protected], www.rfdesign.co.za
Credit(s)
Further reading:
Multi-protocol IoT prototyping platform
RF Design Telecoms, Datacoms, Wireless, IoT
The Nordic Thingy:53 brings dual-core Arm Cortex-M33 processing power and embedded machine learning to rapid IoT product prototyping.
Read more...
---
Quectel launches a high-performance single-band GNSS module
iCorp Technologies Telecoms, Datacoms, Wireless, IoT
The LC76G GNSS positioning module features fast and accurate position location performance as well as ultra-low power consumption.
Read more...
---
Power amplifier operates from 17,3 to 21,2 GHz
RF Design Telecoms, Datacoms, Wireless, IoT
The new QPA1724 power amplifier from Qorvo delivers a saturated output power of 20 W over the full frequency range.
Read more...
---
Directional coupler has a frequency range from 0,6 to 40 GHz
RF Design Telecoms, Datacoms, Wireless, IoT
The CE10-0R640 coupler from Marki Microwave is a 10 dB broadband directional coupler with directivity of 22 dB and insertion loss less than 2,3 dB.
Read more...
---
RF amplifier with low phase noise
RF Design Telecoms, Datacoms, Wireless, IoT
The APM-7516 is available in a connectorised module that measures 2,85 x 1,5 x 1 cm, with 2,92 mm connectors.
Read more...
---
'World's smallest' LTE Cat 4 module with global coverage and 2G/3G fallback
RF Design Telecoms, Datacoms, Wireless, IoT
LARA-L6 is ideal for size-constrained applications such as video surveillance, dashcams, telematics, gateways, routers and connected health devices.
Read more...
---
Eight-way bandpass filter bank
RFiber Solutions Telecoms, Datacoms, Wireless, IoT
The AM3215 from Atlanta Micro is a broadband, eight-way bandpass filter bank offering low loss and high rejection from 2 GHz to 18 GHz. Each band delivers 2 GHz of bandwidth. With internal 50 Ω matching 
...
Read more...
---
Front-end module for Wi-Fi 6/6E
RF Design Telecoms, Datacoms, Wireless, IoT
Qorvo's QPF4632 is a Wi-Fi 6/6E (802.11 ax) integrated front-end module that operates from 5,945 to 7,125 GHz. It consists of a power amplifier (PA), DC logarithmic power detector, single-pole double-throw 
...
Read more...
---
Development kit for Bluetooth LE Audio
RF Design Telecoms, Datacoms, Wireless, IoT
The highly configurable kit can function as a USB dongle to send and receive high-quality audio data from a PC, a business headset or a TWS earbud
Read more...
---
RF cavity filters for 5G
Electrocomp Telecoms, Datacoms, Wireless, IoT
Temwell has established a one-stop service for 5G RF cavity filters, featuring high specifications across a wide range of power requirements.
Read more...
---