printer friendly version
Solar-powered paver to harness clean energy
30 May 2022
Power Electronics / Power Management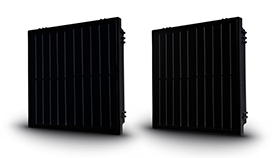 PLATIO Solar is a green-tech start-up company based in Hungary that has designed and manufactured a solar paver. The company, founded in 2015 by three young engineers, now has a reseller network covering more than 30 countries worldwide.
The company's product – PLATIO – is an innovative solar paver tile that not only generates clean energy but is also environmentally friendly as its base is made from recycled material. A special manufacturing process results in a highly durable frame structure that can ensure trouble-free operation for decades after installation. The walkable pavers are protected by heavy-duty, anti-slip, impact-resistant glass panels which are not only safe to walk on but can even be driven on by a large truck. The load-bearing capacity of the solar panel surface and the protection of the cables is provided by a robust frame structure, giving it a maximum allowed vehicle wheel load of 2000 kg.
The solar paver is 353 x 353 mm, with a thickness of 41 mm. Each panel is covered by 10 mm of tempered glass and has a total mass of 6,5 kg.. The panel features high-performance solar cells with an efficiency of 18,6% providing a nominal power of 18,2 W. The measured short-circuit current is 8,9 A.
The product can be installed in places where other solar technologies cannot be deployed and may be used for pavements, driveways, sidewalks, parks, and many other off-grid applications where above-ground space for solar panel installations is limited.
Barcelona in Spain completed a 50 m2 solar installation in a small park using PLATIO panels to assess the viability of the panels in helping the city's green drive to become carbon neutral by 2050. The non-slip panels will generate 7560 kWh a year, enough to supply the energy requirements of three households. This project follows the installation of a 25 m stretch of solar cycle lane in the Dutch city of Utrecht which is currently being used to power lighting and heating of the path in winter to prevent it from icing over.
For more information visit https://platiosolar.com
Further reading:
Wireless charging IC solution
TRX Electronics Power Electronics / Power Management
The WLC1115 transmitter controller IC is the first highly integrated product of the new WLC family of controllers from Infineon for applications in inductive wireless charging.
Read more...
---
Real-time monitoring of solar power stations
Otto Wireless Solutions Power Electronics / Power Management
WLink's 3G/4G routers remotely monitor and manage power stations in real-time and perform fault diagnosis, power prediction and a daily maintenance routine.
Read more...
---
1,5 A LDO linear regulator from TI
Altron Arrow Power Electronics / Power Management
The TPS7A74 from Texas Instruments is a 1,5 A low-dropout linear regulator with programmable soft-start for a wide variety of applications.
Read more...
---
eFuse with transient overcurrent blanking timer
RS Components (SA) Power Electronics / Power Management
The TPS25981xx family of eFuses from Texas Instruments is a robust defence against overloads, short circuits, voltage surges and excessive inrush current.
Read more...
---
New low-cost 60 W PSU
Vepac Electronics Power Electronics / Power Management
The new VCB60 series of 60 W PSUs from XP Power addresses the need for high-quality easy-to-use power solutions at attractive price points.
Read more...
---
New series of high-power pure sine wave inverters
Current Automation Power Electronics / Power Management
The NTS/NTU-2200/3200 series pure sine wave inverters by Meanwell now have the ability to use lithium batteries as well as lead acid as the DC power source.
Read more...
---
Fully programmable motor controllers
Altron Arrow Power Electronics / Power Management
The MOTIX IMD70xA programmable motor controllers from Infineon are now available in one package to power the next generation of battery-powered applications.
Read more...
---
New power converter family from Traco
Conical Technologies Power Electronics / Power Management
Traco Power has announced the release of their new TMR 12WI converter family featuring isolated 12W DC/DC converter modules with regulated outputs.
Read more...
---
Bourns releases new series of power inductors
Electrocomp Power Electronics / Power Management
Constructed with a magnetic-silica coating to the perimeter of the inductor winding to provide effective shielding, these inductors release lower magnetic field radiation compared to non-shielded inductors.
Read more...
---
Bidirectional TransZorb transient voltage suppressors
Altron Arrow Power Electronics / Power Management
The latest TransZorb transient voltage suppressors from Vishay are suitable for applications in the automotive, industrial and telecommunication spheres, including automotive load dump protection.
Read more...
---