printer friendly version
Electrocomp stocks PhaseCap Energy Plus capacitor
30 May 2022
Passive Components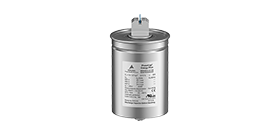 The PhaseCap Energy Plus series represents the latest generation of capacitors for power factor correction (PFC). Based on the proven MKK technology, this follow-on development of the PhaseCap series offers some major enhancements. An expected service life of up to 240 000 hours, an increased inrush current capability of up to 500 IR, and optimised can dimensions make the PhaseCap Energy Plus an ideal capacitor for industrial applications that call for high reliability.
PhaseCap Energy Plus is available in two versions: Series B25674C* is gas-filled, and series B25675C* has semi-dry biodegradable soft resin. Both series are equipped with self-healing properties and a three-phase overpressure disconnector. Various options are available when selecting one of the Energy Plus series capacitors: voltage ranges from 230 V to 1000 V and outputs of 5,0 to 60,0 kVAR are available, and there are four different terminal types to choose from.
The PhaseCap Energy Plus series capacitors may be used in applications such as automatic PFC equipment and capacitor banks; individual fixed PFC in motors, transformers and lighting; group fixed PFC and dynamic PFC, and tuned and detuned capacitor banks.
Credit(s)
Further reading:
Thinner pattern coils set to revolutionise wireless charging
Electrocomp Power Electronics / Power Management
TDK developed the 0,76 mm thick charging coils using a unique pattern coil technology without employing conventional lithographic exposure and etching techniques.
Read more...
---
Bourns announces new surface-mount resettable fuses
Electrocomp Passive Components
The new series of fuses, suitable for overcurrent and thermal protection, expand the hold current up to 6 A and the maximum voltage to 33 V DC.
Read more...
---
RF cavity filters for 5G
Electrocomp Telecoms, Datacoms, Wireless, IoT
Temwell has established a one-stop service for 5G RF cavity filters, featuring high specifications across a wide range of power requirements.
Read more...
---
Multilayer ferrite beads
Electrocomp Passive Components
As direct replacements for the discontinued BMB series, TE Connectivity's BMC multilayer ferrite beads cover a wide range of impedance characteristics.
Read more...
---
Wire-to-board connectors with 0,8 mm pitch
Electrocomp Interconnection
An extensive array of circuit sizes (2 to 20 circuits) enables the extension of device functionality and features to meet product development needs.
Read more...
---
High-voltage power inductors
RF Design Passive Components
Coilcraft's RFC0807BV Series power inductors are a high-voltage version of the RFC0807B Series. Their operating voltage is rated at 800 V, which is higher than comparable products in the market. They 
...
Read more...
---
Regional edition of Degson catalogue
Electrocomp Technical Literature
Electrocomp has released a special regional edition of Degson's short-form general catalogue. The 8-page catalogue summarises Degson's range of PCB terminal blocks, DIN-rail terminal blocks, heavy-duty 
...
Read more...
---
Type-C connectors for USB 2.0
Electrocomp Interconnection
The USB4105 Type-C USB 2.0 connectors from GCT (Global Connector Technology) offer a 5 A current rating, 100 MΩ insulation resistance and 3,31 mm profile. They feature 16 contacts with a top-mount position 
...
Read more...
---
Power inductors with very low DC and AC losses
RF Design Passive Components
Coilcraft's new XGL6020 low-profile moulded power inductors offer the company's lowest DC losses and extremely low AC losses for a wide range of DC-DC converters.  Additional performance benefits include 
...
Read more...
---
Dual-port PoE++ transformer
Electrocomp Passive Components
Bourns' Magnetics product division is introducing the new Model SM13143EL dual-port LAN 10/100/1000 Base-T PoE++ transformer for Ethernet applications. This part is IEEE 802.3bt Type 3 (also known as 
...
Read more...
---