printer friendly version
Electrocomp stocks PhaseCap Energy Plus capacitor
29 June 2022
Passive Components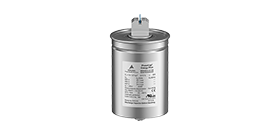 The PhaseCap Energy Plus series represents the latest generation of capacitors for power factor correction (PFC). Based on the proven MKK technology, this follow-on development of the PhaseCap series offers some major enhancements. An expected service life of up to 240 000 hours, an increased inrush current capability of up to 500 IR, and optimised can dimensions make the PhaseCap Energy Plus an ideal capacitor for industrial applications that call for high reliability.
PhaseCap Energy Plus is available in two versions: Series B25674C* is gas-filled, and series B25675C* has semi-dry biodegradable soft resin. Both series are equipped with self-healing properties and a three-phase overpressure disconnector. Various options are available when selecting one of the Energy Plus series capacitors: voltage ranges from 230 V to 1000 V and outputs of 5,0 to 60,0 kVAR are available, and there are four different terminal types to choose from.
The PhaseCap Energy Plus series capacitors may be used in applications such as automatic PFC equipment and capacitor banks; individual fixed PFC in motors, transformers and lighting; group fixed PFC and dynamic PFC, and tuned and detuned capacitor banks.
Credit(s)
Further reading:
TDK announces robust varistors with 14 mm disk diameter
Electrocomp Passive Components
The new AdvanceD series of varistors have a wide operating voltage range up to 625 V and offer a surge current capability of 3000 A.
Read more...
---
Angle sensor for safety-critical applications
Altron Arrow Passive Components
TDK's TAS4240 TMR-based angle-sensor enables precise angle measurements in applications where high performance is needed and space is limited.
Read more...
---
Compact varistors offer surge capability of 6000 A
Electrocomp Circuit & System Protection
TDK has released the new EPCOS B72314S2* series of leaded disk varistors which cover a wide operating voltage range of 175 V
RMS
to 625 V
RMS
.
Read more...
---
New high current through-hole inductors
EBV Electrolink Passive Components
Vishay has released a high current, through-hole inductor for use in high current and high temperature applications, DC/DC converters, high current differential chokes and inverters.
Read more...
---
Short body USB-A with no compromise on performance
Electrocomp Interconnection
The all-new USB1125 connector from GCT with a minimal PCB footprint of just 13mm2 is 25% smaller than full-size equivalents.
Read more...
---
Bourns releases new series of power inductors
Electrocomp Power Electronics / Power Management
Constructed with a magnetic-silica coating to the perimeter of the inductor winding to provide effective shielding, these inductors release lower magnetic field radiation compared to non-shielded inductors.
Read more...
---
IP68 sealed enclosures from Hammond Manufacturing
Electrocomp Enclosures, Racks, Cabinets & Panel Products
Hammond Manufacturing has introduced the 1551W series, IP68 sealed versions of its popular 1551 miniature enclosure family, in five initial sizes.
Read more...
---
High performance power inductor in a tiny package
RF Design Passive Components
The LPS4010 series inductors from Coilcraft are low-profile power inductors in a shielded package that offer high energy storage and low DC resistance.
Read more...
---
New series of power ribbon wire-wound resistors
Electrocomp Power Electronics / Power Management
This QL/QRZG series of high-power resistors have a high-power load up to 2500 W and are suitable for applications such as industrial braking, EV battery packs and charging stations.
Read more...
---
Surface-mount resettable fuses
Electrocomp Passive Components
The new series of fuses, suitable for overcurrent and thermal protection, expand the hold current up to 6 A and the maximum voltage to 33 V DC.
Read more...
---