printer friendly version
TI tightens grip on top spot for analog IC sales
29 June 2022
News
With analog sales of $14,1 billion and 19% market share, Texas Instruments maintained its firm grip as the world's leading supplier of analog devices in 2021. TI's 2021 analog sales increased nearly $3,2 billion or 29% compared to 2020, according to IC Insights' 2Q22 update to The McClean Report that was released in May. TI's 2021 analog revenue accounted for 86% of its $16,3 billion in IC sales and 81% of its $17,3 billion in semiconductor revenue.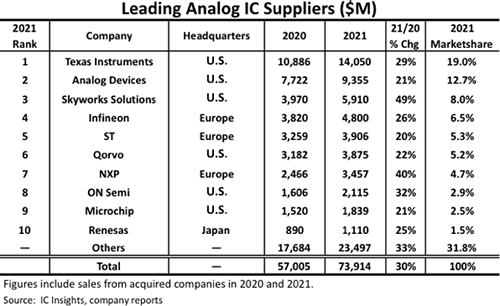 Figure 1. Leading analog IC suppliers ($M).
The complete list of top 10 analog IC suppliers for 2021 is shown in Figure 1. IC Insights' ranking includes sales of general-purpose analog components, mixed-signal analog, and application-specific analog devices that have at least 50% analog circuitry on board. This follows the definition established by WSTS (World Semiconductor Trade Statistics) that reads, "Devices are classified as analog if at least 50% of the total die area of the integrated circuits(s) in the device is occupied by analog circuitry." As shown, the ranking of top analog suppliers remained unchanged in 2021 compared to 2020.
Six of the top 10 analog companies are based in the US, three are headquartered in Europe, and one is based in Japan. Collectively, the top 10 accounted for $50,4 billion in analog IC sales last year, which represented 68% of the total analog market. Among the top 10 analog companies, sales growth ranged from 20% at ST to 49% at Skyworks Solutions.
Second-ranked Analog Devices saw its 2021 analog IC sales increase 21% to $9,4 billion, which represented 13% market share. It completed its $28,0 billion acquisition of Maxim Integrated products in August 2021. The company said its analog devices (including devices it obtained through its Maxim acquisition in 2021 and its 2017 acquisition of Linear Technology) address opportunities "from sensor-to-cloud, DC to 100 gigahertz and beyond, and nanowatts to kilowatts." Analog Devices' 2021 analog sales by end-use application were industrial (50%), automotive (21%), communication (15%) and consumer (14%).
Ranked third in 2021 with analog sales of $5,9 billion was Skyworks Solutions, whose 49% jump in revenue was the largest percentage increase among the top analog suppliers last year. Skyworks is focused on front-end modules and power amplifiers for handsets and smartphones, highly integrated SiP and SoC devices for wireless infrastructure, power management chips, precision analog components, Wi-Fi connectivity modules and ICs, and smart energy ICs for ZigBee and Bluetooth applications. Skyworks' largest customer in 2021 was Apple, which accounted for 59% of its sales.
In July 2021, Skyworks acquired the Infrastructure and Automotive business of Silicon Laboratories for $2,75 billion to accelerate its expansion into electric and hybrid vehicles, industrial and motor control, 5G wireless infrastructure, optical data communication, data centre and other applications.
Each of Europe's three major IC suppliers – Infineon, ST and NXP – was a top 10 analog supplier in 2021. Collectively, the three companies accounted for 16% of global market share. Fourth-ranked Infineon was the highest placed European analog supplier with sales of $4,8 billion, and continues to grow its presence in automotive, which accounted for 44% of its 2021 sales, compared to 41% in 2020. Power/sensor systems (29%), industrial power control (14%) and connected security (13%) round out its other major end-use applications.
Analog ICs remain a critical component in nearly all digital-centric systems. The analog market typically grows (and declines) at a more tempered rate than the total IC market, but that was not the case in 2021. The analog market grew by 30% last year, while the total IC market increased 26%. Every general-purpose and application-specific analog product segment enjoyed double-digit sales growth in 2021. Signal conversion revenue grew 13% last year, but revenue in every other analog IC category jumped by at least 27%.
For more information visit www.icinsights.com
Further reading:
Yamaha displays affordable automation at Automatica 2022
Truth Electronic Manufacturing News
Yamaha Motor Robotics FA Section has shown how affordable robots can transform processes in diverse industries, presenting live demonstrations to visitors at Automatica 2022.
Read more...
---
Vicor launches new automotive e-book on electrification
Future Electronics News
The downloadable e-book from Vicor shares insights into new power conversion trends and technologies to support vehicle electrification.
Read more...
---
Audi South Africa offers free connectivity upgrades
News
The announcement covers select models from 2008 onwards that do not have Audi 'connect' installed and will use the new connect 'plug-and-play' technology.
Read more...
---
High-power semiconductor solutions for green hydrogen electrolyser applications
EBV Electrolink News
Gain insights into AC- and DC-coupled electrolyser applications and learn about Infineon's best-in-class semiconductor solutions in the upcoming webinar.
Read more...
---
Actum Group leads in the interconnect industry
Actum Electronics News
Actum Group is a specialist importer and distributor of industrial and electronic products in Southern Africa and a leader in the interconnect industry.
Read more...
---
Arrow Electronics opens new primary distribution centre
Altron Arrow News
Arrow Electronics, represented in South Africa by Altron Arrow, announced that it has opened a new, state-of-the-art primary distribution centre in Venlo, the Netherlands.
Read more...
---
Quectel masterclass: iSIM implementation
iCorp Technologies News
Online Teaser: The latest masterclass webinar offered by Quectel covers the technology and capability of the iSIM and its use in the development of scalable high-volume IoT applications.
Read more...
---
From the editor's desk: 42
Technews Publishing News
To most people, 42 is simply a number. To some, they may think about the fact that it is an even number, or maybe the product of six and seven, or that this is the length of a standard marathon in kilometres. 
...
Read more...
---
Vicor releases technology predictions for 2022
Editor's Choice News
Predictions for 2022 in automotive, hyperscale computing and aerospace and defence will see innovation adapt to support electrification and drive growth.
Read more...
---
Altron Arrow FAE earns top award
Altron Arrow News
STMicroelectronics awards top trophy to Altron Arrow's field application engineer for outstanding achievement in the certification course.
Read more...
---