printer friendly version
'World's smallest' LTE Cat 4 module with global coverage and 2G/3G fallback
30 May 2022
Telecoms, Datacoms, Wireless, IoT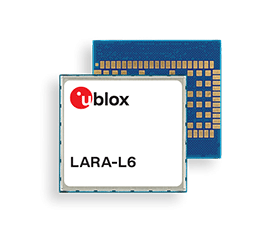 New from u-blox comes the LARA-L6 LTE Cat 4 cellular module, claiming to be the smallest of its kind to offer truly global coverage and 2G/3G fallback. It combines high data throughput and native support for external u‑blox GNSS receivers, with a full set of security features. LARA-L6 is an ideal fit for demanding size-constrained applications such as video surveillance, dashcams, high-end telematics, gateways and routers, and eHealth devices.
The new module, which delivers download data rates of 150 Mbps and upload data rates of 50 Mbps, renews the company's LTE Cat 4 portfolio and offers a successor to the u-blox TOBY-L2 module series.
Measuring only 24 x 26 x 2,6 mm, LARA-L6 is available in two variants: a global one, the LARA-L6004, and a North American one, the LARA-L6404. LARA-L6 is pin/pad-compatible with all the u-blox LARA and SARA form factors, giving customers the flexibility to design a single PCB able to support different u-blox technologies with minimum hardware and software development effort. LARA-L6 comes with the most relevant regulatory and MNO certifications, which greatly simplifies logistics management for worldwide deployment.
LARA-L6 supports a comprehensive set of security features including a root of trust, secure boot and secure updates. Regular maintenance releases ensure that security is always up to date, keeping end-devices running and protecting them from attacks. Moreover, the module supports u-blox's IoT Security-as-a-Service offering, which includes design security, end-to-end security, and access control services, which are all available from the Thingstream service delivery platform.
To streamline the development of IoT solutions that require satellite-based positioning, such as tracking and telematics devices, LARA-L6 is designed to integrate seamlessly with u-blox GNSS receivers, offering superior positioning performance over competing solutions with onboard GNSS receivers. Bundling the LARA-L6 with u-blox GNSS receivers is simplified thanks to native support for GNSS AT commands used to manage u-blox positioning modules and chipsets.
For more information contact Andrew Hutton, RF Design, +27 21 555 8400, [email protected], www.rfdesign.co.za
Credit(s)
Further reading:
RF laminates specifically designed for industrial radar applications
RF Design Telecoms, Datacoms, Wireless, IoT
The RO4835IND Lo Pro from Rogers Corporation are thermoset RF laminates that are specifically designed for radar applications in the 60 to 81 GHz range.
Read more...
---
Phase-stable cable assemblies operate up to 50 GHz
RF Design Interconnection
The Lab-Flex T series from Smiths Interconnect are low-loss high-frequency cables that have minimal phase change with changing temperature and flexure.
Read more...
---
Take advantage of Wi-Fi 6, 6E
Altron Arrow Telecoms, Datacoms, Wireless, IoT
Infineon has provided a host of online resources to learn more about the technology and benefits involved with Wi-Fi 6.
Read more...
---
Qorvo announces new satcom MMIC power amp
RF Design Telecoms, Datacoms, Wireless, IoT
The QPA1724 SiC 20 W power amplifier operates in the Ku-K band and is aimed at defence and commercial satellite applications.
Read more...
---
40 GHz RF switch from Marki Microwave
RF Design Telecoms, Datacoms, Wireless, IoT
The MSW2-1001ELGA is a reflective SPDT switch that operates in the frequency range from 100 MHz to 40 GHz.
Read more...
---
Power amplifier operates from 17,3 to 21,2 GHz
RF Design Telecoms, Datacoms, Wireless, IoT
The new QPA1724 power amplifier from Qorvo delivers a saturated output power of 20 W over the full frequency range.
Read more...
---
Helium mining – Popular hype or real business opportunity? – Part 2
Otto Wireless Solutions Editor's Choice Telecoms, Datacoms, Wireless, IoT
"I would say it is really easy to get into, but you need to be aware of the exchange rates and you need to have a solid and stable Internet network."
Read more...
---
u-blox' smallest ever GNSS module
RF Design Analogue, Mixed Signal, LSI
Designing an anomaly detection library with AI learning capability is possible with minimal data and with no specific data-science skills needed.
Read more...
---
Inertial module enables on-chip AI training
Altron Arrow Telecoms, Datacoms, Wireless, IoT
MIA-M10 concurrently receives four GNSS constellations (GPS, Galileo, BeiDou, and GLONASS) for maximum satellite signal availability.
Read more...
---
Positioning module with quick TTFF
iCorp Technologies Telecoms, Datacoms, Wireless, IoT
The LC76G GNSS positioning module features fast and accurate position location performance as well as ultra-low power consumption.
Read more...
---