printer friendly version
Tektronix reimagines performance and portability in oscilloscopes
29 June 2022
Test & Measurement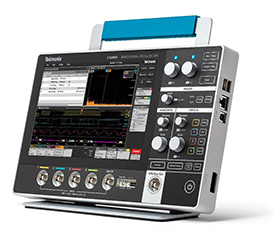 This new 2 series MSO can go seamlessly from the bench to the field and back, enabling workflows previously unimagined on a scope. It is the first portable oscilloscope to offer benchtop performance combined with the award-winning Tektronix user interface. Weighing less than 1,8 kg and 38 mm thick, the 2 series MSO can fit into a small backpack, delivering unmatched performance and portability.
Engineers can now achieve things not possible on previous oscilloscopes. With a 10,1-inch touchscreen display, working on the go is easier and quicker. The built-in capabilities of the optional arbitrary function generator (AFG), pattern generator, voltmeter and frequency counter mean users have versatility built into one instrument, increasing what they can do while reducing the number of instruments to carry or purchase. With up to eight hours of battery life engineers and technicians will discover a new level of freedom while working.
"This breakthrough product was a direct result of our proven growth accelerator innovation process and continued focus on our customers," said Tami Newcombe, Tektronix president. "Our team worked closely with engineers to deeply understand their unique needs. We cannot wait to see how the 2 series MSO improves the way our customers work."
The 2 series joins the strong line-up of other Tektronix oscilloscopes by incorporating the same user experience also found on the 3, 4, 5, and 6 series oscilloscopes. This makes it easier for engineers to work effortlessly by switching between these Tektronix products. With the feel of a mobile device, debugging becomes faster and more intuitive. The user experience is enhanced by using coloured LED ring lights around the knobs to indicate active sources, parameters to adjust or to indicate status.
With a variety of integrated options, the 2 series MSO is equipped for advanced debugging in a single instrument, including:
• Bandwidths from 70 MHz to 500 MHz.
• Two or four analog channel inputs.
• 16 digital channels (available with future software release).
• 2,5 GS/s sample rate.
• Optional 50 MHz arbitrary function generator.
• Pattern generator, voltmeter, and frequency counter (features coming soon).
• Optional battery provides up to eight hours of power.
Integrated software tools allow engineers to collaborate, troubleshoot, and debug designs. The 2 series includes TekDrive, a test and measurement data workspace in the cloud where engineers can upload, store, organise, and share any file from a connected device. Users can also perform analysis on a waveform and save it back to the cloud for immediate viewing and feedback from peers.
Credit(s)
Further reading:
Connectors for the evolving world of test and measurement
Spectrum Concepts Test & Measurement
Instrumentation employed to test new products needs to become more advanced to keep up with rapidly advancing technology.
Read more...
---
All-in-one documenting process calibrators
Comtest Test & Measurement
The multifunction calibrators perform sourcing, simulation and measurement of pressure, temperature and electrical signals.
Read more...
---
Avoiding safety hazards during solar PV installations
Comtest Test & Measurement
Safety levels during solar panel commissioning and installation have been strengthened by Fluke's CAT III 1500 V true-RMS clamp meter.
Read more...
---
World's fastest 16-bit arbitrary waveform generator
Vepac Electronics Test & Measurement
The ARB Rider AWG-5000 has a 6,16 GS/s real-time update rate with a 16-bit vertical resolution and is available in two, four or eight channel models.
Read more...
---
Modbus probes gain support for parity options
RF Design Test & Measurement
The marquee feature of firmware version 1.06 facilitates the use of odd, even, mark or space parity modes when communicating with bus probes.
Read more...
---
Embrace the full power of J-Link debug probes
CST Electronics Test & Measurement
J-Link is supported by all major IDEs, from free Eclipse-based ones up to commercial-grade ones like Segger Embedded Studio.
Read more...
---
40 GHz RF power sensor
Conical Technologies Test & Measurement
Mini-Circuits' PWR-40PW-RC is a USB/Ethernet-controlled power sensor capable of making many different measurements.
Read more...
---
Power device analyser
Concilium Technologies Test & Measurement Power Electronics / Power Management
Keysight's new PD1550A is an advanced double-pulse tester that enables customers to test entire power modules quickly and easily.
Read more...
---
RS to showcase IoT and Food Safe products at NAMPO Harvest Day
RS Components (SA) News
Following a two-year hiatus, this year's event will take place over five days as opposed to four, to accommodate Covid-19 restrictions.
Read more...
---
Evaluation board for MEMS devices
Altron Arrow Test & Measurement
The STEVAL-MKI220V1 is an adaptor board designed to facilitate the evaluation of MEMS devices in the LPS27HHTW product family.
Read more...
---