printer friendly version
16-port USB 3.0 SuperSpeed controller
29 June 2022
Interconnection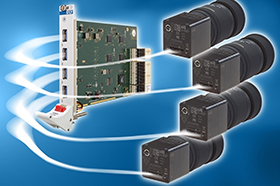 The SBX-DUB is a peripheral slot board for CompactPCI serial systems, equipped with four individual quad port USB 3.0 controllers, providing a total of 16 USB xHCI SuperSpeed channels. Twelve USB 3.0 ports are available for rear I/O via backplane connectors. The user is provided with a choice of directing another set of four channels to the USB 3.0 front panel receptacles, or using them via the rear I/O. Each front panel connector is assigned to a separate SuperSpeed controller, thereby achieving a superior total data throughput.
The SBX-DUB is provided with a PCI Express 2.0 package switch for a PCIe x4 uplink to the host and can be installed into any peripheral slot of a CompactPCI serial backplane. A single PCIe lane is sufficient for standard operation, but optimum performance is achieved when the SBX-DUB is inserted into a CompactPCI serial fat pipe slot or a CompactPCI serial peripheral slot with support for PCIe x4.
A 16-port USB 3.0 rear I/O module is also available as a companion board to the SBX-DUB. The SBR-RIO connects to the backplane connectors on the SBX-DUB and provides 16 USB 3.0 receptacles in total: eight ports are available from the back panel and another eight connectors are provided on-board for internal usage.
The backplane connectors supply 12 V to a DC-DC converter on the SBR-RIO which delivers 5 V VBUS to the USB connectors. Power switches providing 1,5 A are individually assigned to each USB receptacle, preventing potential damage caused by overcurrent or a short-circuit.
Credit(s)
Further reading:
Phase-stable cable assemblies operate up to 50 GHz
RF Design Interconnection
The Lab-Flex T series from Smiths Interconnect are low-loss high-frequency cables that have minimal phase change with changing temperature and flexure.
Read more...
---
Samtec has reorganised its AcceleRate products online
Spectrum Concepts Interconnection
Samtec recently reorganised its family of AcceleRate products into one webpage to enable easier browsing and comparison of products when trying to find the best high-performance solution for the given application.
Read more...
---
Samtec high-speed interconnects in next-gen UAS
Spectrum Concepts Interconnection
The unmanned aircraft system framework 2.0 autopilot platform utilises several of Samtec's high-speed board-to-board interconnects for the transfer of data between various add-on boards.
Read more...
---
Precision interconnects for DC to 90 GHz
Spectrum Concepts Interconnection
Samtec has released its 1,35 mm family of products including board and cable connectors suitable for millimetre wave applications to 90 GHz.
Read more...
---
Double-row connectors for quick-connect applications
Spectrum Concepts Interconnection
Mill-Max announced a new range of double-row, gold-plated connectors in either spring-loaded or target versions.
Read more...
---
Samtec site's search function gets a UX upgrade
Spectrum Concepts Interconnection
Samtec announced a major upgrade to its on-site user search experience, including improvements in both performance and mobile compatibility.
Read more...
---
Spring-loaded connectors with rolling ball interface
Spectrum Concepts Interconnection
Omniball spring-loaded connectors feature a unique rolling ball interface, enabling contact to be made in both axial and non-axial alignments.
Read more...
---
Mouser stocks wide selection of the latest Phoenix Contact products
TRX Electronics Interconnection
The offering covers a vast selection of sensors, controllers, terminal blocks, connectors and wireless Ethernet products.
Read more...
---
New SMT pins utilise a grooved pattern design
Spectrum Concepts Interconnection
Mill-Max expands its range of SMT pins with the introduction of three new series that feature the Sure-Hold grooved pattern design.
Read more...
---
Rugged plug-in card ideal for sensor-based systems
Rugged Interconnect Technologies Computer/Embedded Technology
Concurrent Technologies' new processor board provides high performance for I/O sensor device needs.
Read more...
---