printer friendly version
Adjustable 1200 W power supply with near-to-zero output
30 May 2022
Power Electronics / Power Management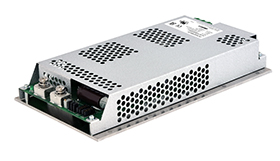 Powerbox has announced the release of the 1200 W rated OFI1200A AC/DC power supply for industrial applications. Optimised for conduction cooling, the OFI1200A delivers high performance levels across a baseplate temperature range of -40°C to 95°C without the use of a fan.
Many industrial applications require power supplies to operate with limited or no ventilation cooling such as those operating in harsh environments where electronic equipment is installed in a sealed box, radio communication systems subject to adverse weather conditions, outdoor displays and traffic signalling, and indoor equipment with very strict audible noise restrictions. In addition to environmental requirements, reliability and cost of maintenance are motivating systems designers not to use fans and blowers for cooling.
Conduction cooling requires very specific building practices and the PRBX OFI1200A has been designed to guarantee optimal heat transfer from the dissipating components to the baseplate. Depending on the assembly method and the overall cooling conditions of the plant, a derating of the power supply may apply.
To cover a large range of applications, the OFI1200A operates with a wide universal input range from 85 to 305 V AC and includes a power factor correction (PFC) with a coefficient of 0,98/0,95 (110 V AC/230 V AC).
The OFI1200A is available in three versions of single output DC voltage: 12 V 84 A, 28 V 43 A and 48 V 25 A. Using a highly efficient topology, an efficiency of 92% is realised for the 48 V output when using an input of 230 V AC. For applications that require redundancy or higher power, it is possible to connect up to nine units in parallel, delivering a total power of up to 9,72 kW in conduction cooling mode.
Industrial applications such as professional lighting or low-power electrolysers require the power supply to deliver easily-adjustable constant current. Often such equipment is operated in environments requiring the electronics to be enclosed and protected from hazards and therefore, an external control is necessary to adjust the output voltage and/or current.
To make it possible for customers to control the voltage and current externally, two analog inputs, VTRM and ITRM, are provided. Using these inputs, the output voltage and current can be adjusted from near-zero up to the maximum specified per model. An onboard potentiometer is also provided which allows for local adjustment of the output voltage. This extended trimming and control function simplifies the use of the power supply in constant voltage (CV) or constant current (CC) mode, without adding external circuitry.
For safety, the OFI1200A has an output isolation to field ground (FG) of 500 V AC with an IN/OUT isolation of 3000 V AC and IN/FG of 2000 V AC. The power supply includes over current protection with auto recovery, over voltage and over temperature protection. It has also been tested to withstand shocks of 20G and has passed shock and vibration testing as specified in MIL-STD-810H.
In its open frame format, the OFI1200A measures 142 x 39 x 260 mm and has a mass of 1,2 kg. An optional metal cover is available, adding just 1 mm to the height and 200 g to the mass.
Benefiting from a design optimised for conduction cooling, the OFI1200A is suitable for applications requiring a silent power solution such as in a control room or for industrial applications when forced air ventilation is not possible due to environmental constraints. Attached to a chassis or cold plate, the OFI1200A can deliver impressive power levels with a high level of reliability.
Credit(s)
Further reading:
The top choice for micro inverter designs
Altron Arrow Power Electronics / Power Management
Power devices based on silicon carbide and gallium nitride technologies from Infineon are the smart choice for micro inverter designs.
Read more...
---
650 W fast recovery diodes
RS Components (SA) Power Electronics / Power Management
Rohm has released its 4th-generation 650 V fast recovery diodes (FRDs), balancing forward voltage and reverse-recovery time for high-power industrial and consumer equipment including air conditioners and electric vehicle charging stations.
Read more...
---
Wireless charging IC solution
TRX Electronics Power Electronics / Power Management
The WLC1115 transmitter controller IC is the first highly integrated product of the new WLC family of controllers from Infineon for applications in inductive wireless charging.
Read more...
---
Real-time monitoring of solar power stations
Otto Wireless Solutions Power Electronics / Power Management
WLink's 3G/4G routers remotely monitor and manage power stations in real-time and perform fault diagnosis, power prediction and a daily maintenance routine.
Read more...
---
1,5 A LDO linear regulator from TI
Altron Arrow Power Electronics / Power Management
The TPS7A74 from Texas Instruments is a 1,5 A low-dropout linear regulator with programmable soft-start for a wide variety of applications.
Read more...
---
eFuse with transient overcurrent blanking timer
RS Components (SA) Power Electronics / Power Management
The TPS25981xx family of eFuses from Texas Instruments is a robust defence against overloads, short circuits, voltage surges and excessive inrush current.
Read more...
---
New low-cost 60 W PSU
Vepac Electronics Power Electronics / Power Management
The new VCB60 series of 60 W PSUs from XP Power addresses the need for high-quality easy-to-use power solutions at attractive price points.
Read more...
---
New series of high-power pure sine wave inverters
Current Automation Power Electronics / Power Management
The NTS/NTU-2200/3200 series pure sine wave inverters by Meanwell now have the ability to use lithium batteries as well as lead acid as the DC power source.
Read more...
---
Fully programmable motor controllers
Altron Arrow Power Electronics / Power Management
The MOTIX IMD70xA programmable motor controllers from Infineon are now available in one package to power the next generation of battery-powered applications.
Read more...
---
New power converter family from Traco
Conical Technologies Power Electronics / Power Management
Traco Power has announced the release of their new TMR 12WI converter family featuring isolated 12W DC/DC converter modules with regulated outputs.
Read more...
---