printer friendly version
Adjustable 1200 W power supply with near-to-zero output
30 May 2022
Power Electronics / Power Management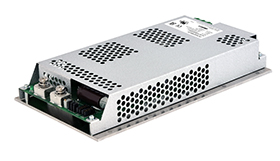 Powerbox has announced the release of the 1200 W rated OFI1200A AC/DC power supply for industrial applications. Optimised for conduction cooling, the OFI1200A delivers high performance levels across a baseplate temperature range of -40°C to 95°C without the use of a fan.
Many industrial applications require power supplies to operate with limited or no ventilation cooling such as those operating in harsh environments where electronic equipment is installed in a sealed box, radio communication systems subject to adverse weather conditions, outdoor displays and traffic signalling, and indoor equipment with very strict audible noise restrictions. In addition to environmental requirements, reliability and cost of maintenance are motivating systems designers not to use fans and blowers for cooling.
Conduction cooling requires very specific building practices and the PRBX OFI1200A has been designed to guarantee optimal heat transfer from the dissipating components to the baseplate. Depending on the assembly method and the overall cooling conditions of the plant, a derating of the power supply may apply.
To cover a large range of applications, the OFI1200A operates with a wide universal input range from 85 to 305 V AC and includes a power factor correction (PFC) with a coefficient of 0,98/0,95 (110 V AC/230 V AC).
The OFI1200A is available in three versions of single output DC voltage: 12 V 84 A, 28 V 43 A and 48 V 25 A. Using a highly efficient topology, an efficiency of 92% is realised for the 48 V output when using an input of 230 V AC. For applications that require redundancy or higher power, it is possible to connect up to nine units in parallel, delivering a total power of up to 9,72 kW in conduction cooling mode.
Industrial applications such as professional lighting or low-power electrolysers require the power supply to deliver easily-adjustable constant current. Often such equipment is operated in environments requiring the electronics to be enclosed and protected from hazards and therefore, an external control is necessary to adjust the output voltage and/or current.
To make it possible for customers to control the voltage and current externally, two analog inputs, VTRM and ITRM, are provided. Using these inputs, the output voltage and current can be adjusted from near-zero up to the maximum specified per model. An onboard potentiometer is also provided which allows for local adjustment of the output voltage. This extended trimming and control function simplifies the use of the power supply in constant voltage (CV) or constant current (CC) mode, without adding external circuitry.
For safety, the OFI1200A has an output isolation to field ground (FG) of 500 V AC with an IN/OUT isolation of 3000 V AC and IN/FG of 2000 V AC. The power supply includes over current protection with auto recovery, over voltage and over temperature protection. It has also been tested to withstand shocks of 20G and has passed shock and vibration testing as specified in MIL-STD-810H.
In its open frame format, the OFI1200A measures 142 x 39 x 260 mm and has a mass of 1,2 kg. An optional metal cover is available, adding just 1 mm to the height and 200 g to the mass.
Benefiting from a design optimised for conduction cooling, the OFI1200A is suitable for applications requiring a silent power solution such as in a control room or for industrial applications when forced air ventilation is not possible due to environmental constraints. Attached to a chassis or cold plate, the OFI1200A can deliver impressive power levels with a high level of reliability.
Credit(s)
Further reading:
New series of power ribbon wire-wound resistors
Electrocomp Power Electronics / Power Management
This QL/QRZG series of high-power resistors have a high-power load up to 2500 W and are suitable for applications such as industrial braking, EV battery packs and charging stations.
Read more...
---
350 W switching power supply
Conical Technologies Power Electronics / Power Management
The LMF350-23BxxUH series from Mornsun is an enclosed, fanless AC-DC switching power supply which is suitable for industrial and outdoor use.
Read more...
---
No need for custom enclosures thanks to rugged subrack system
Vepac Electronics Enclosures, Racks, Cabinets & Panel Products
The KM6-HD subrack range from Verotec meets the requirements of IEEE 1101.10 and 11, which expand on IEC60297 to add functionality required for modern industrial computing applications. This includes 
...
Read more...
---
EV wireless recharging in the future of transportation
Power Electronics / Power Management
Wireless recharging of electric vehicles as they travel over specially equipped, dedicated road lanes looks promising after months of testing.
Read more...
---
New automotive-qualified driver family
MB Silicon Systems Power Electronics / Power Management
Power Integrations announces the SCALE EV family of gate-driver boards for Infineon EconoDUAL modules targeting high-power automotive applications.
Read more...
---
Power supply design considerations for remote patient monitors
Altron Arrow Power Electronics / Power Management
Remote patient monitors (RPMs) are continuously evolving to include new features which creates greater demands on their single-cell battery supply. A solution is provided for an ECG RPM that preserves battery life.
Read more...
---
How to extend the run-time of battery-powered equipment
Accutronics Editor's Choice Power Electronics / Power Management
For a given battery selection and application, there are several downstream design decisions that can have a drastic impact on how long the battery lasts.
Read more...
---
PSU available in 75 W to 1000 W output range
Vepac Electronics Power Electronics / Power Management
The switched-mode power supplies can accept a wide range of dual AC/DC inputs and have active power factor correction.
Read more...
---
Transient voltage suppression diodes
Altron Arrow Power Electronics / Power Management
The 24 V XClampR transient voltage suppressors, available in SMC packaging, deliver low clamping ratios for high power density.
Read more...
---
50 W Qi charger transmitter reference design
Altron Arrow Power Electronics / Power Management
The design supports two coils, which can work in alternation for increased receiver positioning freedom.
Read more...
---