printer friendly version
TUKS campus taken over by robots!
30 May 2022
News
Several teams of third-year engineering students took to the track for the ultimate robot showdown as the highly anticipated annual TUKS Robot Race Day took place at the campus recently. Now in its ninth year, the event – which is coordinated by the University of Pretoria's Faculty of Engineering, Built Environment and Information Technology – has grown in leaps and bounds, with more students getting involved and showcasing their innovation, programming and engineering skills. This year more than fifty teams registered to compete for the title.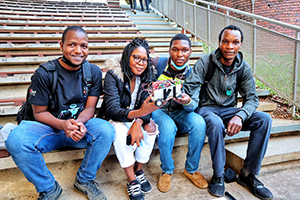 One of the many teams with their robot ready to take on the track.
Professor Tania Hanekom, function head for undergraduate studies at the University of Pretoria, said that providing world-class education to its students is what the institution strive for across all departments, and the Robot Race Day is just one of the ways education is enhanced. "Our annual Robot Race Day provides a platform to stimulate curiosity and creativity, which is crucial for the innovation and entrepreneurship that a career in engineering demands. The project guides aspiring engineers through a carefully planned process to develop a fundamental set of engineering skills, which include hardware and software design, systems integration, the ability to work and function in a team, time management, perseverance and the good old indispensable 'engineering gut feeling' which comes only with experience in the execution of engineering projects," she said.
The TUKS Robot Race Day offers students the opportunity to put theory into practice. Students are required to build autonomous robotic vehicles with a sensor system able to detect specific colours on the multi-coloured track, and is developed as part of their analog electronics module. The Race Day also gives them a platform to work as a team and to demonstrate innovation and technical skills in developing these robots.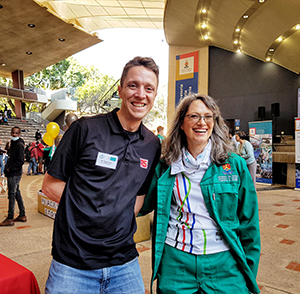 Wesley Hood from RS Components SA and Professor Tania Hanekom from TUKS.
Professor Hanekom also added that the educational objectives of the Robot Race Day were strongly supported by the university's partnerships with industry, which provide the necessary resources to maintain this flagship event. "On behalf of the students and the engineering faculty, I would like to thank RS Components South Africa for assisting us with the various components, batteries and support over the years. We look forward to future engagements with RS," she added.
The 2022 Robot Race Day winners – Natalie Hanekom, Brendon De Beer and Karl Etsebeth – were elated after their robot beat the others to claim the win. Wesley Hood, education specialist for RS Components SA, said that nurturing the next generation of engineers was at the top of RS's agenda. "RS Components' continued involvement in this project is in line with the company's policy of supporting both professional and future engineers by giving them access to the components, tools and resources that they require to excel in their endeavours.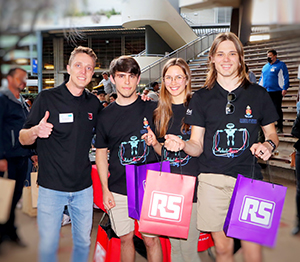 Wesley Hood with this year's winners, Karl Etsebeth, Natalie Hanekom and Brendon De Beer.
"This is echoed in our DesignSpark platform, which is a free online community for engineers, inventors and tech enthusiasts from around the world, offering free CAD software and other technical resources to help bring ideas to life. With more than 1,2 million members, this community can be of assistance to students and engineers working on real-world applications. I encourage anyone interested in engineering and inventing to register and be a part of this global community," he said.
View a brief video of the day here: https://youtu.be/Be4dIHJZwpw
Further reading:
Quectel masterclass: IoT device application development
iCorp Technologies News
Quectel has announced the latest masterclass in a series of technical webinars titled "Accelerate wireless IoT device application development with Azure RTOS on STM32 MCUs".
Read more...
---
ST announces status of common share repurchase programme
News
The repurchase programme took place over the period from 11 to 15 July 2022 and saw ST repurchasing 210 462 ordinary shares.
Read more...
---
Actum Group leads in the interconnect industry
Actum Electronics News
Actum Group is a specialist importer and distributor of industrial and electronic products in Southern Africa and a leader in the interconnect industry.
Read more...
---
From the editor's desk: Do we have the power?
Technews Publishing News
On a recent trip to Grahamstown in the Eastern Cape I was reminded, quite rudely and abruptly to be honest, of the load shedding that has plagued South Africa for the last few years. Living in KZN, we 
...
Read more...
---
Top five MPU suppliers strengthen market dominance
Editor's Choice News
The new ranking shows that long-time leader in microprocessor units, Intel, has moved downwards closer to half the total worldwide sales in microprocessors.
Read more...
---
New meta-lens revolutionises vacuum UV optics
News
A research team co-led by City University of Hong Kong have successfully developed a novel vacuum ultra-violet (VUV) meta-lens which can generate and focus the UV light.
Read more...
---
Electronics news digest
Technews Publishing Electronic News Digest News
The Semiconductor Industry Association (SIA) has announced global semiconductor industry sales were $51,8 billion in the month of May 2022, an increase of 18,0% over the May 2021 total of $43,9 billion 
...
Read more...
---
EVENTS
Events News
IFA Berlin
2-6 September Berlin, Germany This event aims to present the latest products and innovations in the commercial electronics industry. It will offer a comprehensive overview of the international 
...
Read more...
---
Going beyond with HONOR
MyKay Tronics Editor's Choice News
The tempo of business in China is lightning fast. But if you are responsive and go a step beyond, the rewards can be great. In just 15 days, Mycronic delivered 30 dispensing systems to HONOR.
Read more...
---
Global cellular IoT connections increase 22%
News
A new report says that the global number of cellular IoT subscribers increased by 22% during 2021 and that the number of cellular IoT devices will reach 4,3 billion by 2026.
Read more...
---