printer friendly version
Multi-protocol IoT prototyping platform
30 May 2022
Telecoms, Datacoms, Wireless, IoT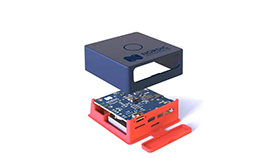 The Nordic Thingy:53 is an easy-to-use IoT prototyping platform used to create prototypes and proofs-of-concept without building custom hardware. The Thingy:53 is built around the wireless nRF5340 SoC and together with the processing power and memory size of its dual Arm Cortex-M33 processors is able to run embedded machine learning (ML) models directly on the device.
Together with the dual-core SoC, the Thingy:53 also combines the nPM1100 power management IC (PMIC), the nRF21540 front-end module, and a power amplifier/low noise amplifier (PA/LNA) range extender. The platform is equipped with a rechargeable 1350 mAh Li-poly battery and multiple motion and environmental sensors. It supports Bluetooth LE, Thread, Matter, Zigbee, IEEE 802.15.4, NFC and Bluetooth mesh RF protocols.
The nRF5340 SoC features a dedicated application processor and a network processor. The Arm Cortex-M33 application processor is clocked at 128 MHz to ensure the platform can handle advanced algorithms and the complex computational tasks associated with the embedded ML, which may be utilised using preinstalled ML firmware. 1 MB flash and 512 kB RAM ensure enough memory for complex calculations. The network processor is designed for power-efficient operation and features its own computational resources, ensuring robust wireless connectivity without compromising application execution.
The nRF Edge Impulse app enables users to connect their Nordic Thingy:53 to their Edge Impulse studio account through a mobile device. It allows them to wirelessly transfer sensor data over Bluetooth LE to the mobile device and upload it to the cloud for training and download trained ML models to the Thingy:53 for deployment. The app also acts as the GUI for viewing inferencing results from a running ML model.
The Bluetooth Low Energy (LE) radio allows updating firmware and communication over Bluetooth LE, and the radio also supports other protocols like Bluetooth mesh, Thread, Zigbee, and proprietary 2.4 GHz protocols. The Thread protocol compatibility also makes it a great choice when developing products for the new Matter ecosystem which is a standardized application layer for connected home applications, using the Internet Protocol (IP) as the network layer.
The platform includes a six-axis inertial measurement unit (IMU), a low-power accelerometer and a magnetometer. The environmental sensors include temperature, humidity, air quality and pressure. Colour and light sensors are built-in as are a buzzer and a microphone. A Qwiic, Stemma and Grove-compatible 4-pin JST connector allows connection to various third-party sensors and a USB-C port is provided for both charging and data transfer.
Nordic will hold a webinar on 6 July to demonstrate the key features of the Thingy:53 platform.
Credit(s)
Further reading:
Flexible 4G/LTE PCB antenna
RF Design Telecoms, Datacoms, Wireless, IoT
The new 4G/LTE antenna from Taoglas is a flexible antenna operating over the frequency range from 698 MHz to 3 GHz, and which provides a peak gain of 5 dBi.
Read more...
---
Qorvo announces fully integrated UWB module
RF Design Telecoms, Datacoms, Wireless, IoT
Qorvo has announced the DWM3001C, a fully integrated ultra-wideband (UWB) module that enables robust UWB implementation in factory, warehouse, automation and safety systems.
Read more...
---
Earn helium when devices connect to your hotspot
Otto Wireless Solutions Telecoms, Datacoms, Wireless, IoT
Otto Wireless Solutions has announced the A150000 RAK Hotspot Helium Miner v2 which earns helium when devices connect as well as for validating wireless coverage delivered by peers on the network.
Read more...
---
Connectivity for the future with new SIMCom modules
Otto Wireless Solutions Telecoms, Datacoms, Wireless, IoT
With the global phasing out of 2G, SIMCom's new low-cost 4G modules are looking to future-proof your designs by replacing the older 2G modules.
Read more...
---
Cellular module with embedded SIM
RF Design Telecoms, Datacoms, Wireless, IoT
The SARA-R500E LTE-M module from u-blox has an embedded SIM and offers product developers an integrated, robust, and secure solution to connect IoT applications to the cellular network.
Read more...
---
5G-CARMEN project creates 600 km corridor
Telecoms, Datacoms, Wireless, IoT
The project has demonstrated the capability of autonomous vehicles to leverage the 5G cellular network to provide a multi-tenant platform with the goal of enabling self-driving cars.
Read more...
---
Low-PIM cable assembly application considerations
RF Design Interconnection
Given the diverse range of applications for coaxial cable assemblies, these cables are not one-size-fits-all. This article discusses three main types, low-PIM, low-loss, and phase-stable coaxial cable assemblies.
Read more...
---
GNSS receiver module to extend runtime by 500%
iCorp Technologies Telecoms, Datacoms, Wireless, IoT
Antenova has announced the GNSSNOVA M20071 GNSS receiver module with power consumption reduced five-fold to enable smaller tracker designs, and trackers that could run five times longer.
Read more...
---
Wideband amplifiers operating from 35 to 95 GHz
Conical Technologies Telecoms, Datacoms, Wireless, IoT
Mini-Circuits announced the expansion of lineup of connectorised high-frequency amplifiers to provide support even deeper into the e-band range.
Read more...
---
u-blox antenna offers low-power solution
RF Design Telecoms, Datacoms, Wireless, IoT
The u-blox SAM-M10Q antenna module is tailored to the needs of applications such as industrial tracking and telematics, automation and monitoring and small UAVs.
Read more...
---