printer friendly version
Embedded voice control via the STM32Cube
29 June 2022
DSP, Micros & Memory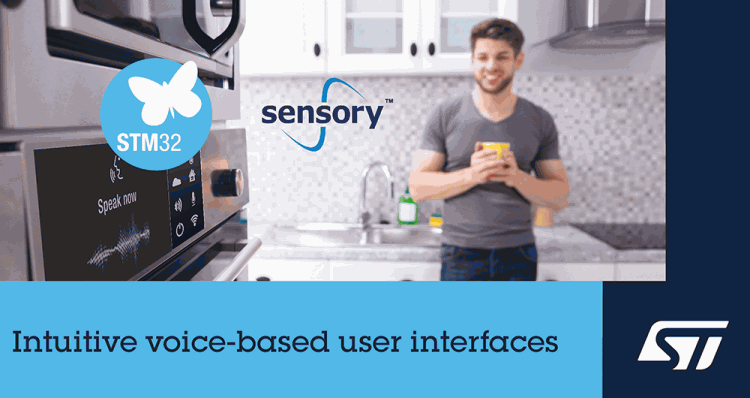 The partnership between STMicroelectronics and Sensory Inc. has borne fruit in enabling embedded voice control through the STM32Cube software ecosystem. ST has announced a collaboration that will enable the STM32 microcontroller (MCU) user community to develop and prototype intuitive voice-based user interfaces for a wide range of smart embedded products.
The joint efforts pair the STM32 hardware and software with Sensory's voice-control technologies, including the new VoiceHub online portal that supports seamless creation of embedded speech-recognition models using custom wake words, voice-control command sets, and large natural-language grammars in almost twenty languages and dialects.
The solution is based on an STM32Cube software extension package and runs on a high-performance STM32H7 MCU, taking advantage of its architecture, internal Flash, SRAM, and high CPU speed. This combination plays a key role in increasing voice-control accuracy and minimising command-recognition time. The voice application and speech models are hosted in the on-chip memory of the STM32 MCUs which further boosts the system integration and ease of use, as well as lowers the cost of ownership
"This collaboration is set to jump-start the development of embedded-voice user interfaces, adding friction-free command control and custom wake word to any device, from wearables to smart-home appliances," said Ricardo De Sa Earp, executive vice president, general-purpose microcontroller sub-group vice president, STMicroelectronics. "The unique combination of ST and Sensory technologies will enable the STM32 user community to deploy 'Voice AI on the edge' without any programming, data-science, or machine-learning expertise, for free in prototypes and with favourable licensing terms in production."
"Sensory designed our VoiceHub so developers could quickly and painlessly create custom speech-recognition models. However, after creating a custom model, integrating the model onto hardware, and moving to licensing terms were the next hurdles that needed to be cleared," said Todd Mozer, CEO, Sensory. "This world-class collaboration with ST creates a complete software, hardware, and licensing package for embedded speech recognition across the STM32 family and makes adding voice UIs simple."
ST's new software package dedicated to voice-user interfaces is available at https://www.st.com/en/embedded-software/x-cube-localvui
For more information contact EBV Electrolink, +27 21 402 1940, [email protected], www.ebv.com
Credit(s)
Further reading:
AMD Xilinx online training: Vivaldo ML tools
EBV Electrolink Computer/Embedded Technology
The webinar will explore the features of SystemVerilog that are useful for RTL synthesis using Vivado ML Tools and how the RTL SystemVerilog language constructs have been optimised for productivity and reliability.
Read more...
---
New high current through-hole inductors
EBV Electrolink Passive Components
Vishay has released a high current, through-hole inductor for use in high current and high temperature applications, DC/DC converters, high current differential chokes and inverters.
Read more...
---
Samsung launches GDDR6 RAM module
EBV Electrolink Computer/Embedded Technology
The DRAM is capable of 24 Gbps processing speeds and will significantly advance the graphics performance of AI-based applications and high-performance computing.
Read more...
---
Automotive motion sensor with embedded ML core
Altron Arrow DSP, Micros & Memory
The ASM330LHHX, a six-axis inertial module with embedded machine learning core and dual operating modes, ensures the lowest power consumption and in-sensor event detection.
Read more...
---
SolidRun releases a SoM solution based on a Renesas SoC
EBV Electrolink DSP, Micros & Memory
In partnership with Renesas, SolidRun has released a SoM solution based on the powerful RZ/G2 family of SoCs, which are engineered for AI-enhanced HMI applications.
Read more...
---
ST develops new serial EEPROM class
Altron Arrow DSP, Micros & Memory
This new class of serial EEPROM is a 32-Mbit page-erasable memory that is less expensive than FRAM while offering a lower power consumption.
Read more...
---
New Espressif MCU embeds Wi-Fi 6
iCorp Technologies DSP, Micros & Memory
Espressif Systems has introduced the ESP32-C5, their first dual-band 2,4 and 5 GHz Wi-Fi 6 and Bluetooth 5 low-energy microcontroller unit.
Read more...
---
New chip from ST ideal for use in a 3-phase motor controller
Altron Arrow DSP, Micros & Memory
STMicroelectronics' new STSPIN32G4 is an integrated and flexible motor controller for driving three-phase brushless motors, helping designers choose the most suitable driving mode and at the same time 
...
Read more...
---
Programmable Bluetooth low-energy wireless SoC
EBV Electrolink Telecoms, Datacoms, Wireless, IoT
The next-gen BlueNRG-LPS SoC, a Bluetooth low-energy 5.3 enabled device, can precisely estimate movement and location with centimetre accuracy.
Read more...
---
An entire chain of trust for system platforms
RS Components (SA) DSP, Micros & Memory
Microchip's CEC1736 Trust Shield family spans silicon, software, tools, a development board and provisioning capabilities that drive the end-to-end platform firmware protection that customers need.
Read more...
---