printer friendly version
New compact SMT chokes for low-voltage applications
29 June 2022
Passive Components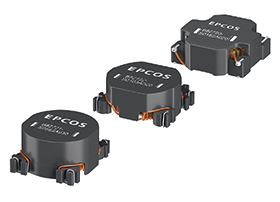 TDK Corporation has released three new B8272* series of compact EPCOS SMT common-mode chokes specially developed for low-voltage applications.
The chokes can sustain voltages of up to 48 V AC (50/60 Hz) and 80 V DC, and continuous currents between 1,8 and 19 A at an ambient temperature of 40°C. The new series cover a range of inductance values from 0,59 to 5,6 mH.
These new EMC components have very compact dimensions with a surface area of between 12,7 x 12,7 mm and 30,99 x 25,4 mm, and a height of 5,46 to 12,7 mm. The design and materials of the RoHS-compatible components comply with UL 94 V-0 and offer a relatively high leakage inductance of up to 1,2% of the nominal inductance, which reliably suppresses common-mode interference.
Areas of application for the new common-mode chokes include DC/DC converters and other low-voltage applications.
Credit(s)
Further reading:
TDK announces robust varistors with 14 mm disk diameter
Electrocomp Passive Components
The new AdvanceD series of varistors have a wide operating voltage range up to 625 V and offer a surge current capability of 3000 A.
Read more...
---
Angle sensor for safety-critical applications
Altron Arrow Passive Components
TDK's TAS4240 TMR-based angle-sensor enables precise angle measurements in applications where high performance is needed and space is limited.
Read more...
---
New high current through-hole inductors
EBV Electrolink Passive Components
Vishay has released a high current, through-hole inductor for use in high current and high temperature applications, DC/DC converters, high current differential chokes and inverters.
Read more...
---
Qualcomm AI stack: a unified AI software solution
Future Electronics Computer/Embedded Technology
Qualcomm has bundled all its AI software offerings into a single package called the Qualcomm AI Stack which will assist developers in deploying AI applications.
Read more...
---
High performance power inductor in a tiny package
RF Design Passive Components
The LPS4010 series inductors from Coilcraft are low-profile power inductors in a shielded package that offer high energy storage and low DC resistance.
Read more...
---
Vicor launches new automotive e-book on electrification
Future Electronics News
The downloadable e-book from Vicor shares insights into new power conversion trends and technologies to support vehicle electrification.
Read more...
---
Surface-mount resettable fuses
Electrocomp Passive Components
The new series of fuses, suitable for overcurrent and thermal protection, expand the hold current up to 6 A and the maximum voltage to 33 V DC.
Read more...
---
Electrocomp stocks PhaseCap Energy Plus capacitor
Electrocomp Passive Components
TDK Electronics' new PhaseCap Energy Plus series capacitor is the latest generation of capacitor for power factor correction.
Read more...
---
STMicroelectronics' new chip boosts energy efficiency
Future Electronics Power Electronics / Power Management
The new power-supply controller chip combines with ST's MasterGaN technology in a laptop/smartphone charger design with energy recovery.
Read more...
---
Multilayer ferrite beads
Electrocomp Passive Components
As direct replacements for the discontinued BMB series, TE Connectivity's BMC multilayer ferrite beads cover a wide range of impedance characteristics.
Read more...
---