printer friendly version
Actum Group leads in the interconnect industry
27 July 2022
News
Actum Group is a specialist importer and distributor of industrial and electronic products in Southern Africa. The world of Actum Group touches everything from agriculture and telecoms, to pharmaceutical and construction, to mining, oil and gas.
Actum Group is fanatically focused on quality and proudly represents only the very best international and local company and brands.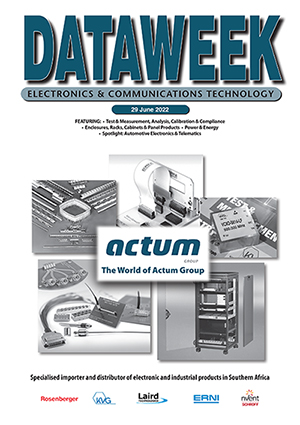 Actum Group has been proudly built through partnerships, collaborations, and acquisitions of leading world-class companies like Actum Electronics, Dowson & Dobson Industrial, Peter Jones Electronic Equipment, Altico Static Control Solutions, Banding & Identification Solutions Africa and COMIR Industrial. The very best of those teams now all work together and continue to bring you the world's leading quality products.
Actum Group was founded 18 years ago when entrepreneurs Greg Barron and Kevin Klaff decided to acquire the Actum Electronics business. The original business was founded in 1968 and grew over decades into a supplier of quality electronic components. Actum Electronics is now a leading distributor of quality electronic components, interconnect technology, EMI shielding and electronic packaging products in Southern Africa.
Some of the leading interconnect brands distributed by Actum Group are:
ERNI Connectivity
ERNI is a leading global manufacturer and worldwide supplier of a broad line of interconnects for a variety of industries. ERNI develops and manufactures high-quality connector solutions, cable housings and enclosures and cable assemblies for a broad spectrum of applications. Actum Electronics has been the exclusive partner to ERNI for over 40 years and continues to support the product through technical expertise and stockholding.
Rosenberger
Rosenberger is one of the leading manufacturers of high-frequency coaxial connectors in the world. Its product ranges include RF coaxial connectors, RF automotive connectors, testing and measurement solutions, high-speed data systems, fibre optics, cables and cable assemblies and RF cable connections for mobile radio stations. Actum Electronics has been a local distributor for Rosenberger since 1975.
Laird Performance Materials
Laird solves design issues through products such as EMI shielding, suppression or absorber materials, thermal interface materials, precision metals, and integrated, multi-functional solutions. Laird Performance Materials serves automotive, aerospace, medical, computing, data infrastructure, telecom, test and measurement, wearable devices, and gaming markets. Around the world, Laird protects billions of electronic devices from harmful heat, electromagnetic interference, or both, as well as adding to the structural integrity of those devices.
KVG Crystals and Oscillators
KVG is a German manufacturer of crystals and crystal products since 1946. KVG's crystal products cover a variety of applications, such as telecommunication nets, mobile systems, and electronic measuring technology. These applications demand high precision, longevity, and reliable system availability. Products and partners include crystals, crystal oscillators, crystal filters, Taitien Electronics and Accubeat.
Actum Group believes that honesty and integrity are more important than ever when doing business on our developing continent. It knows that in a harsh economic climate and hard world, a company that cares, and has decades of experience, is a company that's strong. Actum Group invests in relationships and want to make a real difference. Why choose anyone else?
Credit(s)
Further reading:
Quectel masterclass: IoT device application development
iCorp Technologies News
Quectel has announced the latest masterclass in a series of technical webinars titled "Accelerate wireless IoT device application development with Azure RTOS on STM32 MCUs".
Read more...
---
ST announces status of common share repurchase programme
News
The repurchase programme took place over the period from 11 to 15 July 2022 and saw ST repurchasing 210 462 ordinary shares.
Read more...
---
From the editor's desk: Do we have the power?
Technews Publishing News
On a recent trip to Grahamstown in the Eastern Cape I was reminded, quite rudely and abruptly to be honest, of the load shedding that has plagued South Africa for the last few years. Living in KZN, we 
...
Read more...
---
Top five MPU suppliers strengthen market dominance
Editor's Choice News
The new ranking shows that long-time leader in microprocessor units, Intel, has moved downwards closer to half the total worldwide sales in microprocessors.
Read more...
---
New meta-lens revolutionises vacuum UV optics
News
A research team co-led by City University of Hong Kong have successfully developed a novel vacuum ultra-violet (VUV) meta-lens which can generate and focus the UV light.
Read more...
---
Clearing the Static: ESD wrist straps
Actum Electronics Circuit & System Protection
The human body is the primary source of electrostatic charge generation. In order to control and reduce static charge build-up and prevent electrostatic discharges (ESD) at an electronic equipment facility, we use grounding systems to ensure that all components are at the same electrical potential.
Read more...
---
Electronics news digest
Technews Publishing Electronic News Digest News
The Semiconductor Industry Association (SIA) has announced global semiconductor industry sales were $51,8 billion in the month of May 2022, an increase of 18,0% over the May 2021 total of $43,9 billion 
...
Read more...
---
EVENTS
Events News
IFA Berlin
2-6 September Berlin, Germany This event aims to present the latest products and innovations in the commercial electronics industry. It will offer a comprehensive overview of the international 
...
Read more...
---
Going beyond with HONOR
MyKay Tronics Editor's Choice News
The tempo of business in China is lightning fast. But if you are responsive and go a step beyond, the rewards can be great. In just 15 days, Mycronic delivered 30 dispensing systems to HONOR.
Read more...
---
Global cellular IoT connections increase 22%
News
A new report says that the global number of cellular IoT subscribers increased by 22% during 2021 and that the number of cellular IoT devices will reach 4,3 billion by 2026.
Read more...
---