printer friendly version
EFM32PG23 Microcontroller for IoT applications
29 June 2022
DSP, Micros & Memory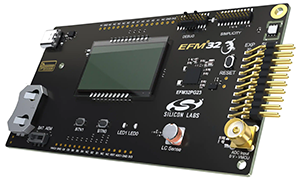 Silicon Labs' EFM32PG23 microcontroller is the ideal combination of security, precision analog capabilities, and excellent low-power performance. That collection of features makes it a great fit for many IoT applications, especially those powered by batteries. The EFM32PG23 comes in fine pitch QFN packages that make the 40-pin version the same size as standard 32-pin QFN at 5 x 5 mm.
The PG23 has an Arm Cortex-M33 that can run at a frequency up to 80 MHz with only 21 µA/MHz operating current. In sleep mode, the PG23 consumes as little as 1,03 µA. These efficiencies, combined with LESENSE, make the PG23 extremely well suited to battery-powered applications. The microcontroller has up to 512 kB of flash and up to 64 kB of RAM. In addition to the standard communication protocols, the PG23 has an LCD controller, a keypad scanner and a die temperature sensor. It has two analog comparators and an analog-to-digital converter with selectable resolution allowing 12-, 16-, or 20-bit conversion.
The small size and rich feature set make it an excellent fit for high-volume edge applications in industrial and consumer applications such as smart meters, solar inverters, smoke detectors, smart locks, lighting controls or any other application where precision monitoring is required.
Credit(s)
Further reading:
650 W fast recovery diodes
RS Components (SA) Power Electronics / Power Management
Rohm has released its 4th-generation 650 V fast recovery diodes (FRDs), balancing forward voltage and reverse-recovery time for high-power industrial and consumer equipment including air conditioners and electric vehicle charging stations.
Read more...
---
eFuse with transient overcurrent blanking timer
RS Components (SA) Power Electronics / Power Management
The TPS25981xx family of eFuses from Texas Instruments is a robust defence against overloads, short circuits, voltage surges and excessive inrush current.
Read more...
---
Automotive motion sensor with embedded ML core
Altron Arrow DSP, Micros & Memory
The ASM330LHHX, a six-axis inertial module with embedded machine learning core and dual operating modes, ensures the lowest power consumption and in-sensor event detection.
Read more...
---
SolidRun releases a SoM solution based on a Renesas SoC
EBV Electrolink DSP, Micros & Memory
In partnership with Renesas, SolidRun has released a SoM solution based on the powerful RZ/G2 family of SoCs, which are engineered for AI-enhanced HMI applications.
Read more...
---
ST develops new serial EEPROM class
Altron Arrow DSP, Micros & Memory
This new class of serial EEPROM is a 32-Mbit page-erasable memory that is less expensive than FRAM while offering a lower power consumption.
Read more...
---
New Espressif MCU embeds Wi-Fi 6
iCorp Technologies DSP, Micros & Memory
Espressif Systems has introduced the ESP32-C5, their first dual-band 2,4 and 5 GHz Wi-Fi 6 and Bluetooth 5 low-energy microcontroller unit.
Read more...
---
New chip from ST ideal for use in a 3-phase motor controller
Altron Arrow DSP, Micros & Memory
STMicroelectronics' new STSPIN32G4 is an integrated and flexible motor controller for driving three-phase brushless motors, helping designers choose the most suitable driving mode and at the same time 
...
Read more...
---
An entire chain of trust for system platforms
RS Components (SA) DSP, Micros & Memory
Microchip's CEC1736 Trust Shield family spans silicon, software, tools, a development board and provisioning capabilities that drive the end-to-end platform firmware protection that customers need.
Read more...
---
MG24 Wireless Development Kit
RS Components (SA) DSP, Micros & Memory
Silicon Labs' MG24 development kit is a high-performing wireless SoC with an AI/ML accelerator for battery-powered IoT end devices.
Read more...
---
50 W high-power RF MOSFET announced
RS Components (SA) Telecoms, Datacoms, Wireless, IoT
Mitsubishi has announced that it will launch a 50 W silicon RF high-power metal-oxide semiconductor field-effect transistor (MOSFET) module for use in high-frequency power amplifiers.
Read more...
---