printer friendly version
Programmable Bluetooth low-energy wireless SoC
27 July 2022
Telecoms, Datacoms, Wireless, IoT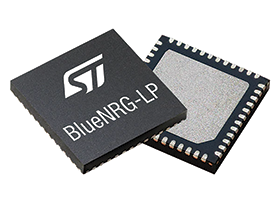 The BlueNRG-LPS is an ultra-low power programmable Bluetooth LE wireless SoC solution. It embeds STMicroelectronics's state-of-the-art 2,4 GHz radio IPs, optimised for ultra-low-power consumption and excellent radio performance, for unparalleled battery lifetime. It is compliant with Bluetooth LE 5.3 addressing point-to-point connectivity and Bluetooth Mesh networking and allows large-scale device networks to be established in a reliable way. The BlueNRG-LPS is also suitable for 2,4 GHz proprietary radio wireless communication to address ultra-low latency applications. The SoC embeds an Arm Cortex-M0+ microcontroller that can operate up to 64 MHz and also the BlueNRG core co-processor (DMA based) for Bluetooth Low Energy timing critical operations.
The BlueNRG-LPS provides enhanced security hardware support by dedicated hardware functions: a true random number generator (RNG), 128-bit AES encryption security co-processor, public key accelerator (PKA), CRC calculation unit, 64-bit unique ID, and Flash memory read and write protection.
The BlueNRG-LPS can be configured to support standalone or network processor applications. In the first configuration, the BlueNRG-LPS operates as a single device in the application for managing both the application code and the Bluetooth Low Energy stack.
The SoC embeds a 12-bit ADC, allowing measurements of up to eight external sources and up to three internal sources, including battery monitoring and a temperature sensor. It has a low-power RTC and three general-purpose 16-bit timers.
Communication interfaces on the chip include 1x SPI/I2S, 1x LPUART, 1x USART supporting ISO 7816 (smartcard mode), IrDA and Modbus mode, 1x I2C supporting SMBus/PMBus.
The BlueNRG-LPS can operate in a temperature range of -40 to 105°C. Supply to the SoC is from 1,7 V to 3,6 V, and a comprehensive set of power-saving modes enables the design of low-power applications.
With direction finding part of the Bluetooth LE 5.3 core specification, this SoC is ideally suited to indoor location and movement detection.
For more information contact EBV Electrolink, +27 21 402 1940, [email protected], www.ebv.com
Credit(s)
Further reading:
Quectel 4G SMD antenna
iCorp Technologies Telecoms, Datacoms, Wireless, IoT
This wideband LTE/cellular/CDMA SMT antenna from Quectel, operating in the frequency range from 698 to 960 MHz and 1710 to 2690 MHz, delivers high efficiency in all bands when mounted to the device host PCB.
Read more...
---
SIMCom pioneers the LPWA segment with future-proof products
Otto Wireless Solutions Telecoms, Datacoms, Wireless, IoT
With the gradual withdrawal of 2G/3G networks from the market, LPWA has attracted extensive attention from many IoT manufacturers for its low power consumption, long standby time, and low cost.
Read more...
---
AMD Xilinx online training: Vivaldo ML tools
EBV Electrolink Computer/Embedded Technology
The webinar will explore the features of SystemVerilog that are useful for RTL synthesis using Vivado ML Tools and how the RTL SystemVerilog language constructs have been optimised for productivity and reliability.
Read more...
---
Flexible 4G/LTE PCB antenna
RF Design Telecoms, Datacoms, Wireless, IoT
The new 4G/LTE antenna from Taoglas is a flexible antenna operating over the frequency range from 698 MHz to 3 GHz, and which provides a peak gain of 5 dBi.
Read more...
---
Qorvo announces fully integrated UWB module
RF Design Telecoms, Datacoms, Wireless, IoT
Qorvo has announced the DWM3001C, a fully integrated ultra-wideband (UWB) module that enables robust UWB implementation in factory, warehouse, automation and safety systems.
Read more...
---
Earn helium when devices connect to your hotspot
Otto Wireless Solutions Telecoms, Datacoms, Wireless, IoT
Otto Wireless Solutions has announced the A150000 RAK Hotspot Helium Miner v2 which earns helium when devices connect as well as for validating wireless coverage delivered by peers on the network.
Read more...
---
Connectivity for the future with new SIMCom modules
Otto Wireless Solutions Telecoms, Datacoms, Wireless, IoT
With the global phasing out of 2G, SIMCom's new low-cost 4G modules are looking to future-proof your designs by replacing the older 2G modules.
Read more...
---
New high current through-hole inductors
EBV Electrolink Passive Components
Vishay has released a high current, through-hole inductor for use in high current and high temperature applications, DC/DC converters, high current differential chokes and inverters.
Read more...
---
Cellular module with embedded SIM
RF Design Telecoms, Datacoms, Wireless, IoT
The SARA-R500E LTE-M module from u-blox has an embedded SIM and offers product developers an integrated, robust, and secure solution to connect IoT applications to the cellular network.
Read more...
---
Samsung launches GDDR6 RAM module
EBV Electrolink Computer/Embedded Technology
The DRAM is capable of 24 Gbps processing speeds and will significantly advance the graphics performance of AI-based applications and high-performance computing.
Read more...
---