printer friendly version
An entire chain of trust for system platforms
27 July 2022
DSP, Micros & Memory
As the market need for security evolves, platforms must also evolve quickly to defend against cyberattacks during start-up, real-time and system updates. With these new market threats, designers cannot assume the equipment they are using is trustworthy and they must start looking to new technology to secure their systems. Microchip Technology has announced its fully configurable microcontroller-based CEC1736 Trust Shield family that solves this challenge by going beyond NIST 800-193 platform firmware resiliency guidelines with runtime firmware protection that anchors the secure boot process while establishing an entire chain of trust for the system platform.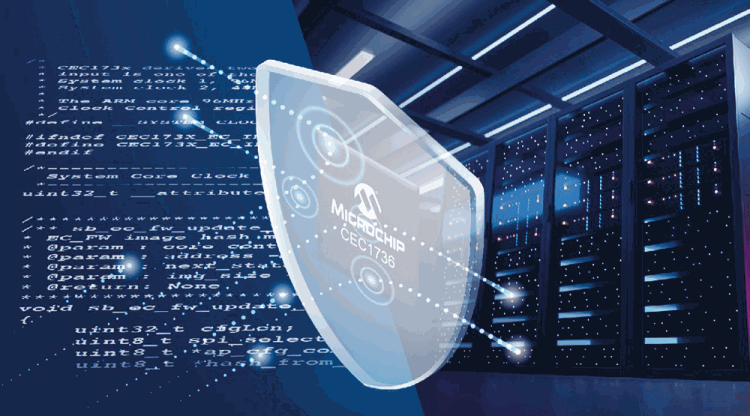 Microchip's CEC1736 Trust Shield family spans silicon, software, tools, a development board and provisioning capabilities that drive the end-to-end platform firmware protection that customers need.
The CEC1736 solution extends Microchip's offering for ensuring the cyber resiliency of end equipment. It is a fully configurable real-time platform root of trust that enables runtime firmware protection in the SPI flash and I2C/SMBus filtering against runtime attacks. The attestation feature provides trustworthy evidence to ensure that critical devices in the platform are authentic. Lifecycle management and ownership transfer features protect secrets throughout the product lifecycle and during the transfer of product ownership, allowing different operators to use the system platform securely without compromising information.
The CEC1736 Trust Shield family's advanced hardware crypto cipher suite is equipped with AES-256, SHA-512, RSA-4096, ECC with key size up to 571 bits and Elliptic Curve Digital Signature Algorithm (ECDSA) with a 384-bit key length. The 384-bit hardware Physically Unclonable Function (PUF) enables a unique root key, symmetric secret, private key generation and protection. The advanced root of trust and security solution, which meets the NIST 800-193 and OCP security guidelines, allows for a quick adoption of the latest security advances and standards.
Credit(s)
Further reading:
eFuse with transient overcurrent blanking timer
RS Components (SA) Power Electronics / Power Management
The TPS25981xx family of eFuses from Texas Instruments is a robust defence against overloads, short circuits, voltage surges and excessive inrush current.
Read more...
---
Automotive motion sensor with embedded ML core
Altron Arrow DSP, Micros & Memory
The ASM330LHHX, a six-axis inertial module with embedded machine learning core and dual operating modes, ensures the lowest power consumption and in-sensor event detection.
Read more...
---
SolidRun releases a SoM solution based on a Renesas SoC
EBV Electrolink DSP, Micros & Memory
In partnership with Renesas, SolidRun has released a SoM solution based on the powerful RZ/G2 family of SoCs, which are engineered for AI-enhanced HMI applications.
Read more...
---
ST develops new serial EEPROM class
Altron Arrow DSP, Micros & Memory
This new class of serial EEPROM is a 32-Mbit page-erasable memory that is less expensive than FRAM while offering a lower power consumption.
Read more...
---
New Espressif MCU embeds Wi-Fi 6
iCorp Technologies DSP, Micros & Memory
Espressif Systems has introduced the ESP32-C5, their first dual-band 2,4 and 5 GHz Wi-Fi 6 and Bluetooth 5 low-energy microcontroller unit.
Read more...
---
New chip from ST ideal for use in a 3-phase motor controller
Altron Arrow DSP, Micros & Memory
STMicroelectronics' new STSPIN32G4 is an integrated and flexible motor controller for driving three-phase brushless motors, helping designers choose the most suitable driving mode and at the same time 
...
Read more...
---
EFM32PG23 Microcontroller for IoT applications
RS Components (SA) DSP, Micros & Memory
Silicon Labs' EFM32PG23 microcontroller is the ideal combination of excellent low-power performance, precision analog capabilities and security in a small package.
Read more...
---
MG24 Wireless Development Kit
RS Components (SA) DSP, Micros & Memory
Silicon Labs' MG24 development kit is a high-performing wireless SoC with an AI/ML accelerator for battery-powered IoT end devices.
Read more...
---
50 W high-power RF MOSFET announced
RS Components (SA) Telecoms, Datacoms, Wireless, IoT
Mitsubishi has announced that it will launch a 50 W silicon RF high-power metal-oxide semiconductor field-effect transistor (MOSFET) module for use in high-frequency power amplifiers.
Read more...
---
Mastering the MicroBlaze processor
EBV Electrolink DSP, Micros & Memory
AMD-Xilinx and Adiuvo will present a hands-on workshop on using the MicroBlaze processor on the Spartan-7 evaluation kit to create, develop and deploy an FPGA solution.
Read more...
---