printer friendly version
New meta-lens revolutionises vacuum UV optics
27 July 2022
News
Vacuum ultra-violet (VUV) is used in semiconductor manufacturing, photochemistry and materials science. The focused VUV light source is needed for nanolithography, material processing, advanced manufacturing, and other industrial areas.
Up to now it has been expensive to work with. VUV with wavelengths between 100 and 200 nm is strongly absorbed by the oxygen in air, and therefore, the application of VUV requires a vacuum chamber or other specialised environment. Conventionally, very bulky and expensive systems with rare nonlinear crystals are used for generating and focusing VUV light.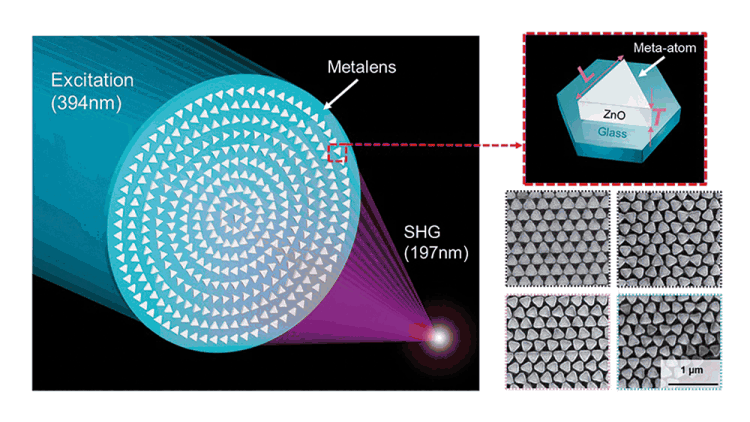 Almost all types of glass used to make conventional lenses are unsuitable for VUV due to their strong absorption in this region, and the few VUV-transmittable materials currently used for lenses are extremely thin and fragile.
To address these limitations, researchers at the City University of Hong Kong (CityU) have developed and fabricated a meta-lens consisting of many 150 nm triangle-shaped zinc oxide nano-antenna. "We have developed a meta-lens with intricate nanostructures on zinc oxide thin film capable of focusing VUV light. This meta-lens provides a compact method for nonlinear VUV generation and focusing of the generated light," said Professor Tsai.
The new VUV meta-lens in a 45 µm diameter can convert UV light with 394 nm wavelength into VUV light with 197 nm wavelength and focuses the VUV light on a small spot less than 2 microns in diameter. Tests at Rice University demonstrated a focused light spot from the lens with an enhanced power density of 21 times.
"Our VUV meta-lens is compact, lightweight, effective, and can be mass produced [in a] semiconductor electronics fabrication process. This novel and disruptive meta-device could revolutionise the conventional VUV optics technology and its market," Professor Tsai said.
Further reading:
Quectel masterclass: IoT device application development
iCorp Technologies News
Quectel has announced the latest masterclass in a series of technical webinars titled "Accelerate wireless IoT device application development with Azure RTOS on STM32 MCUs".
Read more...
---
ST announces status of common share repurchase programme
News
The repurchase programme took place over the period from 11 to 15 July 2022 and saw ST repurchasing 210 462 ordinary shares.
Read more...
---
Actum Group leads in the interconnect industry
Actum Electronics News
Actum Group is a specialist importer and distributor of industrial and electronic products in Southern Africa and a leader in the interconnect industry.
Read more...
---
From the editor's desk: Do we have the power?
Technews Publishing News
On a recent trip to Grahamstown in the Eastern Cape I was reminded, quite rudely and abruptly to be honest, of the load shedding that has plagued South Africa for the last few years. Living in KZN, we 
...
Read more...
---
Top five MPU suppliers strengthen market dominance
Editor's Choice News
The new ranking shows that long-time leader in microprocessor units, Intel, has moved downwards closer to half the total worldwide sales in microprocessors.
Read more...
---
Electronics news digest
Technews Publishing Electronic News Digest News
The Semiconductor Industry Association (SIA) has announced global semiconductor industry sales were $51,8 billion in the month of May 2022, an increase of 18,0% over the May 2021 total of $43,9 billion 
...
Read more...
---
EVENTS
Events News
IFA Berlin
2-6 September Berlin, Germany This event aims to present the latest products and innovations in the commercial electronics industry. It will offer a comprehensive overview of the international 
...
Read more...
---
Going beyond with HONOR
MyKay Tronics Editor's Choice News
The tempo of business in China is lightning fast. But if you are responsive and go a step beyond, the rewards can be great. In just 15 days, Mycronic delivered 30 dispensing systems to HONOR.
Read more...
---
Global cellular IoT connections increase 22%
News
A new report says that the global number of cellular IoT subscribers increased by 22% during 2021 and that the number of cellular IoT devices will reach 4,3 billion by 2026.
Read more...
---
TSMC reports huge surge in profit
News
The company announced a huge 76,4% in second quarter profit, which is its biggest jump in earnings in the last eight financial quarters.
Read more...
---