printer friendly version
Panasonic releases its updated touch-sensitive knob
27 July 2022
Electronics Technology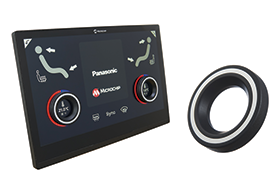 Panasonic, in conjunction with Microchip, has launched an update to its existing Magic Knob, a capacitive knob ready for standard touch sensors for use in controlling automotive information displays.
As the size of interactive displays increases many automotive and industrial touch HMI designers are looking to merge the benefits of a mechanical rotary encoder input with the flexibility of these modern multi-touch displays. Panasonic has released its solution to this, a rotary knob combining intelligent capacitive and mechanical operation as well as providing haptic feedback.
Microchip developed the maXTouch Knob on Display (KoD) controller as the first automotive-grade touchscreen controller family to natively support the detection and reporting of capacitive rotary encoders, as well as mechanical switches on top of a touch panel. This controller is at the core of Panasonic's Magic Knob technology.
The KoD technology eliminates the need for custom touch sensor patterns, providing designers with the ability to easily implement a different knob count, shape and position to accommodate a variety of end user products. The customised configurations are adjustable without changing the embedded firmware of the maXTouch KoD touch controller, leading to a faster and more flexible development cycle. The maXTouch KoD controller allows designers to keep the comfort of a rotary encoder input device but combine it with a modern and innovative interior design using smart surfaces and multi-touch displays.
An added benefit designers can expect to experience is the ease of building a sealed human machine interface (HMI) module, which is increasingly popular for in-home appliance and industrial applications. Using a knob on a display will also increase safety for the end user by removing the need to look at the display to make an adjustment while driving.
"Modern user interfaces commonly use multi-touch displays, removing mechanical keys for cutting-edge designs. Yet, functions like temperature control or audio volume adjustment remain best controlled though a rotary encoder," said Clayton Pillion, vice president of the human machine interface business unit at Microchip Technology. "The new maXTouch KoD technology offers the benefits of both worlds by providing the support of a capacitive rotary encoder with a turnkey touch controller family and a comprehensive suite of dedicated tools for a fast implementation."
The newly developed MPMK (Microchip Panasonic magic knob) allows placement of the knob anywhere on the touch panel. In addition to the rotating operation, it also comes with a vertical ring push function. Both functions can be customised to provide haptic feedback, offering the customers an ideal click feeling sensation. This haptic fine-tuning can be successfully engineered due to a profound mechanical design know-how, based on the long-term development of mechanical encoders.
Use of the Magic Knob is good news in terms of user friendliness and production efficiency. The knob even works for any kind of non-display application – as long as there is a capacitive sensor behind the respective flat or glass panel, the MPMK can be operated the same way.
Credit(s)
Further reading:
TI releases top five power design tools
Altron Arrow Design Automation
Texas Instruments has released an online resource combining the top five power design tools available to aid in the next electronic project design.
Read more...
---
Angle sensor for safety-critical applications
Altron Arrow Passive Components
TDK's TAS4240 TMR-based angle-sensor enables precise angle measurements in applications where high performance is needed and space is limited.
Read more...
---
1,5 A LDO linear regulator from TI
Altron Arrow Power Electronics / Power Management
The TPS7A74 from Texas Instruments is a 1,5 A low-dropout linear regulator with programmable soft-start for a wide variety of applications.
Read more...
---
Automotive motion sensor with embedded ML core
Altron Arrow DSP, Micros & Memory
The ASM330LHHX, a six-axis inertial module with embedded machine learning core and dual operating modes, ensures the lowest power consumption and in-sensor event detection.
Read more...
---
ST develops new serial EEPROM class
Altron Arrow DSP, Micros & Memory
This new class of serial EEPROM is a 32-Mbit page-erasable memory that is less expensive than FRAM while offering a lower power consumption.
Read more...
---
Fully programmable motor controllers
Altron Arrow Power Electronics / Power Management
The MOTIX IMD70xA programmable motor controllers from Infineon are now available in one package to power the next generation of battery-powered applications.
Read more...
---
OMRON's latest MicroHAWK ultra-compact code reader
Altron Arrow Manufacturing / Production Technology, Hardware & Services
OMRON expands the MicroHAWK range with the V440-F, a scanner ideal for reading multiple codes in a wide area as well as for applications over longer distances and with minuscule barcodes.
Read more...
---
How to build an uninterruptible power supply for home devices
Altron Arrow Editor's Choice
With the frequent load shedding in South Africa, finding an offline source of power at home has become a necessity. Simon Brumble, staff engineer at Analog Devices shows how to build a home UPS using a car battery as a backup source.
Read more...
---
New chip from ST ideal for use in a 3-phase motor controller
Altron Arrow DSP, Micros & Memory
STMicroelectronics' new STSPIN32G4 is an integrated and flexible motor controller for driving three-phase brushless motors, helping designers choose the most suitable driving mode and at the same time 
...
Read more...
---
Bidirectional TransZorb transient voltage suppressors
Altron Arrow Power Electronics / Power Management
The latest TransZorb transient voltage suppressors from Vishay are suitable for applications in the automotive, industrial and telecommunication spheres, including automotive load dump protection.
Read more...
---