printer friendly version
New Espressif MCU embeds Wi-Fi 6
27 July 2022
DSP, Micros & Memory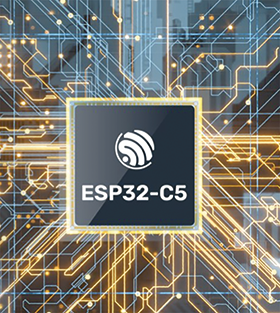 Espressif Systems has announced the release of ESP32-C5, a highly integrated MCU with 2,4 and 5 GHz dual-band Wi-Fi 6, as well as Bluetooth 5 low-energy (LE) connectivity.
ESP32-C5 sports a dual-band Wi-Fi 6 (802.11ax) radio, along with the 802.11b/g/n standard for backward compatibility. The Wi-Fi 6 support is optimised for IoT devices, as the SoC supports a 20 MHz bandwidth for the 802.11ax mode, and a 20/40 MHz bandwidth for the 802.11b/g/n mode.
ESP32-C5 has a 32-bit, RISC-V, single-core processor which can run at a clock-speed up to 240 MHz. It has 400 KB SRAM, 384 KB of ROM and more than 20 programmable GPIOs, while supporting all the commonly used peripheral interfaces. Also included is an SDIO 2.0 slave interface.
The support for the 5 GHz band provides customers with a more stable and low-latency wireless connectivity in cases where less traffic and lower interference are needed for critical applications. It gives end-users the option of assigning different IoT devices to different networks, according to how critical the application is. The 5 GHz band also supports hosts of high-throughput applications, such as live-streaming devices, Wi-Fi dongles and IP cameras. Integrating dual-band connectivity into their devices provides customers with maximum flexibility, while future-proofing their products.
An important feature of the 802.11ax standard is the Target Wake Time (TWT), which allows devices to sleep for an extended time-period, with assistance from an 802.11ax-capable Wi-Fi access point.
This feature makes possible the use of ESP32-C5 in battery-operated devices that can last for years, while remaining permanently connected.
ESP32-C5 is supported on Espressif's open-source ESP-IDF, which already powers millions of devices in the field. This ensures the availability of a robust SDK and tools, as well as an easy application migration path for developers.
Credit(s)
Further reading:
Quectel masterclass: IoT device application development
iCorp Technologies News
Quectel has announced the latest masterclass in a series of technical webinars titled "Accelerate wireless IoT device application development with Azure RTOS on STM32 MCUs".
Read more...
---
Automotive motion sensor with embedded ML core
Altron Arrow DSP, Micros & Memory
The ASM330LHHX, a six-axis inertial module with embedded machine learning core and dual operating modes, ensures the lowest power consumption and in-sensor event detection.
Read more...
---
GNSS receiver module to extend runtime by 500%
iCorp Technologies Telecoms, Datacoms, Wireless, IoT
Antenova has announced the GNSSNOVA M20071 GNSS receiver module with power consumption reduced five-fold to enable smaller tracker designs, and trackers that could run five times longer.
Read more...
---
SolidRun releases a SoM solution based on a Renesas SoC
EBV Electrolink DSP, Micros & Memory
In partnership with Renesas, SolidRun has released a SoM solution based on the powerful RZ/G2 family of SoCs, which are engineered for AI-enhanced HMI applications.
Read more...
---
ST develops new serial EEPROM class
Altron Arrow DSP, Micros & Memory
This new class of serial EEPROM is a 32-Mbit page-erasable memory that is less expensive than FRAM while offering a lower power consumption.
Read more...
---
New chip from ST ideal for use in a 3-phase motor controller
Altron Arrow DSP, Micros & Memory
STMicroelectronics' new STSPIN32G4 is an integrated and flexible motor controller for driving three-phase brushless motors, helping designers choose the most suitable driving mode and at the same time 
...
Read more...
---
An entire chain of trust for system platforms
RS Components (SA) DSP, Micros & Memory
Microchip's CEC1736 Trust Shield family spans silicon, software, tools, a development board and provisioning capabilities that drive the end-to-end platform firmware protection that customers need.
Read more...
---
EFM32PG23 Microcontroller for IoT applications
RS Components (SA) DSP, Micros & Memory
Silicon Labs' EFM32PG23 microcontroller is the ideal combination of excellent low-power performance, precision analog capabilities and security in a small package.
Read more...
---
MG24 Wireless Development Kit
RS Components (SA) DSP, Micros & Memory
Silicon Labs' MG24 development kit is a high-performing wireless SoC with an AI/ML accelerator for battery-powered IoT end devices.
Read more...
---
Mastering the MicroBlaze processor
EBV Electrolink DSP, Micros & Memory
AMD-Xilinx and Adiuvo will present a hands-on workshop on using the MicroBlaze processor on the Spartan-7 evaluation kit to create, develop and deploy an FPGA solution.
Read more...
---