printer friendly version
Angle sensor for safety-critical applications
27 July 2022
Passive Components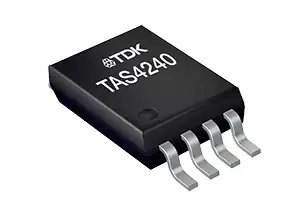 TDK has launched the TAS4240 TMR-based angle-sensor for automotive and industrial applications. The TAS4240 comes in a compact TSSOP8 package and provides two redundant analog single-ended SIN/COS outputs. The sensor enables precise angle measurements in applications where high performance is needed and space is limited.
As a 360° angle sensor, TAS4240 is suited to accurately measure the rotor position of BLDC motors used in safety-critical applications, like power steering. The sensor contains four tunnel-magnetoresistance (TMR) half bridges and provides two separated SIN/COS outputs. Higher safety levels up to ASIL D can then be achieved for the system while offering higher availability of position information even in case of a failure of one of the output signals.
TDK's state-of-the-art TMR technology benefits from its long-term expertise in magnetic-sensor technology and optimises its sensors by successfully integrating sophisticated TMR technology into small packages. The angle accuracy of the sensor remains stable at different temperatures and over the sensor's lifetime.
Main applications of the TAS4240 include brushless DC (BLDC) and permanent-magnet synchronous motor (PMSM) commutation in a safety relevant environment (electronic power steering, brake booster, etc.), linear position sensing using an array of TAS4240 sensors, and industrial servo motors, automation, encoders and robotics.
Credit(s)
Further reading:
TDK announces robust varistors with 14 mm disk diameter
Electrocomp Passive Components
The new AdvanceD series of varistors have a wide operating voltage range up to 625 V and offer a surge current capability of 3000 A.
Read more...
---
1,5 A LDO linear regulator from TI
Altron Arrow Power Electronics / Power Management
The TPS7A74 from Texas Instruments is a 1,5 A low-dropout linear regulator with programmable soft-start for a wide variety of applications.
Read more...
---
New high current through-hole inductors
EBV Electrolink Passive Components
Vishay has released a high current, through-hole inductor for use in high current and high temperature applications, DC/DC converters, high current differential chokes and inverters.
Read more...
---
Automotive motion sensor with embedded ML core
Altron Arrow DSP, Micros & Memory
The ASM330LHHX, a six-axis inertial module with embedded machine learning core and dual operating modes, ensures the lowest power consumption and in-sensor event detection.
Read more...
---
Panasonic releases its updated touch-sensitive knob
Altron Arrow Electronics Technology
Panasonic, in conjunction with Microchip, has launched an update to its existing Magic Knob, a capacitive knob ready for standard touch sensors for use in controlling automotive information displays.
Read more...
---
ST develops new serial EEPROM class
Altron Arrow DSP, Micros & Memory
This new class of serial EEPROM is a 32-Mbit page-erasable memory that is less expensive than FRAM while offering a lower power consumption.
Read more...
---
Fully programmable motor controllers
Altron Arrow Power Electronics / Power Management
The MOTIX IMD70xA programmable motor controllers from Infineon are now available in one package to power the next generation of battery-powered applications.
Read more...
---
OMRON's latest MicroHAWK ultra-compact code reader
Altron Arrow Manufacturing / Production Technology, Hardware & Services
OMRON expands the MicroHAWK range with the V440-F, a scanner ideal for reading multiple codes in a wide area as well as for applications over longer distances and with minuscule barcodes.
Read more...
---
How to build an uninterruptible power supply for home devices
Altron Arrow Editor's Choice
With the frequent load shedding in South Africa, finding an offline source of power at home has become a necessity. Simon Brumble, staff engineer at Analog Devices shows how to build a home UPS using a car battery as a backup source.
Read more...
---
New chip from ST ideal for use in a 3-phase motor controller
Altron Arrow DSP, Micros & Memory
STMicroelectronics' new STSPIN32G4 is an integrated and flexible motor controller for driving three-phase brushless motors, helping designers choose the most suitable driving mode and at the same time 
...
Read more...
---