printer friendly version
New low-cost 60 W PSU
27 July 2022
Power Electronics / Power Management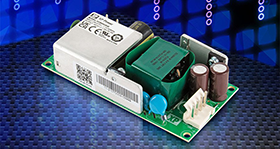 The new VCB60 series of PSU from XP Power addresses the need for high-quality easy-to-use power solutions at attractive price points. The release of a new series of 60 W low profile AC/DC power supplies fits this bill and they are intended for use in a wide variety of cost-sensitive applications including information technology equipment, industrial electronics, domestic, IoT and robotics.
The modules operate from 90 to 305 V AC, making them suitable for use with global industrial or commercial equipment. With a total of eight devices in the series, regulated output voltages from 5,0 V DC to 54,0 V DC are covered at power levels up to 60 W. The PSUs are convection-cooled ensuring silent operation which is a common requirement in noise-sensitive audio/video applications as well as in an office or domestic setting.
Various protection mechanisms are incorporated including short circuit, overvoltage, and overload protection. Overvoltage category III approval means that VCB60 units can be used in building wiring upstream of wall sockets that require safety-approved products. The approval removes any need for additional filtering and safety approvals, saving time and cost. The VCB60 series carries multiple approvals for EMC immunity for EMC emissions. Safety approvals include IEC60950, IEC62368 and IEC60355. This ensures that the units can be safely used in a wide range of industrial and domestic applications while ensuring they meet noise requirements without external filtering.
The units have an efficiency rating of 90%, ensuring that waste heat is minimised. This reduces thermal management requirements and decreases operating temperature, thereby increasing the reliability of the overall system.
Credit(s)
Further reading:
Wireless charging IC solution
TRX Electronics Power Electronics / Power Management
The WLC1115 transmitter controller IC is the first highly integrated product of the new WLC family of controllers from Infineon for applications in inductive wireless charging.
Read more...
---
Real-time monitoring of solar power stations
Otto Wireless Solutions Power Electronics / Power Management
WLink's 3G/4G routers remotely monitor and manage power stations in real-time and perform fault diagnosis, power prediction and a daily maintenance routine.
Read more...
---
1,5 A LDO linear regulator from TI
Altron Arrow Power Electronics / Power Management
The TPS7A74 from Texas Instruments is a 1,5 A low-dropout linear regulator with programmable soft-start for a wide variety of applications.
Read more...
---
eFuse with transient overcurrent blanking timer
RS Components (SA) Power Electronics / Power Management
The TPS25981xx family of eFuses from Texas Instruments is a robust defence against overloads, short circuits, voltage surges and excessive inrush current.
Read more...
---
New series of high-power pure sine wave inverters
Current Automation Power Electronics / Power Management
The NTS/NTU-2200/3200 series pure sine wave inverters by Meanwell now have the ability to use lithium batteries as well as lead acid as the DC power source.
Read more...
---
Fully programmable motor controllers
Altron Arrow Power Electronics / Power Management
The MOTIX IMD70xA programmable motor controllers from Infineon are now available in one package to power the next generation of battery-powered applications.
Read more...
---
New power converter family from Traco
Conical Technologies Power Electronics / Power Management
Traco Power has announced the release of their new TMR 12WI converter family featuring isolated 12W DC/DC converter modules with regulated outputs.
Read more...
---
Bourns releases new series of power inductors
Electrocomp Power Electronics / Power Management
Constructed with a magnetic-silica coating to the perimeter of the inductor winding to provide effective shielding, these inductors release lower magnetic field radiation compared to non-shielded inductors.
Read more...
---
Bidirectional TransZorb transient voltage suppressors
Altron Arrow Power Electronics / Power Management
The latest TransZorb transient voltage suppressors from Vishay are suitable for applications in the automotive, industrial and telecommunication spheres, including automotive load dump protection.
Read more...
---
Leadless NTC thermistor die suitable for wire bonding
Altron Arrow Power Electronics / Power Management
This NTC thermistor die from Vishay Semiconductors is suitable for high-temperature sensing, temperature control and compensation in power semiconductor modules.
Read more...
---