printer friendly version
Samsung begins chip production using 3 nm process technology
27 July 2022
Electronics Technology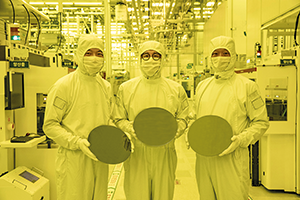 Samsung Electronics has announced that it has started initial production of its 3-nanometre process applying Gate-All-Around (GAA) transistor technology.
Multi-Bridge-Channel FET (MBCFET), Samsung's GAA technology, defies the performance limitations of FinFET, improving power efficiency by reducing the supply voltage level, while also enhancing performance by increasing drive current capability. Samsung is starting the first application of the nanosheet transistor with semiconductor chips for high performance, low power computing applications and plans to expand to mobile processors.
"Samsung has grown rapidly as we continue to demonstrate leadership in applying next-generation technologies to manufacturing, such as the foundry industry's first High-K metal gate, FinFET, as well as EUV. We seek to continue this leadership with the world's first 3 nm process with the MBCFET," said Dr. Siyoung Choi, President and Head of Foundry Business at Samsung Electronics. "We will continue active innovation in competitive technology development and build processes that help expedite achieving maturity of technology."
Samsung's proprietary technology utilises nanosheets with wider channels, which allow higher performance and greater energy efficiency compared to GAA technologies using nanowires with narrower channels. Utilising the 3 nm GAA technology, Samsung will be able to adjust the channel width of the nanosheet in order to optimise power usage and performance to meet various customer needs.
In addition, the design flexibility of GAA is highly advantageous for design technology co-optimisation which helps boost power, performance and area (PPA) benefits. Compared to 5nbsp;nm process, the first-generation 3nbsp;nm process can reduce power consumption by up to 45%, improve performance by 23%, and reduce area by 16%, while the second-generation 3nbsp;nm process is to reduce power consumption by up to 50% and improve performance by 30% while reducing surface area by 35%.
Since the third quarter of 2021, Samsung has been providing proven design infrastructure through extensive preparation with Samsung Advanced Foundry Ecosystem partners including Ansys, Cadence, Siemens, and Synopsys, to help customers perfect their product in a reduced period of time.
This new 3 nm process technology is set to usher in a new era of more powerful devices which have a longer battery life.
Credit(s)
Further reading:
Making Matter provisioning secure and easy
EBV Electrolink Telecoms, Datacoms, Wireless, IoT
Integrated solution of CommScope's PKIWorks platform with STMicroelectronics' STM32WB wireless microcontroller enables IoT security for Matter device development.
Read more...
---
Driver amplifiers for wireless infrastructure
EBV Electrolink Telecoms, Datacoms, Wireless, IoT
The BGA7P320 is a 3,3 to 4,2 GHz mid-band driver amplifier that can be used as pre-driver or driver in RF applications, from MIMO 5G base stations to small cells and access points.
Read more...
---
Vishay honours EBV with distributor award
EBV Electrolink News
Vishay has honoured EBV Elektronik with the 'Semiconductor Distributor of the Year – 2022' award based on the company's outstanding contribution, design activities, overall process excellence and performance throughout EMEA.
Read more...
---
Chip extends battery life
EBV Electrolink Power Electronics / Power Management
Nexperia's new DC-DC converter IC has been designed to extend the life of 3V coin cells in IoT applications.
Read more...
---
Advanced power supply design automation
EBV Electrolink Power Electronics / Power Management
Power Integrations and SnapMagic have announced that PI Expert, Power Integrations' robust, online design tool, now features schematic and netlist export, made possible by SnapMagic's new schematic export technology.
Read more...
---
Microchip's 28 nm memory in production
EBV Electrolink DSP, Micros & Memory
GlobalFoundries and Microchip have announced that Microchip's 28 nm SuperFlash embedded flash memory solution is in production. The widely deployed non-volatile memory (NVM) solution is optimised for microcontrollers, smart cards and IoT chips.
Read more...
---
All-in-one chips for automotive applications
EBV Electrolink Power Electronics / Power Management
STMicroelectronics' SPSB081 automotive power-management IC' s features include a main fixed-voltage low-dropout regulator (LDO), a secondary programmable LDO, four high-side drivers, a CAN FD transceiver, and an optional LIN transceiver.
Read more...
---
EBV Electronik wins best distributor award
EBV Electrolink News
EBV Elektronik has been recognised by STMicroelectronics as its '2022 Best Performing Distributor in EMEA', after showing the highest POS growth and best demand creation results.
Read more...
---
Nanometre-precision piezo actuators
RS South Africa Electronics Technology
TDK Corporation has announced two new piezo actuators that are characterised by a wide dynamic range, a high force-to-volume ratio, but with precision in the nanometre range.
Read more...
---
Arm Cortex-A53-based applications processors
EBV Electrolink DSP, Micros & Memory
NXP's i.MX 8M Nano family of applications processors provide cost-effective integration and affordable performance for smart, connected, power-efficient devices requiring graphics, vision, voice control, intelligent sensing, and general-purpose processing.
Read more...
---