printer friendly version
Ultra-low power 24-bit sigma-delta ADC
28 September 2022
Analogue, Mixed Signal, LSI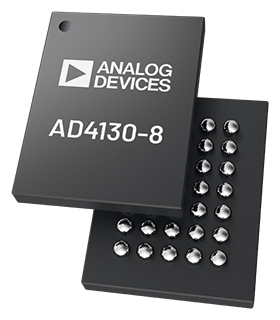 The AD4130-8 from Analog Devices is an ultra-low power, high-precision measurement solution for low-bandwidth battery operated applications. The fully integrated analog front end includes a multiplexer for up to 16 single-ended or eight differential inputs, programmable gain amplifier (PGA), 24-bit sigma-delta ADC, and on-chip reference and oscillator. The low power consumption of the IC allows for a battery-operated lifetime of more than five years on a single coin cell.
The AD4130-8 allows users to measure low frequency signals with a current consumption of only 28,5 μA while continuously converting, and even lower average currents when using one of the duty cycling options. The chip can be configured to have eight differential inputs or 16 single-ended or pseudo-differential inputs connected to an internal multiplexer.
The AD4130-8 is designed to operate from a single analog supply voltage from 1,71 to 3,6 V. In battery applications, operation as low as 1,71 V can extend the system lifetime as the AFE can continue its operation, even as the battery voltage dissipates. The digital supply can be separate and ranges from 1,65 to 3,6 V.
Typical applications for the AD4130-8 include smart transmitters, wireless battery-powered sensor nodes, portable instrumentation, temperature measurement, pressure measurement, healthcare and wearables.
Credit(s)
Further reading:
High-precision coreless current sensor
RS South Africa Power Electronics / Power Management
The Infineon XENSIV TLE4971 is a new automotive-qualified pre-programmed 120 A sensor without the saturation or hysteresis effects.
Read more...
---
Low-profile power inductors
RS South Africa Passive Components
TDK Corporation has announced the introduction of its new PLEA85 series of high-efficiency power inductors developed for battery-powered wearables and other devices.
Read more...
---
RS unveils Better World product range
RS South Africa News
RS South Africa recently announced the launch of its Better World product range, which includes products that are supported by trusted certifications and eco-labels.
Read more...
---
Analogue front end for sensor measurements
Electrocomp Analogue, Mixed Signal, LSI
The NJU9103 AFE from Nisshinbo is a tiny analogue front end, with a 16-bit resolution ADC and up to 512 x signal amplification from the programmable gain amplifier.
Read more...
---
Indoor air-quality monitor
RS South Africa Test & Measurement
Manufactured by ebm-papst, the new indoor air-quality (IAQ) monitor constantly assesses five key factors that can affect people's health, including particulate matter (PM2.5), carbon dioxide (CO
2
), volatile organic compounds (TVOC), temperature, and humidity.
Read more...
---
Single-channel software configurable I/O
Altron Arrow Analogue, Mixed Signal, LSI
These use cases of the AD74115H include analogue output and input, digital output and input, resistance temperature detector (RTD), and thermocouple measurement capability.
Read more...
---
Current-sense amplifier with PWM rejection
Altron Arrow Analogue, Mixed Signal, LSI
Analog Devices' AD8410A is a high voltage, high bandwidth current-sense amplifier that features an initial gain of 20 V/V and a 2,2 MHz bandwidth.
Read more...
---
Diversity and inclusion are part of the DNA of RS
RS South Africa News
In celebration of National Women's Day on 9 August, RS South Africa celebrated the role and contribution of three exceptional women at the company.
Read more...
---
Nanometre-precision piezo actuators
RS South Africa Electronics Technology
TDK Corporation has announced two new piezo actuators that are characterised by a wide dynamic range, a high force-to-volume ratio, but with precision in the nanometre range.
Read more...
---
Microwave wideband synthesiser
RS South Africa Telecoms, Datacoms, Wireless, IoT
The ADF4368 is a high performance, ultra-low jitter, integer-N and fractional-N phase-locked loop (PLL) with integrated VCO, ideally suited for frequency conversion applications.
Read more...
---