printer friendly version
High performance CO2 sensor based on PAS
26 October 2022
Smart Home Automation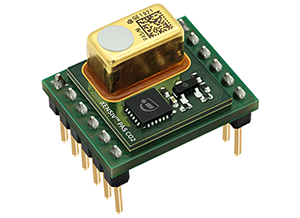 Building insulation is becoming increasingly efficient in combatting the effects of climate change and in reducing the overall energy consumption. However, heavily insulated buildings are not always good news for human health.
Poor ventilation can result in lower oxygen levels and a build-up of carbon dioxide (CO2). Even moderate levels of CO2 can have a negative impact on health and productivity - at 1000 ppm, people begin to experience drowsiness and have difficulty concentrating.
Consequently, CO2 sensor module manufacturers are facing a growing demand for smart indoor air quality sensors that can sense rising levels of CO2, and either alert the user or trigger a system response. Smart home CO2 sensors enable real-time CO2 monitoring for demand-controlled ventilation systems, air purifiers, and thermostats while allowing users to accurately measure and adjust indoor air quality.
Infineon has developed a CO2 sensor chip that provides accurate, real-time CO2 measurement, thanks to superior MEMS technology. The MEMS-based CO2 sensor uses Infineon's MEMS microphone, which acts as a pressure sensor and is optimised for low-frequency operation. The XENSIV PAS CO2 sensor module integrates a PAS transducer, a microcontroller, and a MOSFET on the PCB.
There are three CO2 sensor types that are mainly used in the industry. These include PAS (photoacoustic spectroscopy) sensors, NDIR (non-dispersive infrared) sensors, and EC (electrochemical) sensors. Infineon's XENSIV PAS CO2 sensor matches the performance of NDIR and EC sensors, while being more affordable and compact, making it the ideal solution for smart home and building automation applications.
Along with size and cost advantages, the sensor delivers superior accuracy, providing a direct readout of the real CO2 level, not simply a correlation. Reliable CO2 sensor measurement enables smart monitoring of indoor air quality, allowing users to take control of their environmental conditions and experience improvements in health, productivity, and overall wellbeing.
Credit(s)
Further reading:
Making Matter provisioning secure and easy
EBV Electrolink Telecoms, Datacoms, Wireless, IoT
Integrated solution of CommScope's PKIWorks platform with STMicroelectronics' STM32WB wireless microcontroller enables IoT security for Matter device development.
Read more...
---
Driver amplifiers for wireless infrastructure
EBV Electrolink Telecoms, Datacoms, Wireless, IoT
The BGA7P320 is a 3,3 to 4,2 GHz mid-band driver amplifier that can be used as pre-driver or driver in RF applications, from MIMO 5G base stations to small cells and access points.
Read more...
---
Vishay honours EBV with distributor award
EBV Electrolink News
Vishay has honoured EBV Elektronik with the 'Semiconductor Distributor of the Year – 2022' award based on the company's outstanding contribution, design activities, overall process excellence and performance throughout EMEA.
Read more...
---
Chip extends battery life
EBV Electrolink Power Electronics / Power Management
Nexperia's new DC-DC converter IC has been designed to extend the life of 3V coin cells in IoT applications.
Read more...
---
Advanced power supply design automation
EBV Electrolink Power Electronics / Power Management
Power Integrations and SnapMagic have announced that PI Expert, Power Integrations' robust, online design tool, now features schematic and netlist export, made possible by SnapMagic's new schematic export technology.
Read more...
---
Microchip's 28 nm memory in production
EBV Electrolink DSP, Micros & Memory
GlobalFoundries and Microchip have announced that Microchip's 28 nm SuperFlash embedded flash memory solution is in production. The widely deployed non-volatile memory (NVM) solution is optimised for microcontrollers, smart cards and IoT chips.
Read more...
---
All-in-one chips for automotive applications
EBV Electrolink Power Electronics / Power Management
STMicroelectronics' SPSB081 automotive power-management IC' s features include a main fixed-voltage low-dropout regulator (LDO), a secondary programmable LDO, four high-side drivers, a CAN FD transceiver, and an optional LIN transceiver.
Read more...
---
EBV Electronik wins best distributor award
EBV Electrolink News
EBV Elektronik has been recognised by STMicroelectronics as its '2022 Best Performing Distributor in EMEA', after showing the highest POS growth and best demand creation results.
Read more...
---
Arm Cortex-A53-based applications processors
EBV Electrolink DSP, Micros & Memory
NXP's i.MX 8M Nano family of applications processors provide cost-effective integration and affordable performance for smart, connected, power-efficient devices requiring graphics, vision, voice control, intelligent sensing, and general-purpose processing.
Read more...
---
Pressure sensor with NextNav certification
EBV Electrolink Analogue, Mixed Signal, LSI
STMicroelectronics' LPS22DF pressure sensor has received a NextNav certification, which guarantees performance and reliability for geolocation and other types of applications.
Read more...
---