printer friendly version
Capacitors with 85% increased ripple current capabilities
EMP 2023 Electronics Manufacturing & Production Handbook
Passive Components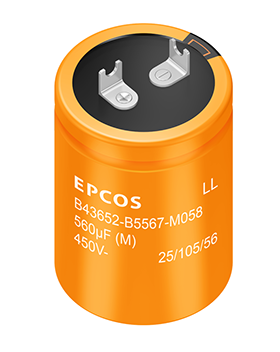 TDK has announced a new range of very compact snap-in aluminium electrolytic capacitors with 85% increased ripple current capability. Its new EPCOS B43652 series of snap-in capacitors is characterised by very compact dimensions and high ripple current-carrying capacity.
The RoHS-compatible capacitors are designed for a maximum rated voltage of 450 V DC and cover a capacitance range from 270 to 820 µF, with seven types. The capacitance values from 270 to 560 µF are offered in different dimensions, which increases design flexibility. Depending on the capacitance value, the capacitors dimensions are only 25 x 40 mm up to 35 x 55 mm (D x H).
A special performance feature of the AEC-Q200-qualified devices is the very high ripple current capability of up to 11,28 A at 100 Hz and 85°C. This was made possible by a new design with a reinforced bucket bottom for improved active cooling. In conventional capacitors, the valve is located at the bottom of the bucket, but in the new design, it is on the side. This improvement and active cooling have increased the ripple current capability by 85%.
A typical application of these capacitors is the DC link circuitry of onboard changers in xEVs.
Credit(s)
Further reading:
Long-range passive infrared motion sensor
Future Electronics Passive Components
Panasonic Industry (PaPIRs) recently introduced he world's most compact long-range passive infrared motion sensor, for installation heights of up to 15 metres.
Read more...
---
Isolated solid state relay
Altron Arrow Passive Components
The ISO808, ISO808-1 (PowerSO-36) and ISO808Q, ISO808Q-1 (TFQFPN32) are galvanic isolated eight-channel drivers featuring a low supply current.
Read more...
---
Low-profile power inductors
RS South Africa Passive Components
TDK Corporation has announced the introduction of its new PLEA85 series of high-efficiency power inductors developed for battery-powered wearables and other devices.
Read more...
---
Miniature capacitor for automotive applications
Avnet Abacus Passive Components
Murata has released its LLC series of multi-layer ceramic capacitors for automotive applications, that feature a reversed termination for low ESL.
Read more...
---
Sealed tantalum capacitors
Electrocomp Passive Components
With an operating temperature range of -55 to 125°C, with voltage derating, these capacitors have been designed especially for avionics and aerospace applications.
Read more...
---
Double metallised polypropylene capacitors
Future Electronics Passive Components
The Electrocube 985B series offers high-frequency operation, high current and low ESR in a miniature package.
Read more...
---
Analogue front end for sensor measurements
Electrocomp Analogue, Mixed Signal, LSI
The NJU9103 AFE from Nisshinbo is a tiny analogue front end, with a 16-bit resolution ADC and up to 512 x signal amplification from the programmable gain amplifier.
Read more...
---
New series of chip-type capacitors
Electrocomp Passive Components
Panasonic Industries' SMT capacitor series all benefit from the longest lifetime plus the lowest ESR values currently available.
Read more...
---
SMD coupled inductors
Electrocomp Passive Components
TDK Corporation has expanded its family of flat wire inductors with the high-performance EPCOS ERUC23 coupled inductor series.
Read more...
---
Corrosion-resistant GRP enclosures
Electrocomp Enclosures, Racks, Cabinets & Panel Products
The design offers better impact resistance, and all sizes have the additional feature of shelves moulded into the base, fitted with threaded inserts to house a PCB or other electrical equipment.
Read more...
---