printer friendly version
Common mode filter for automotive Ethernet
28 February 2023
Electronics Technology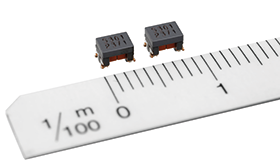 Amid the recent increase in the autonomous driving of automobiles, the installation of electronic control units (ECUs) relating to safety functions, including those for advanced driver-assistance systems (ADAS), is increasing. Among the Ethernet telecommunication standards, 10BASE-T1S is unique in its support of multidrop topologies, which enables multiple ECUs to be connected. It differs from 100BASE-T1 and 1000BASE-T1 in this respect, which support peer-to-peer communication only. More customers are now considering shifting from the CAN, CAN FD and Flex-Ray standards, which are currently commonly used because they support multidrop connections, to Ethernet systems to achieve a uniformity of standards.
TDK Corporation has subsequently announced the introduction of its new ACT1210E Series common mode filter for automotive Ethernet 10BASE-T1S, which is the industry's first common mode filter for automotive Ethernet applications.
Adopting TDK's proprietary wire winding structure and optimal materials, this product achieves high S-parameters (Scattering parameters) and a maximum line-to-line capacitance of 10 pF. With dimensions of only 3,2 x 2,5 x 2,5 mm (L x W x H) and an operating temperature range of -40 to 125°C, the module is well suited to automotive applications. The use of laser welding winding wires to the metallising terminals during manufacture provides high thermal shock resistance and outstanding reliability.
Credit(s)
Further reading:
Miniature capacitor for automotive applications
Avnet Abacus Passive Components
Murata has released its LLC series of multi-layer ceramic capacitors for automotive applications, that feature a reversed termination for low ESL.
Read more...
---
Panasonic presents its distribution awards for 2023
Avnet Abacus News
Three award winners were selected recently at Panasonic Industry's European Distribution Conference 2023.
Read more...
---
The challenge of supporting multi-voltage systems
Avnet Abacus Power Electronics / Power Management
Vicor offers several modules for power delivery from 48 V, which include fixed ratio and regulated converter solutions that support both 48 V and 12 V loads.
Read more...
---
Memory comparison: DDR4, DDR5, GDDR6 and HBM
Avnet Abacus Computer/Embedded Technology
DDR5 SDRAM was introduced in 2021 and brings many performance enhancements, but just how much faster is it over DDR4? And how does it compare to other memory types like HBM2e and GDDR6?
Read more...
---
Polymer hybrid capacitors
Avnet Abacus Passive Components
ZUU series components feature the highest ripple current handling capability of 6,1 ARMS maximum, which is a 60% increase over the previous series at both 125 and 135°C.
Read more...
---
IA-820i with PCIe Gen5 interface
Avnet Abacus Computer/Embedded Technology
Featuring the Intel Agilex 7 I-Series FPGAs, these cards are optimised for applications that are bandwidth intensive and require high-performance processor interfaces.
Read more...
---
Nanometre-precision piezo actuators
RS South Africa Electronics Technology
TDK Corporation has announced two new piezo actuators that are characterised by a wide dynamic range, a high force-to-volume ratio, but with precision in the nanometre range.
Read more...
---
The diverse connector market
Avnet Abacus Interconnection
The roles that connectors are required to play range, from the smallest data connections to the largest power supplies, and they are frequently used in some of the toughest conditions on Earth.
Read more...
---
Avnet Abacus received distribution accolades from Molex
Avnet Abacus News
Avnet Abacus has been recognised by Molex with two prestigious awards in 2022, which are a testament to the company's commitment to growth, collaboration, and demand creation in the industry.
Read more...
---
Ultrabright chip LEDs
Avnet Abacus Opto-Electronics
Vishay's range of high-reliability ultrabright chip LEDs feature a tiny footprint with excellent efficiency, and are available in two sizes, SMD 0603 and 0402.
Read more...
---