printer friendly version
KIOXIA and HPE team up to send SSDs to the ISS
29 March 2023
Computer/Embedded Technology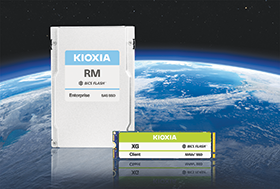 KIOXIA has announced its participation in the HPE Spaceborne Computer-2 (SBC-2) programme, which uses KIOXIA SSDs to provide robust flash storage in HPE Edgeline and HPE ProLiant servers in a test environment to conduct scientific experiments aboard the International Space Station (ISS).
The HPE Spaceborne Computer-2, the first in-space commercial edge computing and AI-enabled system to run on the International Space Station, is part of a greater mission to significantly advance computing and reduce dependency on communications as space exploration continues to expand. Hopefully, this will allow astronauts to achieve increased autonomy by processing data directly on the ISS, eliminating the need to send raw data to Earth to be processed, analysed and sent back to space.
The system is designed to perform various high-performance computing tasks in space, including real-time image processing, deep learning, and scientific simulations. The HPE SBC-2 utilises a combination of HPE's edge computing solutions, including the HPE Edgeline Converged Edge System, a rugged and compact system, and the HPE ProLiant server for high-performing capabilities.
KIOXIA has provided flash-based SSDs, including the KIOXIA XG Series NVMe SSDs, as these flash-based SSDs are better-suited than traditional hard disk drive storage to withstand the power, performance and reliability requirements of outer space. This is due to the fact that they have no moving parts, are less susceptible to electromagnetic waves and provide faster performance.
For more information contact EBV Electrolink, +27 21 402 1940, capetown@ebv.com, www.ebv.com
Credit(s)
Further reading:
Making Matter provisioning secure and easy
EBV Electrolink Telecoms, Datacoms, Wireless, IoT
Integrated solution of CommScope's PKIWorks platform with STMicroelectronics' STM32WB wireless microcontroller enables IoT security for Matter device development.
Read more...
---
Powering factory automation into the future
Rugged Interconnect Technologies Computer/Embedded Technology
Powered by the newest 13th Gen Intel processors, ADLINK Technology's COM-HPC-cRLS module is a future-proof edge AI solution.
Read more...
---
Driver amplifiers for wireless infrastructure
EBV Electrolink Telecoms, Datacoms, Wireless, IoT
The BGA7P320 is a 3,3 to 4,2 GHz mid-band driver amplifier that can be used as pre-driver or driver in RF applications, from MIMO 5G base stations to small cells and access points.
Read more...
---
Vishay honours EBV with distributor award
EBV Electrolink News
Vishay has honoured EBV Elektronik with the 'Semiconductor Distributor of the Year – 2022' award based on the company's outstanding contribution, design activities, overall process excellence and performance throughout EMEA.
Read more...
---
Chip extends battery life
EBV Electrolink Power Electronics / Power Management
Nexperia's new DC-DC converter IC has been designed to extend the life of 3V coin cells in IoT applications.
Read more...
---
Advanced power supply design automation
EBV Electrolink Power Electronics / Power Management
Power Integrations and SnapMagic have announced that PI Expert, Power Integrations' robust, online design tool, now features schematic and netlist export, made possible by SnapMagic's new schematic export technology.
Read more...
---
Linux OS with immutable file system
Computer/Embedded Technology
What really sets VanillaOS apart from others, however, is in security, where it takes a new approach to computing by using an immutable file system for improved security and stability.
Read more...
---
Microchip's 28 nm memory in production
EBV Electrolink DSP, Micros & Memory
GlobalFoundries and Microchip have announced that Microchip's 28 nm SuperFlash embedded flash memory solution is in production. The widely deployed non-volatile memory (NVM) solution is optimised for microcontrollers, smart cards and IoT chips.
Read more...
---
All-in-one chips for automotive applications
EBV Electrolink Power Electronics / Power Management
STMicroelectronics' SPSB081 automotive power-management IC' s features include a main fixed-voltage low-dropout regulator (LDO), a secondary programmable LDO, four high-side drivers, a CAN FD transceiver, and an optional LIN transceiver.
Read more...
---
Rugged laptops support the renewable energy sector
Osiris Technical Systems Computer/Embedded Technology
The Durabook S15AB semi-rugged laptop was recommended due to its military-grade durability, powerful functionality and desktop performance, allowing it to keep pace even for intensive tasks such as asset management and maintenance.
Read more...
---