printer friendly version
Waterproof circular power connectors
26 April 2023
Interconnection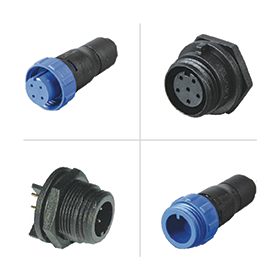 The Mini Buccaneer family of waterproof and dustproof circular power connectors from Bulgin features the robust construction required for reliable operation in harsh industrial and marine applications. The power connectors can handle power loads up to 10 A at 250 V.
The connectors have an IP68 rating when mated, and sealing caps are available to maintain the waterproof rating when unmated. The Mini Buccaneer products also comply with the specifications of the EN60068-2-52 standard, for withstanding salt mist to marine severity level 1.
The connectors are supplied in a choice of five body styles: flex, inline, panel (in two versions), and panel side-entry. Users also have the choice of screw-terminal inserts with two, three, four or six contacts, or solder/crimp inserts with three or eight contacts. There is a plug and socket connector in each body style with the connectors being able to handle cable with an outer diameter ranging from 3,5 to 9 mm.
Credit(s)
Further reading:
Mill-Max expands Omniball family
Spectrum Concepts Interconnection
Mill-Max has announced two new Omniball spring-loaded pins, one for low-profile purposes, and one that provides greater stroke and higher current-carrying capacity.
Read more...
---
Samtec's new 2024 catalogue
Interconnection
Samtec has released its catalogue for the 2024 period, which has over 50 new product series and is categorised into six solution blocks.
Read more...
---
Power modules enable 15% weight reduction in race cars
Future Electronics Power Electronics / Power Management
Chosen for their small and lightweight characteristics, the Vicor modules efficiently step down the high-voltage accumulator's power from 400 – 600 V to 27 – 38 V.
Read more...
---
Long-range passive infrared motion sensor
Future Electronics Passive Components
Panasonic Industry (PaPIRs) recently introduced he world's most compact long-range passive infrared motion sensor, for installation heights of up to 15 metres.
Read more...
---
Optical system for max signal density
Spectrum Concepts Interconnection
Samtec FireFly mid-board optical cable systems boast a miniature footprint with maximum signal density, and proven signal integrity over longer distances.
Read more...
---
Miniature connectors allow 18 Gbps data transfer
Spectrum Concepts Interconnection
Fischer Connectors has released new high-speed connectors and cable assemblies for Ultra High Definition (UHD) audio/video data transfer at 18 Gbps in demanding environments, matching the performance speed of HDMI 2.0.
Read more...
---
Isolation transformers for high-speed SPE applications
ASIC Design Services Interconnection
Utilising the UWBX patent pending technology, HALO has been able to achieve the high-speed performance needed to meet insertion loss and return loss required for a fully-compliant 2.5GBASE-T1 Ethernet port over single-pair copper cables.
Read more...
---
Bringing performance and security to BLE applications
Future Electronics Telecoms, Datacoms, Wireless, IoT
STMicroelectronics' STM32WBA 32-bit wireless series brings designers the performance, efficiency, and security required for Bluetooth Low Energy 5.3-enabled applications.
Read more...
---
Ensuring electrical safety in connectors
MANTECH Interconnection
Fischer Connectors has released its First Mate Last Break connectors to its Core series, ensuring electrical safety and mechanical reliability for medical devices.
Read more...
---
Double metallised polypropylene capacitors
Future Electronics Passive Components
The Electrocube 985B series offers high-frequency operation, high current and low ESR in a miniature package.
Read more...
---