printer friendly version
Highly visible, colour-coded labelling
26 April 2023
Interconnection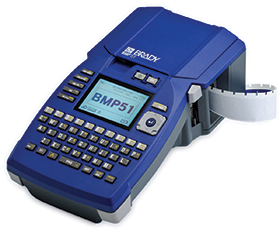 Well-identified network infrastructure is of great importance in Dark Fibre Africa's (DFA) network. The current identification scheme that they use is:
• Black on white – GPON services.
• Black on yellow – Dark fibre and all managed services.
• White on red – DFA core network infrastructure.
Due to challenges with existing labelling products, including labelling fading over time, and insufficient adhesion, DFA turned to Brady to supply a high-quality labelling system.
Black on yellow and black on white are standard print offerings on Brady's BMP51 Label Maker, but white on red was not available. When DFA asked for white on red labelling, Brady fast-tracked the request and within a few months produced a reliable cable label in red that could receive a white print with optimal legibility. The new label was tested in typical server room environments and subjected to lengthy periods in heavily air-cooled rooms. It was also subjected to strong UV exposure outdoors.
Reliable labels that stay attached to cables, equipment cabinets and distribution boards while remaining legible, are important for network maintenance and troubleshooting. Clear identification enables technicians to quickly identify the infrastructure for fault finding and troubleshooting during network failures. This increases service provisioning and maintenance speed, and further reduces downtime risks and enhances speed of deployment. Choosing Brady provided DFA with a labelling system that suited all their infrastructure needs.
Credit(s)
Further reading:
Mill-Max expands Omniball family
Spectrum Concepts Interconnection
Mill-Max has announced two new Omniball spring-loaded pins, one for low-profile purposes, and one that provides greater stroke and higher current-carrying capacity.
Read more...
---
Samtec's new 2024 catalogue
Interconnection
Samtec has released its catalogue for the 2024 period, which has over 50 new product series and is categorised into six solution blocks.
Read more...
---
Optical system for max signal density
Spectrum Concepts Interconnection
Samtec FireFly mid-board optical cable systems boast a miniature footprint with maximum signal density, and proven signal integrity over longer distances.
Read more...
---
Miniature connectors allow 18 Gbps data transfer
Spectrum Concepts Interconnection
Fischer Connectors has released new high-speed connectors and cable assemblies for Ultra High Definition (UHD) audio/video data transfer at 18 Gbps in demanding environments, matching the performance speed of HDMI 2.0.
Read more...
---
Isolation transformers for high-speed SPE applications
ASIC Design Services Interconnection
Utilising the UWBX patent pending technology, HALO has been able to achieve the high-speed performance needed to meet insertion loss and return loss required for a fully-compliant 2.5GBASE-T1 Ethernet port over single-pair copper cables.
Read more...
---
Ensuring electrical safety in connectors
MANTECH Interconnection
Fischer Connectors has released its First Mate Last Break connectors to its Core series, ensuring electrical safety and mechanical reliability for medical devices.
Read more...
---
Understanding all-weather cables
Helukabel SA Interconnection
By incorporating weather-resistant features, all-weather cables mitigate the risks of cable damage, electrical faults, and subsequent power outages, to ensure a robust electrical infrastructure.
Read more...
---
Hermetically sealed connectors
Hiconnex Interconnection
Invented by Glenair, CODE RED is an innovative sealing encapsulant and application process that provides durable hermetic sealing in a lightweight aluminium package.
Read more...
---
Spring-loaded connectors from Mill-Max
Spectrum Concepts Interconnection
Mill-Max has announced a new lineup of spring-loaded pins available with either pointed or flat tip plungers, providing solutions for specialised connection requirements.
Read more...
---
Adding protection to power interconnects
Vepac Electronics Interconnection
APP Saf-D-Grid plugs and receptacles provide for the direct connection of AC and DC electronic devices to a grid powered by either mains power, high-efficiency DC sources, or by renewable energy.
Read more...
---