printer friendly version
Thick film resistors
26 April 2023
Passive Components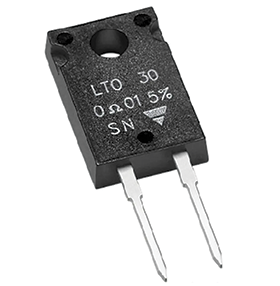 Vishay's thick film resistors offer robust and stable performance in varied applications. With a broad product portfolio, these resistors are offered in SMD, leaded, and screw terminal types. With an operating voltage up to 500 V, these resistors offer surge-pulse-proofing up to 2 kV and a power rating up to 0,5 W.
By combining two or three resistors in the same package, these thick film resistors use less space, while offering an enhanced power rating and thermo-cycling performance.
Vishay's range of thick film resistors are also available as high-voltage chip resistors with voltage handling up to 3 kV. AEC-Q200 qualified, these components are suitable for use in power supplies for industrial and automotive applications, in power inverters for windmill and railway drives, in HVDC valves, large drives and HEV/EV battery management systems, and in high-reliability applications.
Credit(s)
Further reading:
Long-range passive infrared motion sensor
Future Electronics Passive Components
Panasonic Industry (PaPIRs) recently introduced he world's most compact long-range passive infrared motion sensor, for installation heights of up to 15 metres.
Read more...
---
High-precision coreless current sensor
RS South Africa Power Electronics / Power Management
The Infineon XENSIV TLE4971 is a new automotive-qualified pre-programmed 120 A sensor without the saturation or hysteresis effects.
Read more...
---
Isolated solid state relay
Altron Arrow Passive Components
The ISO808, ISO808-1 (PowerSO-36) and ISO808Q, ISO808Q-1 (TFQFPN32) are galvanic isolated eight-channel drivers featuring a low supply current.
Read more...
---
Low-profile power inductors
RS South Africa Passive Components
TDK Corporation has announced the introduction of its new PLEA85 series of high-efficiency power inductors developed for battery-powered wearables and other devices.
Read more...
---
Miniature capacitor for automotive applications
Avnet Abacus Passive Components
Murata has released its LLC series of multi-layer ceramic capacitors for automotive applications, that feature a reversed termination for low ESL.
Read more...
---
Sealed tantalum capacitors
Electrocomp Passive Components
With an operating temperature range of -55 to 125°C, with voltage derating, these capacitors have been designed especially for avionics and aerospace applications.
Read more...
---
RS unveils Better World product range
RS South Africa News
RS South Africa recently announced the launch of its Better World product range, which includes products that are supported by trusted certifications and eco-labels.
Read more...
---
Double metallised polypropylene capacitors
Future Electronics Passive Components
The Electrocube 985B series offers high-frequency operation, high current and low ESR in a miniature package.
Read more...
---
Indoor air-quality monitor
RS South Africa Test & Measurement
Manufactured by ebm-papst, the new indoor air-quality (IAQ) monitor constantly assesses five key factors that can affect people's health, including particulate matter (PM2.5), carbon dioxide (CO
2
), volatile organic compounds (TVOC), temperature, and humidity.
Read more...
---
New series of chip-type capacitors
Electrocomp Passive Components
Panasonic Industries' SMT capacitor series all benefit from the longest lifetime plus the lowest ESR values currently available.
Read more...
---