printer friendly version
High-stability digital MEMS gyro
26 April 2023
Analogue, Mixed Signal, LSI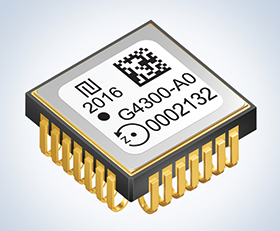 TDK Corporation has released the Tronics GYPRO4300, a high-stability and vibration-tolerant digital MEMS gyroscope for dynamic applications. This gyro features a ±300°/s input measurement range, 200 Hz bandwidth and 1 ms latency, with a closed-loop architecture that ensures high linearity and stability.
The closed-loop architecture of Tronics GYPRO4300 offers a strong vibration rejection of 0,5°/h/g2 under harsh conditions. GYPRO4300 gyros are housed in a miniature, hermetic, ceramic J-lead package that ensures long operational and storage life and guarantees a high compliance with the stringent thermal cycling requirements of critical applications. Included is a 24-bit digital SPI interface for easy integration into inertial navigation systems.
With an excellent bias instability of 0,5°/h as typical value, and an ARW (angular random walk) of 0,1°/√h, GYPRO4300 offers a miniature, digital, low-SWaP and high-performance MEMS gyro that paves the way to a new generation of precise positioning, navigation, and stabilisation functions in dynamic applications such as railway, land vehicles, VTOL aircraft and UAVs, marine and subsea systems, borehole drilling, and surveying instruments.
Credit(s)
Further reading:
Sealed tantalum capacitors
Electrocomp Passive Components
With an operating temperature range of -55 to 125°C, with voltage derating, these capacitors have been designed especially for avionics and aerospace applications.
Read more...
---
Analogue front end for sensor measurements
Electrocomp Analogue, Mixed Signal, LSI
The NJU9103 AFE from Nisshinbo is a tiny analogue front end, with a 16-bit resolution ADC and up to 512 x signal amplification from the programmable gain amplifier.
Read more...
---
New series of chip-type capacitors
Electrocomp Passive Components
Panasonic Industries' SMT capacitor series all benefit from the longest lifetime plus the lowest ESR values currently available.
Read more...
---
Single-channel software configurable I/O
Altron Arrow Analogue, Mixed Signal, LSI
These use cases of the AD74115H include analogue output and input, digital output and input, resistance temperature detector (RTD), and thermocouple measurement capability.
Read more...
---
Current-sense amplifier with PWM rejection
Altron Arrow Analogue, Mixed Signal, LSI
Analog Devices' AD8410A is a high voltage, high bandwidth current-sense amplifier that features an initial gain of 20 V/V and a 2,2 MHz bandwidth.
Read more...
---
SMD coupled inductors
Electrocomp Passive Components
TDK Corporation has expanded its family of flat wire inductors with the high-performance EPCOS ERUC23 coupled inductor series.
Read more...
---
Corrosion-resistant GRP enclosures
Electrocomp Enclosures, Racks, Cabinets & Panel Products
The design offers better impact resistance, and all sizes have the additional feature of shelves moulded into the base, fitted with threaded inserts to house a PCB or other electrical equipment.
Read more...
---
Millimetre-accurate ultrasonic ToF sensor
Electrocomp Telecoms, Datacoms, Wireless, IoT
InvenSense's SmartSonic family of ultrasonic ToF sensors integrate a MEMS piezoelectric micromachined ultrasonic transducer with an ultra-low power SoC in a miniature reflowable package.
Read more...
---
NTC thermistors for laser diode temperature measurement
Electrocomp Opto-Electronics
These bondable NTC thermistors can be mounted with Au wire bonding inside the package for highly accurate temperature detection of laser diodes used for optical communication.
Read more...
---
External Wi-Fi dual band antenna
Electrocomp Telecoms, Datacoms, Wireless, IoT
The X9001748 is an IP67 black or white antenna, which offers protection against dust and water, and provides a high gain suited for Wi-Fi applications.
Read more...
---